8-Step Guide for Creating the Ultimate Startup Pitch Deck
12

min read
Investors can help your startup grow and become successful. 
For that reason, you need to make sure that you do all you can to make them trust you and your business, starting with a killer startup pitch deck. 
In fact, some of the world's most well-known startups' success is partly due to the great pitch they made when they were pitching to investors to raise money.
More on that later!
In this guide we're going to take you through the process of creating your own pitch deck, taking in a number of easy steps, including the following:
Define your problem

Give investors a good reason to care

Talk about competition
Plus, we're giving you a bunch of inspiring startup pitch deck examples. 
Let's get right into it.  
Step #1: Define the Problem
The first step that's absolutely necessary in order to create the ultimate startup pitch deck that'll make potential investors want to invest in your company is to define the problem.
Let's see how Airbnb did it back when they started. 
Example: Airbnb
We're using an early example of Airbnb's – the American online lodging marketplace – pitch deck. 
Back when Airbnb needed to get into the market, they made sure to highlight the problem they identified in the industry and they were seeking to address. 
Have a look: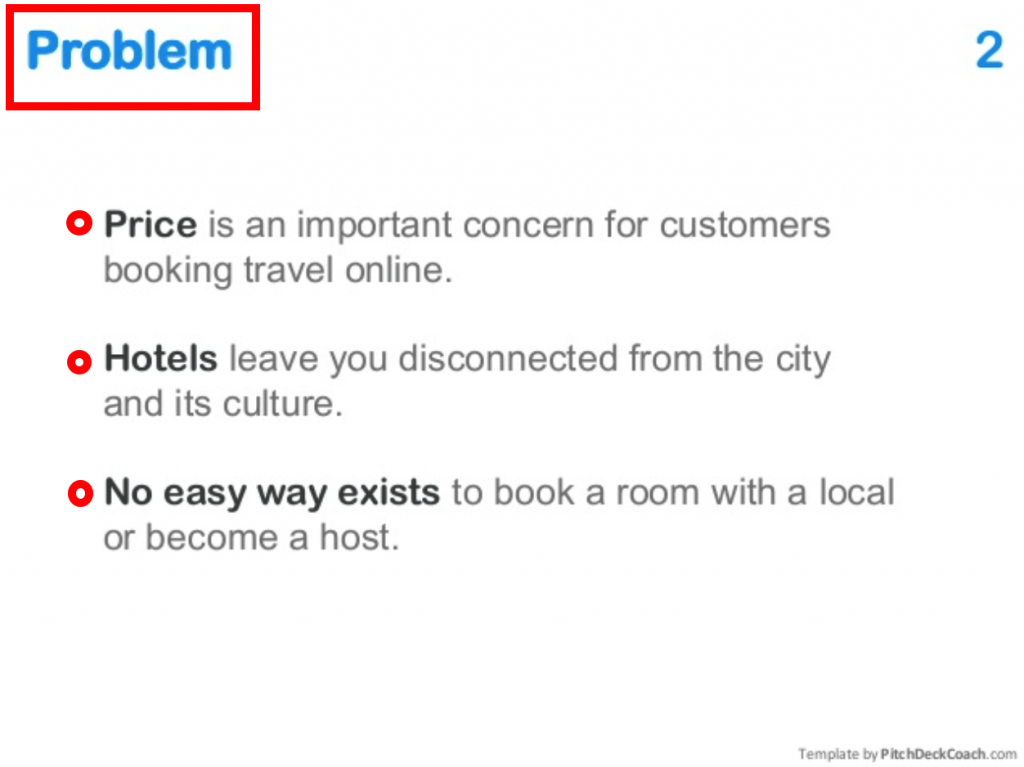 Image Source: Slideshare
Showing that you know what the problem is can be as simple as creating a slide that'll show investors the problems your company is determined to solve. 
To put it simply, a great investor pitch deck needs to highlight an issue the market is facing. 
Darshan Somashekar, a serial entrepreneur who runs Spider Solitaire Challenge, explains, "We always ask if the market and problem is big enough to matter? How big can this business get? When we started looking into spider solitaire and brain training games, we learned there were millions of people who played these games, which gave us conviction to enter the space."
The reason for this is that, if there isn't a problem, then there isn't a reason to suggest solutions to solve said problem. 
Consequently, there's no reason for investors to put money into such an idea. 
Defining the problem when crafting your pitch deck basically allows you to demonstrate that you've studied the market, and thus have a deep understanding of its needs. 
Additionally, having defined a problem gives you the opportunity to suggest what the potential solution might be. 
For example, if you've built a PR outreach tool, you might want to mention that traditional PR outreach can be time-consuming and might cost you lots of money. 
Let's get to the second step in the process of creating a great startup pitch deck.  
Step #2: Recommend a Solution
Following on from the step we've just discussed, a successful startup pitch deck needs to show investors your solution to the problem. 
In other words, you need to prove to them that you've not only seen and identified a problem that needs to be fixed, but that you also can provide people with a recommended solution. 
An example from the then-early-stage Uber will help make this a bit more clear. 
Example: Uber
When Uber was still called UberCab, they gave investors a few rather good reasons why they should be supporting them. 
How did they do that? 
By presenting investors with a number of problems that cabs in 2008 were facing alongside realistic solutions that the company was planning to start offering through their services.
There you go: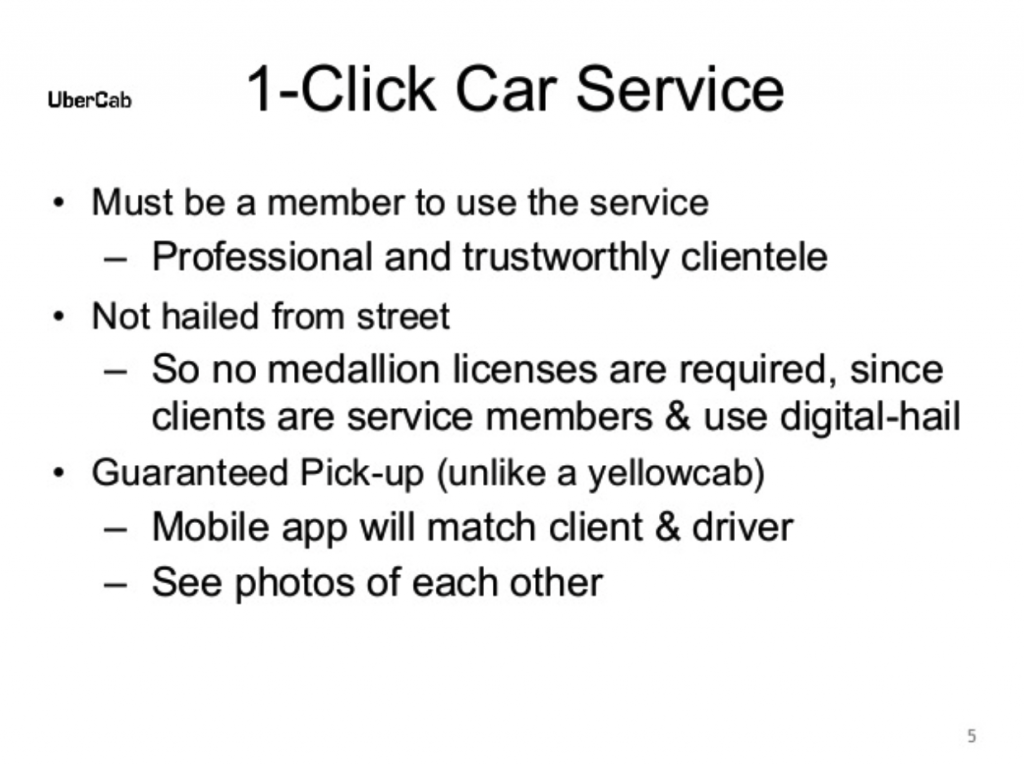 Image Source: Slideshare
As you can see, the presentation slide above shows us that UberCab was recommending an one-click car service that could help provide members of the service with a number of benefits, including guaranteed pickup and so on and so forth. 
We need to note here that to create the best pitch deck you need to present your prospects with realistic solutions and a clear path showing how the problem can be solved.
Additionally, your solution has to be unique in the sense that no one has managed to approach the problem in the same way so far.
To give you an additional idea why this is so important, let's say that you're the owner of a powerful email autoresponder tool. 
Wouldn't you use your pitch to talk about issues around the difficulties of email delivery while stressing that such a tool can be a solution to the problem and, in fact, it can help increase email subscriber engagement?
You get my point, right?
Without further ado, we're moving forward onto our third step.  
Step #3: Provide an Overview of the Market
Yet another step in terms of creating the ultimate startup pitch deck, the one that will wow your investors, is to simply give an overview of the market. 
This will allow you to demonstrate that you've done your research and you have a deep knowledge of the current state of the market you'll operate in. 
As you can imagine, showing that you know what you're talking about is essential for investors to trust you and invest in your professional ideas. 
How about having a closer look at an example?
Example: SEOmoz
Our example of a pitch deck that shows a startup's well-informed understanding of the market comes from the 2011 SEOmoz – today called MOZ – pitch deck.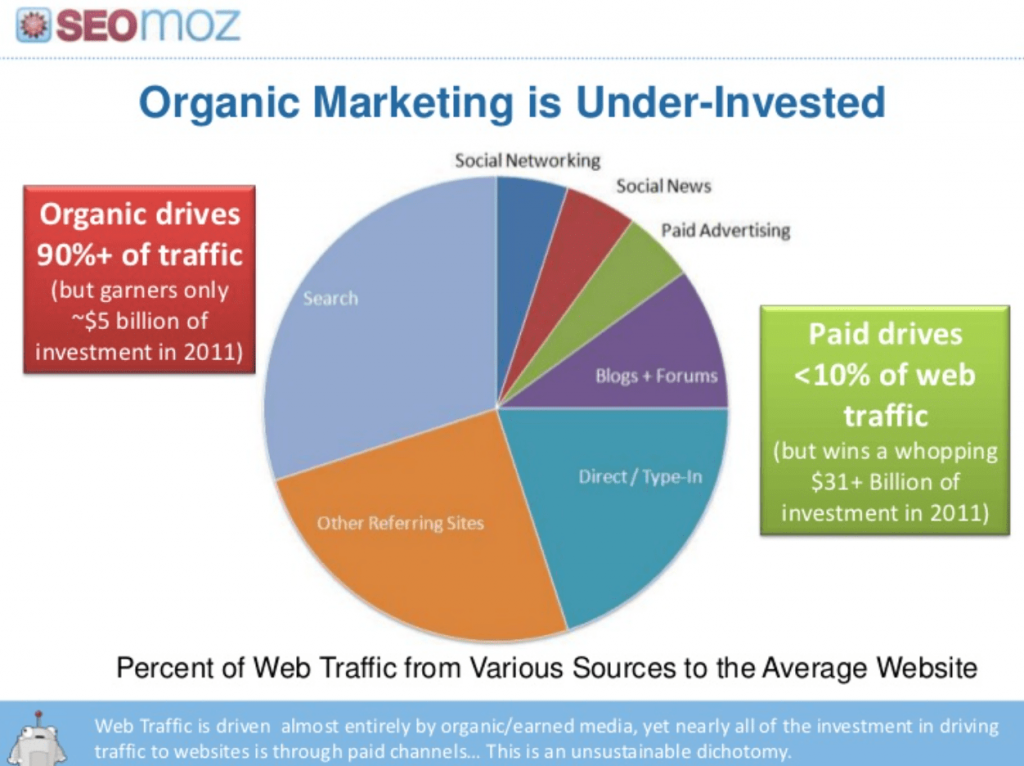 Image Source: Slideshare
The snapshot you see above is just one of several presentation slides where the company shows their knowledge of the market. 
By presenting interesting and compelling graphics that feature statistics, you provide your prospects with some powerful data on the market status. 
Generally speaking, giving an overview of the market is to do with talking about the market size and showing that you really know what the market you're in is all about.
At the same time, you need to be clear about current market cap as well as your business plan and go-to-market strategy as a whole.
Your investors will most probably do their due diligence, so you should definitely avoid including any inaccurate information or use exaggerations just for the sake of raising money.
To put it simply, keep it sweet and professional while making sure to demonstrate that your strategy is aligned with the market's needs and features. 
Keep reading to see what the next step in the process of creating your own amazing pitch deck is going to be.  
Step #4: Give an Introduction to the Product
What's important when you're creating a pitch deck for your startup is to make an introduction to your product. 
After having talked about the market, as well as the problem you're seeking to address, plus your solution, you should go on introducing investors to your product or service. 
Giving your investors a feel of your product is essential for them to understand what you're building and why your company is worth their support.
The example of commercial company, WeWork, that provides shared workspaces for enterprises and remote teams, will show us how such a product introduction might look. 
Example: WeWork
The 2019 WeWork investor pitch deck includes a presentation slide that introduces the audience to what the product is all about. 
Here it is: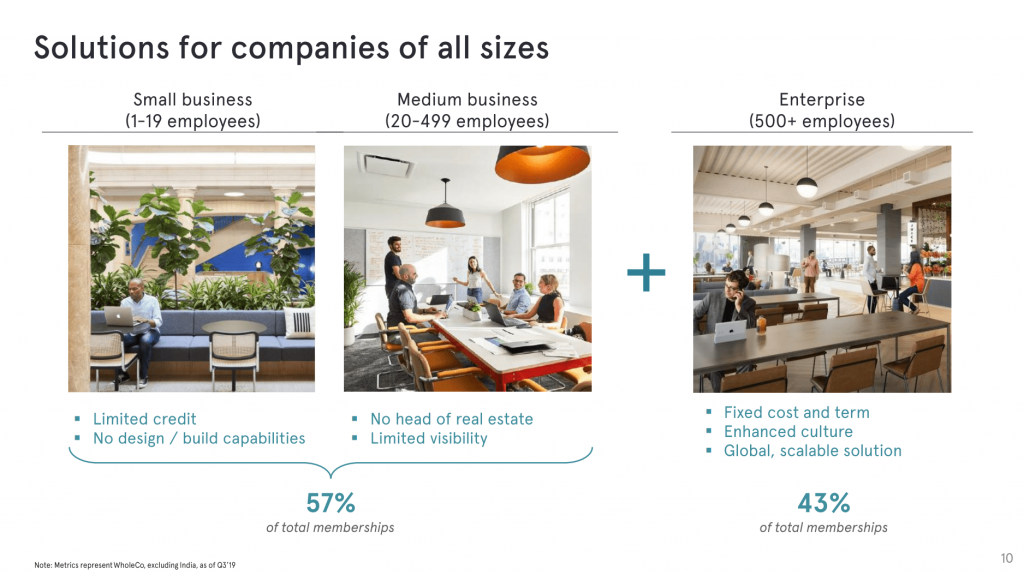 Image Source: WeWork
The slide shown above presents some of the key points that can help describe the product to investors. 
More specifically, it features the company's solutions for businesses of all sizes, including:
Small businesses

Medium businesses

Enterprises
Their "Space-as-a-Service" product, as they call it, is presented in a simple yet detailed way that definitely gives potential investors a clear idea of the product and of who it is for.
As a general tip, we would say that when crafting your product introduction, you should try to make sure that you're not including too much technical information, unless the inclusion of such information is absolutely necessary for the investors to understand your product. 
What you could also do as part of your slide that introduces prospects to your product is to show where your company is at in terms of customer engagement. 
Demonstrating a high level of customer engagement or interest will make it more possible for investors to naturally want to invest in your business.  
Last but not least, showing your product's excellence can also be part of this section of your pitch deck. 
In other words, a small introduction that gives investors reasons to start believing in your product can be key!
Let's get to the next step.  
Step #5: Describe the Business Model
The fifth step we have for you for creating a startup pitch deck that'll make investors happy to work with you is to make sure that you describe your business model to them. 
First things first, no one is going to invest money in a business model that's not clear enough or a presentation that doesn't efficiently communicate the company's intention and future plans. 
On the other hand, having a well-structured business plan can totally make a positive impact on how potential investors relate to your business and whether they'd want to help you grow. 
Like we did with our previous steps, we're jumping right into an example. 
Author's Tip: Using some useful startup resources can definitely help you make sure that you're taking the right steps in terms of defining your business idea, using the best software, and finding investors. 
Example: BuzzFeed
Internet media, news, and entertainment company, BuzzFeed, gives us an idea of their business plan in a number of slides where they basically describe what their product looks like and what it includes in terms of features, etc. 
Here's one of these slides that helped investors understand the business model.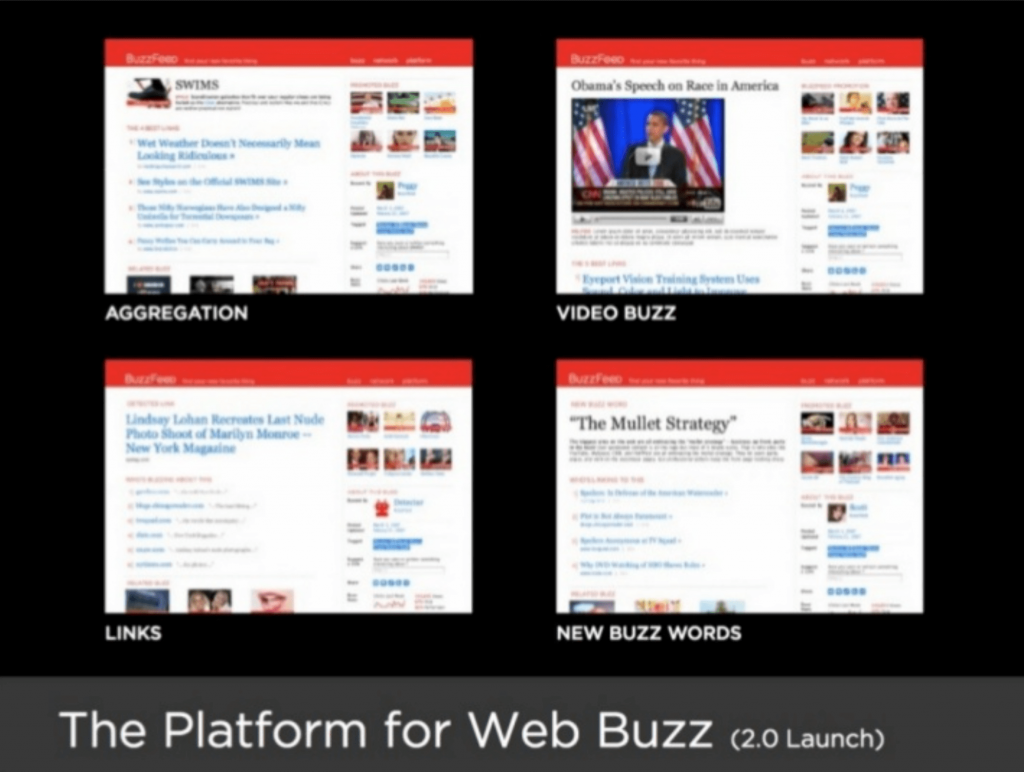 Image Source: Slideshare
Your business model will show people what the value you're adding to the market is and what it's going to be. 
For that reason, you can't just present a business idea or show that you've made some uncertain and undirected business moves already. 
On the contrary, it needs to be crystal clear for anyone to understand  how your business makes, or is planning to make, money in the future.
Doing so can increase your chances of actually getting investors to trust you and help you become the business your pitch deck describes. 
In terms of the BuzzFeed presentation we're showing you here, we want to note that it also presents a revenue model, which is basically a framework of how a business plans to generate revenue from the value their product gives to the market. 
You might also want to add such a slide to your presentation in order to state that you know what you're doing loud and clear. 
Moving on.  
Step #6: Give Investors a Reason to Care
Giving investors a reason to care about your business and, most importantly, make them want to invest in your business is one of the essential steps of the process, as well as one of the main reasons why you're creating that pitch deck in the first place. 
Well-known companies and startups always try to make sure that they're giving investors valid reasons why they should care about investing in their product. 
Doing so allows investors to understand that you already have traction, engagement, revenue, and any other elements that are naturally of importance to them.
In addition to this, the validity of your points is, of course, extremely important. 
You should always make sure to not exaggerate and just present the facts alongside the actual data of your performance.
Let's get into this by using an example. 
Example: Buffer
Here's how social media tool Buffer did it back in 2013.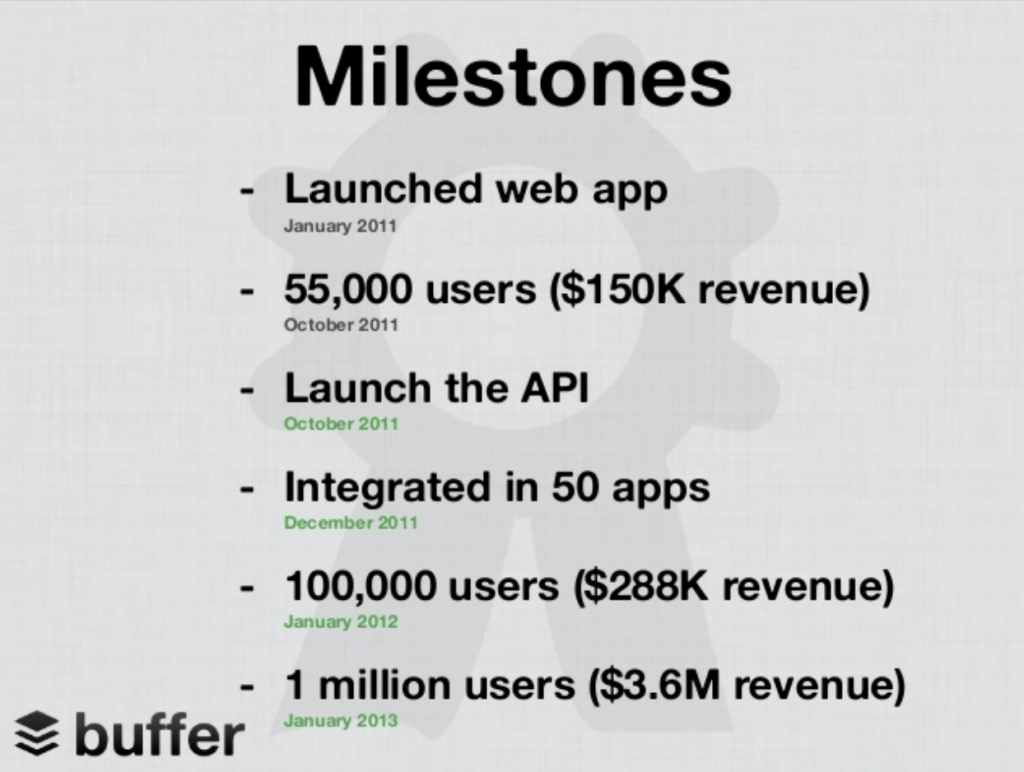 Image Source: Slideshare
In a pitch deck they used to raise half a million dollars, they're showcasing some of their most important and impressive milestones. 
This gives them the opportunity to grab the investors' attention and clearly present to them why they should invest and trust this company. 
In general, there are many different ways to raise venture capital and make investors care about putting money in your business. 
Defining your value proposition and giving details of your offering, as well as goals you might have achieved already, is one of them. 
Put another way, showing that you have a thought-through plan that's already helped you achieve some of your goals is one of the best credentials you should definitely use in order to make investors care about your company and its future. 
Keep reading to find yet another step in creating an irresistible startup pitch deck.  
Step #7: Talk About the Competition
The second to last step we want you to take when creating your pitch deck is to talk about your competitors. 
Talking about your competition can only work in your favor, given that you're making sure to address any points where your competitors might seem better than you. 
In other words, where you see your competitors doing well, include that in your pitch deck to show you know your industry, rather than hiding their success. 
Even when one of your competitors is one of the best in your niche, you can still try to provide your potential investors with a solution in terms of showing them what differentiates you from competition. 
Simply put, show that you know your competitors and you're consistently working to improve your company and brand by developing your own skills rather than battling against someone else's strengths.  
How about an example that will give you a clear idea of what we're trying to say here?
Example: LinkedIn
Back in 2004, when LinkedIn needed to prove its place in the market, they used a pitch deck that referred to their competition more than once. 
In fact, there were several slides that compared the network platform with its competitors. 
Here's one of them: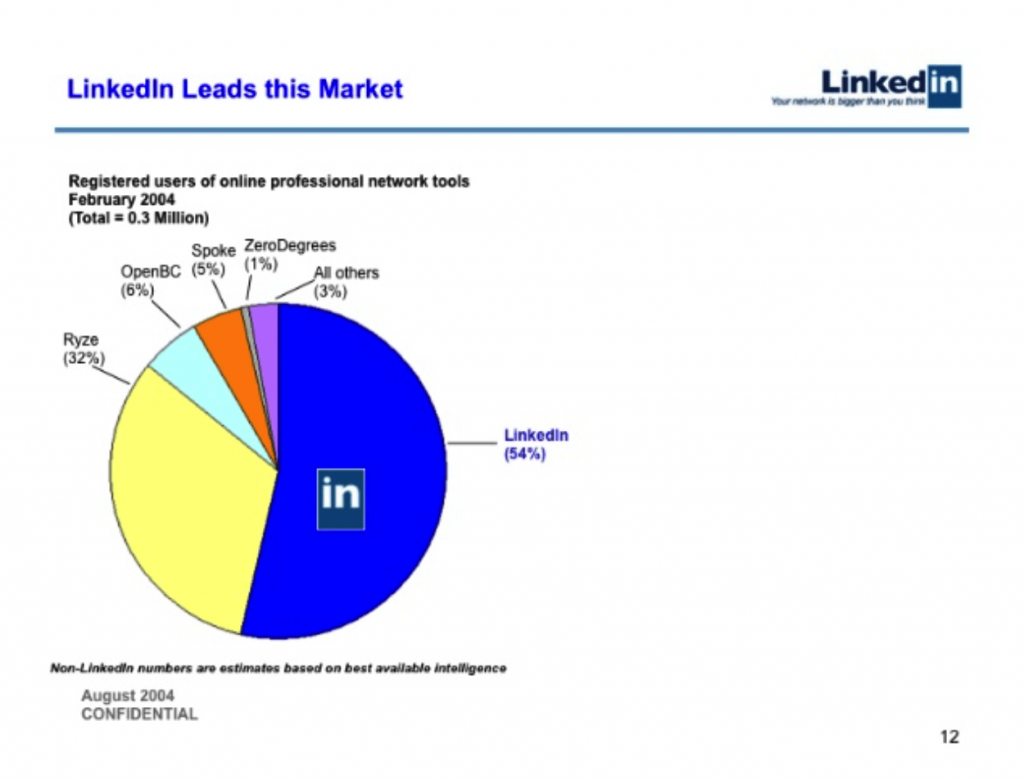 Image Source: Slideshare
LinkedIn indirectly compared itself with its competitors by using a pie chart to show how many registered users each one of these professional network tools had. 
Raising the issue of their competitors helps them achieve a double goal. 
It both shows that they know what their niche is all about and who their competitors are, as well as demonstrates that they manage to do far better than their competition. 
Ultimately, talking about their competitors helped the company stand out and catch investors' attention. 
As a general rule, depending on the niche you're in, you should try to find the most prominent of your competitors and focus on showing how you're different from them. 
For example, if you're a modern email testing tool you should mention all similar tools and illustrate why investors should see you as special and worth investing in. 
Similarly, if you're offering OTT solutions across the world, you should definitely try to make sure that other well-known OTT services are also being covered. 
As simple as that!
Let's now get to the final step. 
Step #8: Be Specific With What You're Looking For
The final step you should take when crafting your pitch deck is to be very specific in terms of what you're looking for and what the next steps are that you'd ideally like to take. 
Providing your prospects with a solid future plan can increase your chances of getting them to care about your company and its next steps. 
Put another way, one of your final presentation slides should focus on actions and steps you're planning to take in the future. 
Let's get into an example. 
Example: Intercom
Our example here is Intercom's first pitch deck, back in 2011.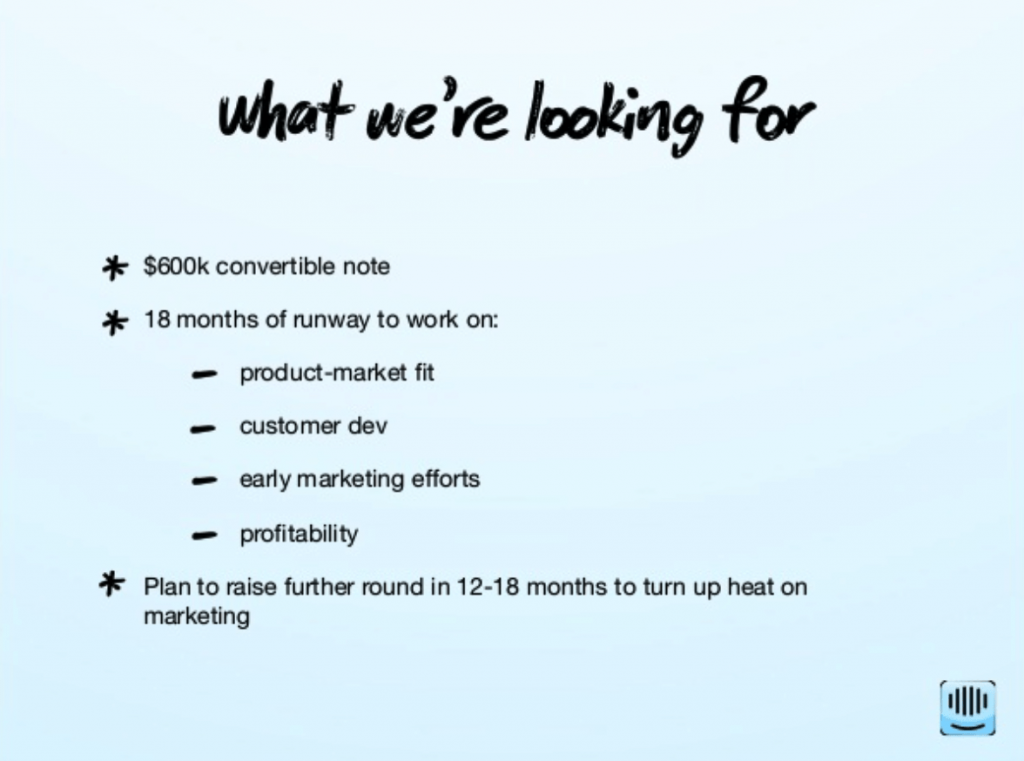 Image Source: Slideshare
Intercom couldn't have made it easier for investors to get a truly clear and straightforward idea of what their future steps would look like. 
They even gave that particular slide, which, by the way, is the last one of their pitch deck, the title "what we're looking for". 
Doing it this way helps you make sure that you've given investors a clear picture of your plans and your needs. 
Put another way, being specific about what you're looking for minimizes the possibilities of investors getting mixed impressions or, even worse, not getting what your point is in terms of why you need someone to invest in your product. 
Finding the best way to describe your goals and future steps is one of the most important elements of your pitch deck. 
Let's close this up with a few final words.  
Now Over to You
By now, you probably have a solid understanding of what's needed to create a pitch deck that has high chances or being successful. 
In this post, we've taken you through the process of creating a killer pitch deck that'll catch the investors' attention and show them why you deserve to be getting money from them to help grow your business. 
Keep in mind the importance of presenting investors with valid elements of your business model and your future steps, while also giving them a very clear idea of what your product is all about. 
Additionally, don't be afraid to talk about your competitors. 
Instead, talk about them and highlight the points where your product is different. 
Good luck creating your startup pitch deck!
________
Payman Taei is UI/UX designer and the founder of Visme, an all-in-one visual communication platform empowering everyone to create and share beautiful interactive presentations, infographics, and other forms of engaging content with no design skills.