Carl Jacobs: Uniqueness Is A Key
10

min read
Today we have a guest from Belgium – Carl Jacobs. He is the CEO at APICBASE.
– I know you were studying cultural management. How happened that you entered the restaurant industry? 
C: Indeed. I started as an art historian and, actually, back then that was the top of my life. I was very lucky to do a lot of exhibitions and write books about art. It has been a part of my life for, let's say, almost 10 to 15 years. But I also did a lot of projects like exhibitions. It's all always a very project-based. 
A lot of people would actually kill for the job that I had because I was able to travel to a lot of different countries from China to the U.S. and to do all these exhibitions. But there was one thing that I always missed very hard is the entrepreneurship part. I always said to everyone that I wanted to do something on my own. 
I wanted and I was going to create something ⁠— a new job or a new product. And then suddenly, about 5-6 years ago, a friend of mine came to me with this idea that he had and offered me to join him. That's actually how I started with Apicbase six years ago by now. One thing leads to another, and at a certain point, I was still working at the museum but had my own project. It was very clear for me that I had to stop doing what I was doing and start all over again with Apicbase. That's actually how I became an entrepreneur.
– You have mentioned that you joined a friend. When you joined him, what was your role?        
C: I'm a very project-based person. So what I'm very good at is making people enthusiastic about a certain project. I can get a lot of people in line to do something, and then fight together for a common goal. My first responsibility was to strategically get a company set up, and, of course, very quickly after I had to do a lot of sales. But as it is, you put on your business card CEO, but that actually means you do everything the developer doesn't do. In the first 2-3 years of the business, you're doing everything from cleaning the toilets to selling the software to big multinationals. One time you have a white color, the next time you have a T-shirt, and you're still the same guy. 
So my role was mainly in sales and marketing and all these things. Luckily I had a friend and business partner, who was a computer scientist, and he built the product. So we were a perfect match, you know. I did the sales, he did the project, and that's how we started.
– Was it a SaaS idea from scratch or you have changed your business model?       
C: Well, I changed the business model. If you look up on our website, there are still some things left from the very beginning. But we started with a hardware product, and it's a photo studio. We built this photo studio specifically for restaurant owners and chefs and people in the kitchen to archive everything they do in the kitchen. 
That's was the initial idea. And back then we realized that we actually should do something with software, and that we should have a subscription off somehow because that was how we thought it would go the right way. But it was very difficult to have a software subscription linked to a hardware product. 
And it's only three years in the business when we were building more and more software around the studio that we decided to leave the studio behind a little bit. Of course, we're still selling it and it has a very important role in who we are and what defines us. But why not make the pivot? You're not a startup, if you didn't make a pivot, you know. So, why not make the pivot to software focus and try and build a very nice software that people actually use in the kitchen? And, of course, if they need the studio, they can still buy it from us. 
But it's a software that has become the main driver of our business. That's being 2-2.5 years ago that we took that decision. And ever since, we've seen almost 95% of our revenue and our efforts go into the software. And, as I said, the studio is still there. You can buy it if you want. If you have certain needs, we can still deliver it for you. But the general thing is our software.
– Have you raised some investment or used your own money?              
C: Actually, in the first years, we were self-funded. We had some savings and we put it in the business. A big advantage of having hardware is that you can sell it for quite some money, especially if it's a specialized product. It helped us to generate quite some cash and cash flow because it is completely different from software as a service, where you have smaller subscriptions, and you need a lot of subscriptions to get break even.
That's a little bit of how we got through the first years. It's been, thanks to this hardware product, which was very easily sellable, and the cash was very high, so that we could start building on the software. And of course, the moment that we said "OK, let's pivot", we also came with the business model of SaaS. 
So we had to find some investment in order to bridge the gap between development and profitability. And that is actually still the phase we're in, because two years ago we had an angel investment from some business angels, who said "These guys, they're doing something great. We don't know yet what, but let's give them some money." And then, 8 months ago we had our series A investment, which has helped us actually to grow from a team of 8-9 people to a team of 30 people at the moment.
– Tell me about the biggest problems at the very beginning. What was the hardest for you?              
C: One of the main challenges is finding great people to work with. Especially in the development area, because from Apicbase point of view, one of the main drivers is our product. We're very proud of the product we built and, 50% of all people working at Apicbase, or 15 people at the moment, are developers. 
So the product is incredibly important. We dare to say that we are a product-driven company and finding those 15 people was challenging because we try to put people together in the room and make sure that they're really part of the team. That's what we've been doing, but that's been taking a long time. So one of the main issues is finding the right human resources. 
The other thing is, with software, especially with a startup software, you're always on the brink of something new because otherwise, it wouldn't be a startup material. And it's educating the market, which is very important, and it's incredibly difficult, in a sense, because the restaurant industry, the hospitality industry isn't known for its tax heaviness. It's not a business where people are spending thousands and thousands and thousands of euros a day or a month on subscriptions. 
So you need to educate the business. Why would I need to switch from a simple written list to a completely ultimate system in my kitchen? This turnover is something that we are working very hard on, and our marketing team is putting a lot of effort in making it understandable for our sector and our industry, why they need to invest in software to run their kitchen more efficient.
– Is it hard to be unique on the market? What is the main secret to stay profitable?            
C: There's some competition in the market, although it's quite limited in a sense as well. Because, of course, if you look at the economic space of F&B management software and if you count in, let's say, a point of sales as well, then, of course, there is quite some players in the market. 
But if you look at it in a very specific way, the solution that we offer doesn't have a lot of competition. The competitors that we have, they only solve one or two issues of seven or eight issues that we can solve. So what we see is that, when we compete with other software, for the companies that want to solve the complete kitchen process, there are not a lot of options. They are bound to end up with Apicbase. 
If you're looking at one or two items like "I have an allergy issue, so I need to solve my this", of course, there are thousands of allergen apps out there. But if that allergy issue is a part of, let's say, the kitchen, and if you want to say "Okay, I also want to save my recipes and I want to inventory management and I want to do centralized ordering, centralized stocking, to have a task manager, etc and I want all these things to be integrated in one system, so I only have to enter data once", then there is not a lot of options. 
And then Apicbase is a, let's say, Rolls Royce of all these F&B management tools because we solve all of them. It's because we had a very specific approach to how we want to solve that issue for our customers. We offer a platform rather than a point solution. Our platform is very flexible. You can have different modules. You don't have to pay for them if you don't want to use them. But the great thing is that, of course, when you enter the ecosystem of Apicbase, it is really simple to grow or make it smaller again. So whatever your business does, Apicbase will follow you. And that's the real advantage of having Apicbase rather than some on-point solution that will solve your inventory but won't solve your recipes. That's the basic story.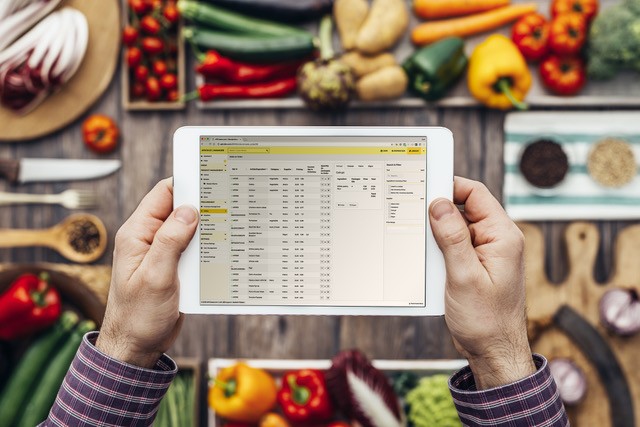 – What is the main step in SaaS startup launching?             
C: It's persistence. I think it's about having some kind of idea, totally unfitted for the market. Then you are listening to the market, modifying the idea, going back to the markets, coming back to the idea, coming back to the market and so on as long as it's necessary to get the right product-market fit. Once it is completed, then you will be successful. 
And that's basically what we've been doing the past 5-6 years. It's listening to the customers. If customers come and say "I like these pictures that you're taking, but I want to take them with ingredients." We will respond "Okay, let's build this.
But this is really about persistence because, in the beginning, people will say no to you over and over again. Sales and setting up a startup is like swimming in a pool of rejections. It's about going through that pool and persisting in what you want to achieve that will make you successful.
– It is easier to do when you already have to pay customers. But when you come with some raw ideas for potential customers, who already use some other solutions, it is really hard to change their behavior and explain why they need to use your software. So what did you do to overcome this obstacle?      
C: That's a good question. It sounds very silly and stupid maybe, but with the photo studio that we developed, we are very unique. We have the patent on this. Nobody else did this in the world. So there was one place to go for customers. And suddenly big airline companies, big catering companies, which we never envisioned to have as a customer came to us and said: "The thing that you are doing is what we have been looking for so long, so please sell it to us."
So it's the uniqueness of this product that has been the driver of success. And that's how we try to approach the next steps in our software development company. So, okay, it's inventory management, it's nothing new. But how can we make it unique to our customers? And the way we did that is by making sure that the recipes that chefs use in the kitchen are translated into inventoriable items, so they can work on the human level rather than a package level. 
That's the way that we try to improve on and be unique in our business. And I think that's also why, as a startup, you can breakthrough, it's because your product is, in a sense, more unique than the product of a big multinational, because it's more difficult for them to make new and better software. So that's how we did it actually
– What are SaaS trends in 2020?                           
C: For me, that's a very difficult question, because I'm so into food and beverage management that this is a sphere I could certainly respond to. But, in general, SaaS trends everything is more difficult. But one thing that might be interesting or what I find very good evolution, of course, is that you see that B2B software starts to become more mature, more accepted and also more expensive. 
There were times, the past 5-10 years, when B2B software was priced at the B2C level. So you had very small user fees like 10, 15, 20 euros a user and that's how these B2B software were also priced. What we see now is that all those software that we use, like Hubspot and others, have enterprise level, as well as an enterprise-level pricing. 
And this is an evolution that, of course, in the long term will also be beneficial for us. It will also benefit the development of this software, because we will become profitable and we will have money to keep on developing. And these actually will be incredibly profitable and incredibly beneficial for our customers because, okay, it's a higher price and it's a deeper investment, but they will get so much better software out of this. So in the end, I think everybody will benefit by paying the right price for the right product. I think that in 2020 it will be confirmed and the price will be set right.
– How to make a revenue of over $10 million in 2020?              
C: For me, it's very simple ⁠— to scale like hell. That's something that we're doing at the moment, as well as hiring as many salespeople and specialists as possible on getting the software out there and making sure that everybody, who is looking for F&B management software is ending up at our desk, at least listening whether or not we have a solution that they're looking for. Because, of course, you can't serve everybody, but at least we need to be there and make sure that we are on top of the mind of everybody in our sector and our industry.