In search for investor – the pitfalls and how I dealt with them. Real life story.
4

min read
When I first started creating my products, I was completely confident that in a month I would have an investor, then in half a year – a couple of large customers and in 2-3 years – a sale to Google. I was guided by one principle, to have a product in the high-tech field that could rival the likes of Google, Amazon or Facebook. 
Product development challenges
Options' twist
How to choose the best option for development I already shared the story about the first product I created, an idea that utilized sound recognition software. As you know that product didn't succeed but it did teach me a lot about creating digital products. When I began the business I had three options on where to focus my time: 
The first was to focus on the growth of the consulting business and recruit a manager who was able to spend time undertaking the necessary research and setting tasks.

The second was to focus on finding an investor, forgetting about the product until I could find a way to pay my bills. 

The third option was to focus on the product. Studying the topic, working with target audiences, collecting feedback, developing strategies that are clear to the investor and participating in exhibitions.
Plateau is unacceptable
It wasn't that the company became unprofitable since old customers kept returning and we even had some recommendations, but the company had stopped growing.
During the first month, I couldn't find an investor. I decided to give myself a period of 3 months to find someone to invest in my idea, but no one I spoke to returned my call. I actually had a high response rate since I had positioned my startup as a video processing world leader (despite having barely analyzed my competition).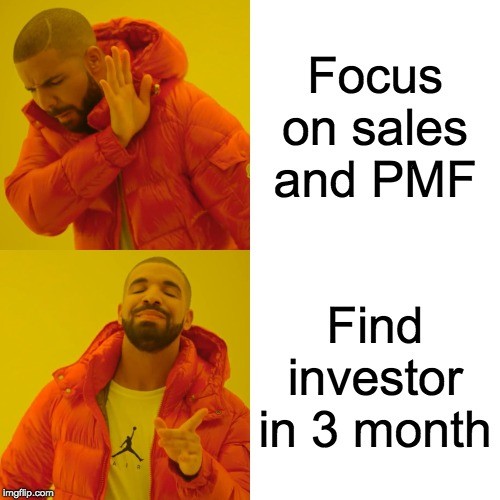 However, when I explained, during the call, that I didn't have any formal negotiations with potential clients, the calls ended. People simply realized that they were wasting their precious time on yet another dreamer.
But, as the saying goes, 'lucky are those who work hard!' It was through my sheer tenacity that an investor was found. I am still very grateful to this man. Yes, it was only a small amount, and yes it didn't come with connections or guidance but it was money nonetheless and that investment allowed me to expand my team.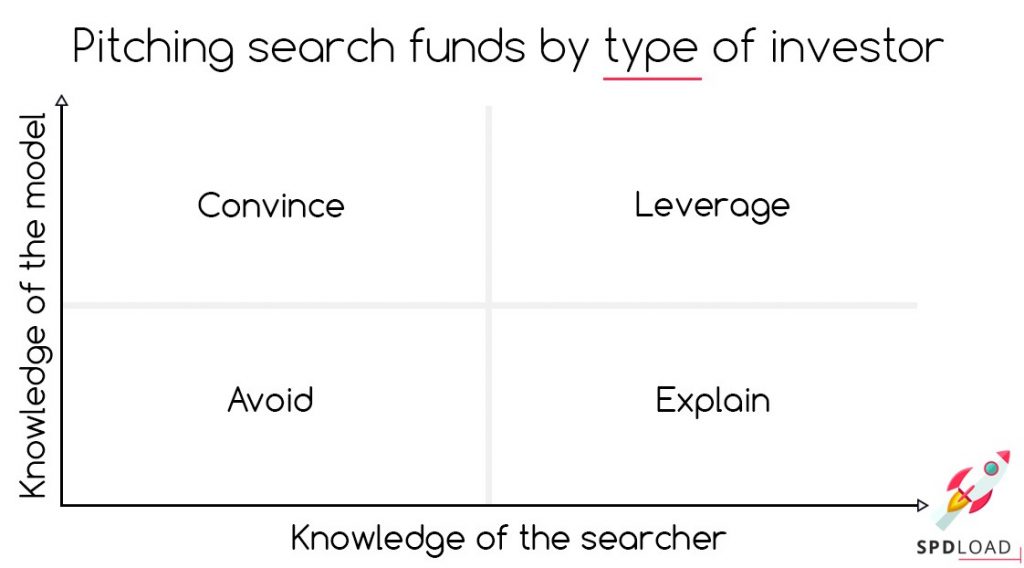 Main points
I want to share with you a few situations that really helped me learn a lot on my journey.
You must have the team
On one of the calls, I spoke with a person who invests exclusively in computer/tech-based startups. Not only did he invest money into the projects he worked with but he also offered help with positioning and sales. Despite liking my idea and the strong team I had created by that time, everything fell apart when he stated "Well, basically everything is clear. Let's move on and communicate with your CTO."
CTO? Are you serious? The person who only codes yet still need to be given a share of the company? When he found out that I was the only founder in my technology startup and had no connection to someone with a strong technical vision, he ended the call there and then.
Would you pay for it?
The second case occurred later and it really taught me to put myself in the place of an investor.
We were already at the stage of negotiations, I had prepared a business plan and sent it, yet the investor was not replying.  I wrote the first: "So what? Ready to invest?" In response, I heard: "We do not invest in trips abroad." This answer may seem strange to you but it was in relation to one of the expenses I had listed in my business plan – a trip to Sweden to see a potential client. Such an answer was rather strange to me since this meeting could directly help affect a potential sale.

Investors will not invest in the plan like above
But some time later, I put myself in the place of this investor, imagining the situation, that I am being asked to invest in  an early-stage startup but at the same time I have to pay not only for the development (which is clearly lacking to make the first sale) but also for a trip abroad just to communicate. Before adding any items of expenditure, think first, would you pay for it?
Be ruthless
One more significant case occurred during a presentation I made to several investors.
The presentation was in another city, 5 hours drive from me. After more than an hour of waiting while the other participants made their pitches, I was of course, on stage making last-minute changes to my presentation! I stand and talk beautifully about my ingenious product, whose customers will be the leaders of the automotive market, and the final buyer will become market leaders.
Then one of the investors asked me: "Why do you think that BMW needs your solution?" I realized that it's easy to be confident when you have a speech prepared, but when investors question you, you really need to have a deep understanding about what it is you are doing, or you will fall apart, however confident you are at public speaking! Nevertheless, despite this fatal mistake, the presentation was a turning point for this product.
This presentation earned me a place in the  Ukrainian accelerator as well as winning the All-Ukranian pitch, but I'll save that story for another article.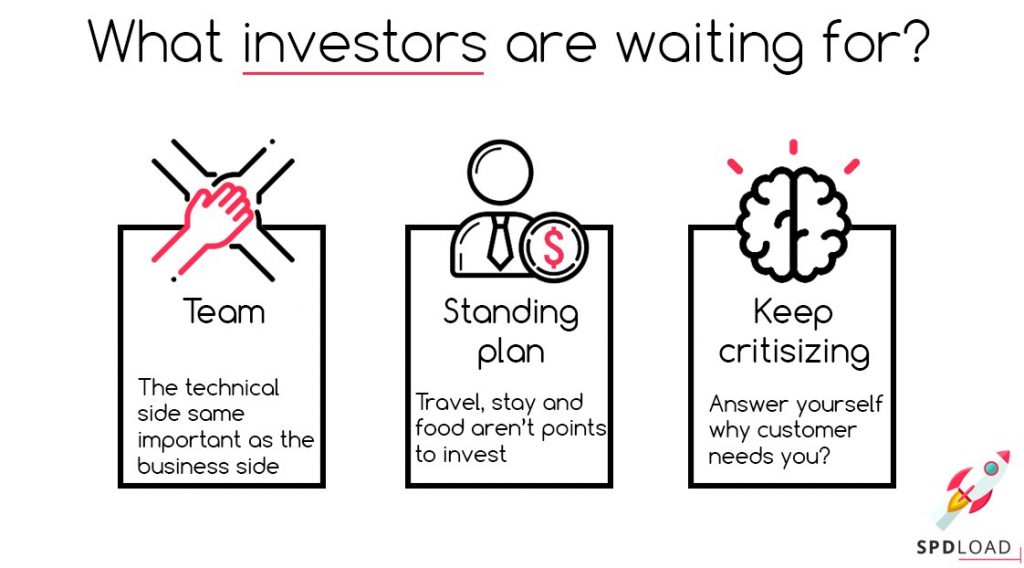 Finding an investor in itself is not a difficult task. For example, you can use our base, which we collected with our hands. Just promise not to send them SPAM, but to work point and custom. As you already understood, there is no secret sauce. You just need to be interested in investing in you, and not in another product.
My personal experience has shown that you need to focus on 3 main things:
1. Work with the target audience and collecting feedback from them
2. Quick hypothesis testing and quick pivot exercise
3. Creation of ideology in a team