Dogiz is a marketplace designed for a petcare professionals. It is a B2C platform to connect pet owners and dog walkers.
Schedule the walk and please your dog.
Initial request
The customer wanted to monetize the existing product.
The strategic goal was to expand project's target audience and attract business customers. Our customer decided to create a comprehensive CRM.
Therefore, our team came with some interface solutions for the system and analytics dashboard. They also created an extensive communication system.
Project key points

Customer
A startup with a team of mobile developers

Location
Israel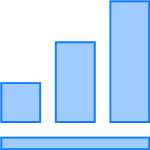 Stage
A startup at seed stage
Project goals
Our goal was to build a process of project coordination and communication between backend and frontend.
We also aimed to eliminate all technical issues, provide scaling for the product and ensure smooth update of an existing app.
Markup
Frontend Development
Quality Assurance
0
Dev Hours
Solutions
The map. We integrated Google Maps API to get geolocation data. An interface was developed from scratch. It allows to display dog walkers' moves to improve user experience.
The calendar. Team implemented the best interface practicies to create the useful and simple calendar. It allowes to schedule date/time and leave notes.
The messenger. Developers created an extensive chat system with management of messages, integrations of images and videos.
Technologies
React
Java
Result
Dogiz added the working tools for project monetization. It started to show profits.
Issue-free development allowed the app to continue attracting customers. Even during the continuous features update.