What is SaaS product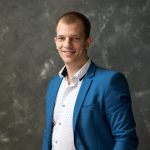 Max Babych
0
|
219
|
24
minutes
Software-as-a-Service or SaaS is not just a "slang used by geeks". It is a very common business model in the world of digital products. If, like me, you become excited when you see the words "digital" and "product" in the same sentence, then keep on reading! SaaS definition – a method of software delivery and licensing in which software is accessed online via a subscription, rather than bought and installed on individual computers.
As Bessemer precisely notes, over the last ten years the number of private companies worth $1 billion or more have gone from 0 to 55. These figures show that it's more than just a hype driving cloud-based products. It's a real sign of rapid growth. And it looks like the market is set to evolve from $500 billion to the $ trillion mark over the next few years. The market offers a potential opportunity, so do you want your share of it?
If you are interested in joining the club of successful founders, let's examine what the heck SaaS actually is and what you need to know about it.
What is a SaaS product?
In simple terms, SaaS is a software that all Internet users have access to. Many of your favorite internet platforms are built on SaaS. Such as Google Apps, DropBox, and Canva.
SaaS became popular with entrepreneurs in the 90s. Since then, it has become one of the most relevant business models with at least 51% of companies already operating every process using the cloud. This figure is set to increase to 73% by 2020.
To use the SaaS platform, you don't need to install anything on your device. The application is hosted by a server provider. Both maintenance and updates are carried out by the host, being invisible to the user.
In fact, this system has a key advantage. You don't need any special equipment or specialists to use the software. Just go to the site, use the product and it will help you to increase your profit and flow your processes easier.
As a result, SaaS has rapidly developed as a model for delivering value to the user. The market has reacted. The large corporations have begun to absorb SaaS companies along with their products. For example, in 2018 Microsoft acquired GitHub for $7.5 billion. Adobe acquired Marketo for $4.75 billion and Magento for $1.68 billion.
In short, the SaaS product market has incredible potential. And this is why there is such competition to gain a share of the trillion size market. To become a successful player, you need to understand the basic concepts and dynamics of SaaS.
Key characteristics of the SaaS model
As the market grows, it attracts more and more entrepreneurs who see the potential opportunity of breaking into the league of big players when it comes to SaaS. A significant role in this was the advantage of SaaS over other business models. But is everything really as smooth as it seems within the SaaS model?
What are the main advantages of SaaS?
4 most important factors that determine the success of SaaS are:
Naturally, the advantages themselves are only a set of characteristics. It's a successful combination of circumstances, the right strategy, and high-quality technical implementation. But everything has two sides.
What are the main disadvantages of SaaS?
 There are two main disadvantages when building a cloud product:
The main disadvantage of SaaS products is the lack of personal data security. I know what you think. But before you close this article, let me thoroughly explain it to you.

Technical requirements, such as ISO/IEC 27017 safety certificate, assist in providing security. But due to the possibility of a repeated

leakage of user data

,

these do not provide absolute security.

Difficulties in complying with government regulations need to be taken into account.

There are various types of businesses that store patient information and are subject to state regulation. Thus, they need to thoroughly study these requirements.

Whether they are

GDPR or HIPAA

.
The disadvantages of SaaS can be attributed and linked to the disadvantages of cloud software. And, thus, at the moment this is a factor that we can attempt to reconcile in the future. So keep your head up.

What is a SaaS company?
If your startup is creating a SaaS product, you are officially enlisted as a SaaS company. Your company does not have to be synonymous with your product. Moreover, it is possible to develop multiple products at the same time.
Take a look at Google. Not only do they own Google, but also Google Maps, Google Drive, Google Documents and Google whatever-else. These are all different products with their own specific uses. 
It is important to understand that a product is not just the company behind it. A company can focus on several markets and niches simultaneously. And that is why Google, for example, has several products.
The best SaaS companies (and products)
G2 prepared a list of the best software companies of 2019, based on the reviews of real users. Let's take a look at the top 5.

Google
Well, Google needs no introduction. The company developed 137 internet-oriented products. Among them — search engines, advertising, analytics, document creation programs, and maps. We enjoy using its products every day. The company began as a small startup in 1998. And now, after 21 years of trading, has earned over $136 billion in revenue.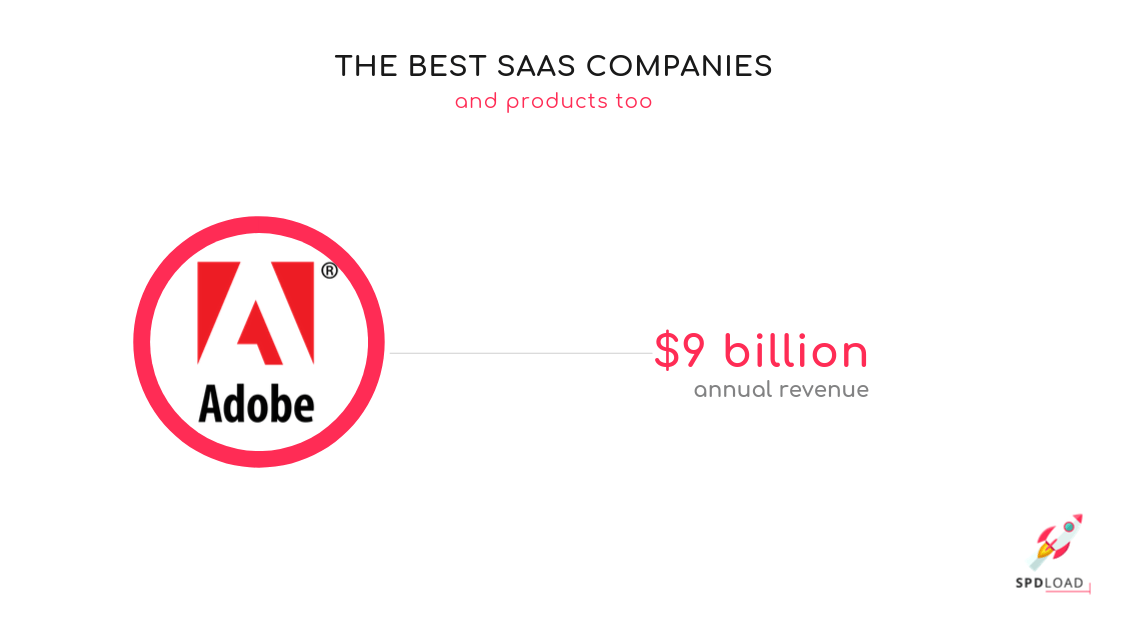 Adobe
It's likely you all know what Photoshop, Illustrator and Flash Player are. Adobe owns more than 50 software products in the field of photo and video editing. It is also working with print media and marketing. With its help, users open over 200 million PDFs annually. Users, in their turn, helped Adobe to earn $9 billion last year.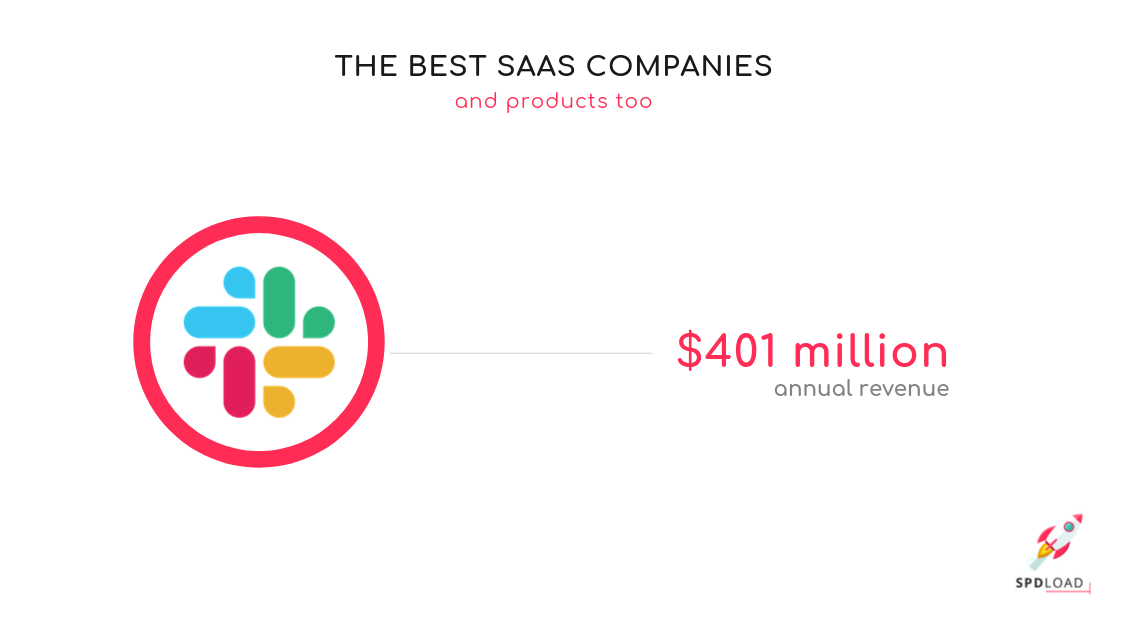 Slack
Before the inception of Slack, there was a massively multiplayer game that failed. Slack was born around the same time in 2013. The company now works with three products. They include their main product, the Slack messenger, which is focused around work messaging. The company's main strength is ease of integrating with many third-party services. And this advantage resulted in 9 million active users per week and $401 million in revenue.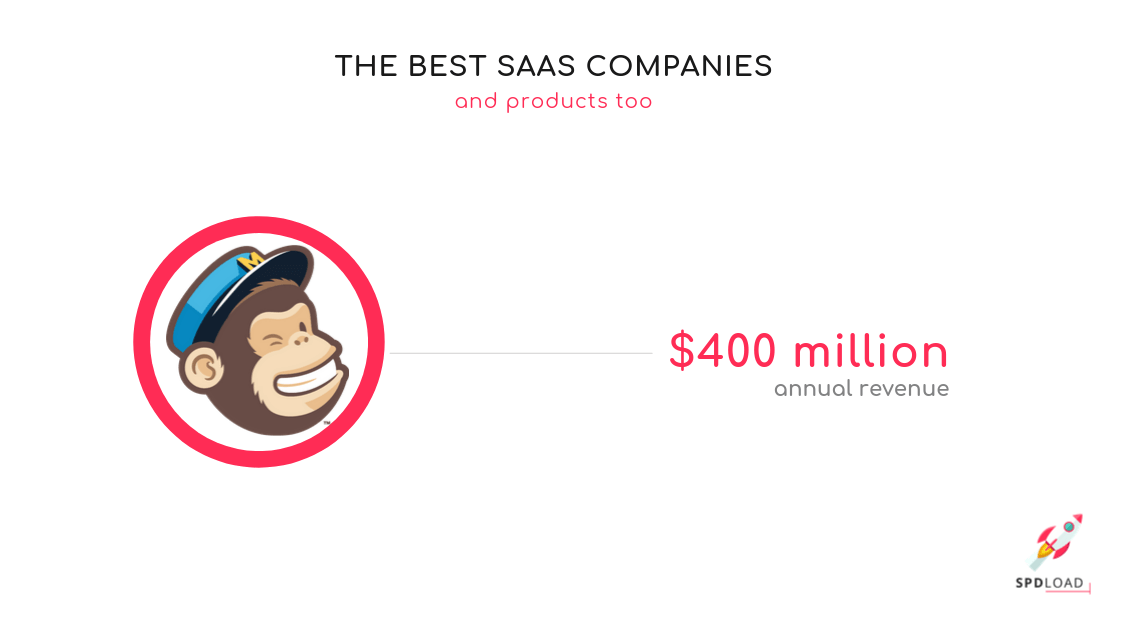 MailChimp
When Darwin's theory met email marketing, the world saw MailChimp. The company owns three products with the main one being MailChimp. MailChimp is an email marketing tool for creating and analyzing email-oriented marketing companies. The company used this impressive combination to send 15 billion newsletters monthly. It resulted in earning the company over $400 million with just 550 employees.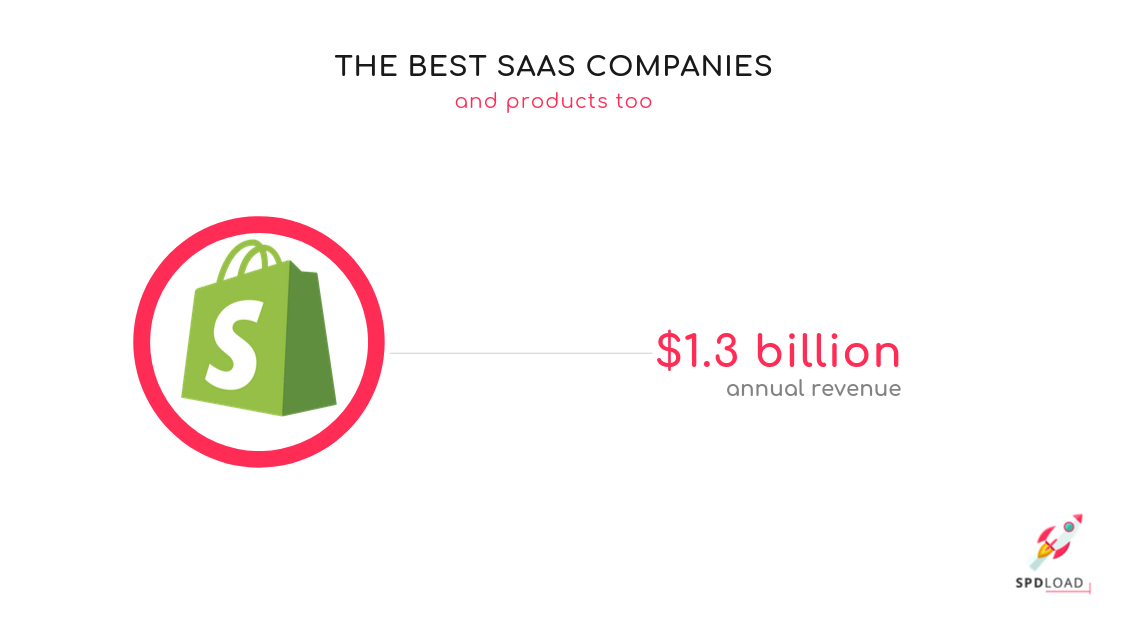 Shopify
Shopify is an eCommerce platform that owns four products. Its main product, Shopify, is an eCommerce platform for online stores and retail POS. It has over 800 000 users, who helped Shopify generate $1.3 billion in revenue last year.
The overview of the SaaS market in 2019
Business loves mathematics, so you should love it too, or learn to! The more you keep your numbers under control, the more profit you can make. Keep this mantra in mind when developing your own product. Especially when talking about such a giant market as SaaS.
According to Gartner, there will be a huge boom in the SaaS market. It predicts reaching a market revenue of $85 billion by the end of 2019, an increase of almost 18% since 2018. It also predicts a trend of stable growth in the SaaS cluster as more and more companies begin to adopt cloud software. 
This is good news for any founder starting a SaaS business, as we can see the market conditions are positive for new projects. Will your business succeed? That depends on your idea and whether it is groundbreaking enough. But take into account that the bigger the market, the tighter competition becomes. I am sure that any entrepreneur understands this vital basic.
Let's take a look at the research. The number of competitors in SaaS firms starting around 2012 was less than three on average. By the end of 2017, every SaaS startup faced competition from nine other firms competing in the same SaaS market segment. Considering the example of SaaS marketing solutions, the number of products increased from 500 to 8500 between 2007 and 2017.
Let me explain why these statistics are important. Market growth is good news. But it is even better when you have a very specific niche product. It will help you to stand out from the other 9 SaaS businesses continually trying to take your share of the market. Working out your niche helps you to reduce competition. It lets you become 10 times more likely to create a product that is specific and genuinely useful to the market.
The types of SaaS products available
There are various reasons why customers may want to use a SaaS product within their business model. Indeed, it offers a great opportunity for diversity. Using a Capterra study I discovered that there are over 718 categories of cloud products. But if we only consider the most popular categories we can reduce the list to the following: 
SaaS product marketing
One of the keys to creating a successful startup is speed. This principle works well both with technical and business development. The same way you test business hypotheses you have to set up a proper marketing strategy. Otherwise, people won't be able to become acquainted with the product.
Thus, the main goal of any SaaS founder is to find, attract and keep customers. And do this as fast as possible.
The top 3 marketing challenges you will face as a SaaS owner
There is a lot of data about how and why 90% of startups fail within their first year. 
To put it simply, the market face 99% of solutions it doesn't even need. That is why they have no sales and no growth. If you want to be that 1%, let's find out what should be taken into account.
In SaaS, it's important that you promote potential expectations as well as tangible products.

65% of online companies

rely on their marketing efforts. It makes the competition even tougher as you will have to compete with recognizable brands with large and active marketing strategies. 

How can you actually promote the solution and expectations?

There are user journeys and sales or marketing funnels that can lead you to your potential customer. But the trick is to provide the maximum value of your

unique product

at

every stage

of the decision-making process

.

It is a permanent analysis of relevant questions to give you the most valuable answers at all stages of the product's development.

What happens after signing in? The fundamental issue is eradicating a high churn rate after users have made their first visit. It is important to share only relevant and useful content. It will encourage customers

to return to your site and then retain

them. Describe the benefits of your app to the users. It will help to save time.
Naturally, this is a simplified presentation of potentially difficult marketing problems. My personal experience is that simple answers to simple questions are the basis of success. If a product's goal is clear, then it is far easier to deliver value. There is no need for lame arguments and decisions based on startup experience. Eventually, they may be unnecessary.
What are the top 5 marketing objectives for SaaS?
Marketing objectives may sound very simple but are often not so easy to achieve. That is one of the main reasons why 29% of founders miss their chance. They burn through money without activating efficient marketing or sales processes. As a starting point, there are top 5 marketing objectives for SaaS developers to keep an eye on:
After setting your goals it's time to put them into action, but how? There are marketing channels for this. Before you actually start any marketing consider the buying process. Many founders (most likely everyone) have already seen these cone-like marketing funnels. At the end of this funnel, should you stop retaining your customers? Of course, the answer is no.
Marketing channels list you need for SaaS
Before you actually start marketing activities think about the buying process. Many founders (if not everyone) saw these cone-like marketing funnels. At the end of this funnel, should you stop the retention of the customer? The correct answer is no. 
That's why today we use a horizontal funnel with the same stages but other meaning. According to the Harvard Business Review, profits rise as a customer's relationship with a company lengthens.  It would help you to let users repeat purchases more and more.
You can use every channel at all stages of the funnel process. But the question is how can you tell the story of your product? Let's take a deeper look at 7 proved marketing channels.
Content marketing
The most important point is content marketing. This is not just my opinion. According to Aberdeen, the annual growth in unique site traffic is 7.8x higher for content marketing leaders compared to followers (19.7% vs 2.5%). The key benefit of content marketing is "return power", as it increases in value over time. It also continues to attract leads over time.
While other channels do so only as long as you are investing money into them. You can find an excellent example of thorough content marketing at Intercom blog. It is focused on everything around product development from design to promotion.
Product trials
There is nothing more impressive than product trials. Well made test-drives don't even need words to sell a product. At least 86% of customers are ready to pay for better user experience. But you need to consider a few easy-to-follow tips first. Your product has to be polished and bug-free. You should also input some help for a customer. There are many examples of successful trials on the internet, but personally I prefer the way eVoice has promoted theirs.
SEO
SEO or Search Engine Optimisation should be your best friend when it comes to content making strategy. It makes your content visible on search platforms like Google, Yahoo or Bing. There are two approaches you need to pay attention to.
First of them is On-site SEO. It is the content optimization to let users find you online. It works well, but only if you are creating content that people want to read, link to and share. In contrast, you don't have the same control over off-site SEO. It is the second approach that relies on links to your content being posted. Together these two are regulated by ranking factors. Basically, any website with quality content and a lot of users is an example of good SEO.
Referral marketing
Referral marketing is a good option. For example, when you ask friends which cafe they would recommend, you usually trust their advice. With SaaS products, it's a pretty similar story. People like personal recommendations. 69% of SaaS owners say referral leads develop into customers faster than with the help of other marketing routes. Usually, companies make a referral program like Dropbox Referral Program. If you can recreate a similar result, then congratulations, you are on the right track!
Google Adwords
No matter how good your content is, millions click on ads on the Internet. That's why you need to keep an eye on Google Adwords. Especially now, when Google has started to increase their use of ad banners. Well made ads have a lot of specific requirements, but when done well they can be catchy and entice you to click. Thus, let me recommend 10 inspirational examples of ads to help inspire you for your own campaign.
Co-marketing
One workable way of content making is co-marketing. You can compare this to when two artists from different music labels come together to create a number one single worldwide. Their target market doubles and, thus, they get double profit. The same logic can be used in SaaS promotion. You can create some desirable content and then join it to another author's piece. Check out these 10 best co-marketing cases that actually work.
Remarketing or retargeting
Remarketing or retargeting is a very common strategy that is popular among eCommerce platforms. Once the visitor checks out your website, he or she will start to see your add everywhere over the internet. It's 10x time more attractive to click than usual ads. To be honest, It's quite interesting, that 25% of customers enjoy retargeting.
SaaS product sales
When you first start a company, you have to take care of the marketing and sales yourself. I have been in a similar situation as the founder of a few startups myself. 

Sales process
Sales of SaaS is usually a long process with many pain points along the way. It should start only after thorough marketing activities to ease the sales process.  From now on, visitors evolve to the class of "sales qualified leads" or SQL. At this point, as a salesperson, you need to clearly estimate the problems a customer may experience and articulate what benefits they will receive with your brilliant solution. 
Telling vs. Selling

. You can list hundreds of features your product has. But from my practical experience, it is better to explain how at least one of them will help to

improve the quality of business.

 

Ask 10 random Instagram / Facebook / Airbnb users why do they use it. You will hear 10 different opinions. The most important part of

personal selling

is to adopt customer feedback.

Ideal Customer Persona

may help with this. However, the main goal here is to learn to

always listen

and engage in dialog with a user.

Always use data. Implement information in ICP's. Validate it via interview. Compare it. Numbers = facts. And that's the point. If you know your customer's behavior you would

sell smarter

. It's a psychology process

based on statistics

. Just try it and you'll never come back again to close worthless deals.
The sales cycle for your cloud product
The sales cycle is a process that companies undergo when selling a product to a customer. It encompasses all activities associated with closing a sale. The terms and amount of required resources depend on many factors. They include customer, price, feature list and so on. The basic principle works here — the cheaper the product, the easier it is to sell. It is no secret, that $29 per month is nothing compared to $100 000 per year. High prices make it harder for clients to part with their money. That is why you need less involved stakeholders to decide. Let's take a look at available options:
In a favorable case when you open

new market

space, you can't feel like a monopolist. Your sales cycle will be comparably longer than traditional markets & products. The reason for this is due to the need to educate your customers.

In fact, 92% of buyers trust

referrals

from people they know. That is why

 

getting started in a new market can be tricky. But if you can get it right and create a viral product you will be rolling in money just like

Scrooge McDuck.



You typically need from

6 to 18 months

to close an

enterprise deal

. As I mentioned, too many stakeholders can slow the whole process down and over-complicate it. Different departments are responsible for dealing with different problems. Where your customer sees pain, the superiors often see nothing. Enterprises usually want to customize their options. But even though it's ok to discuss the price, the main thing is to focus on the maximum viable features.

Leadfeeder

is a great example of this.

What do you do if your dealing with s complex products? Make an impressive demo of your product utilizing your key staff. Make it short and effective, keep the idea simple.

 
SaaS salespersons salaries
A startup founder must sell their own product. However, business development is impossible without sales delegation. This is why it's important to take sales costs into consideration. The most popular job portals have researched the average cost of a SaaS representative. The costs include a set of both hard and soft skills. 
Indeed job portal calculated the salary of almost 210 000 salespersons over the past 36 months. The average salary for a SaaS sales representative is $60.208 per year.  The account representatives' average salary is $50,409 per year.
Glassdoor job portal estimated that the average salary of SaaS salespeople is $48 328 per year.
Recruiting portal Ziprecruiter shows an average salary of $77 986 per year.
However, as an owner, you need to understand that these aren't final figures. There will be also a number of bonuses from general sales numbers. Rainmakers did an excellent researching job of all available sales ranks using Glassdoor data. I highly recommend taking a look at it. 
The framework of how to put the correct prices
Both novice entrepreneurs and experienced SaaS businessmen face the same ongoing problem. Yes, I am talking about pricing. However, there is nothing to worry about.
The pricing model is essential for any Software-as-a-Service product. However, an average startup spends only 6 hours to set up the price. Is it an issue? I do not think so. It depends on how you actually spend these hours. 
Firstly, I recommend that you study your competitors and analyze their pricing. This allows you to clearly understand market expectations regarding features value/pricing. Finally, your product price needs to cover all costs and guarantee your growth. 
Then, you need to identify the buyer and form a typed profile yourself. This must be done to determine segments of the target audience. The next step is to focus on the most relevant and profitable category. To do so, the whole team should understand every cohort. If you feel a need, work to get as thorough description as possible.
As soon as you understand the difference and priority of your target audience, then it is the best time to interview them. The trick is in a good-prepared survey which leads to quality data to analyze. 
The above activities enable you to obtain good pricing from the start.
Pricing models
Choosing a pricing model for your product is a complex activity. It is not only about calculating the product budget. The pricing model also includes the customer's willingness to pay for what you are offering. Various marketing psychology tricks can help to encourage a customer to part with their hard-earned cash. But what pricing model should you implement? Let's look at the options.
4 pricing mistakes that SaaS companies make
Mistakes are an integral part of your startup journey, especially when it comes to pricing. But common mistakes can be avoided without the slightest loss. I have listed the top 4 mistakes to help you avoid falling into the same traps:
Avoidance of pricing
One of the main mistakes that companies make is the avoidance of pricing. There are many reasons why this happens — from fear and ignorance to the hope of customer feedback. But the fact is that without prices you can't survive. Even if you work on the basis of freemium or using an ad-supported model, you still need to invoice for premium features or ads. If you are a value-orientated business with a solution that can really help people, then there will be customers willing to pay for your product even in its raw version.
CBInsights noted, 17% of startups fail due to the lack of a business model. Check the 3rd slide. Here, Steve Ballmer, ex-CEO of Microsoft, notes that "The winners have a better price, business model and revenue".

Do not copy their prices
Look at your competitors, but do not copy their prices. It's OK, when you have similar or even the same prices. But only in case that they were calculated separately, and they just match up due to the similarity of your expenses and profit margins. You cannot copy everything your competitors do as it won't work the second time. You need to make sure you have additional or different values to your competitors, meaning the price will also be different respectively.
Not price increases
One of the most common problems SaaS startups face is not price increases. It is important to continually track your costing figures and set an optimal profit margin at all times. The SaaS market is not static but rather dynamic. 18% of startups fail because of cost issues. That is why you need to make sure you are costing your business effectively.
Wrong pricing questions
Another big problem can be asking the wrong pricing questions. The most common method used by most SaaS owners to determine the best price is by interviewing their customers. It helps to discover how much they would be willing to pay for the product. But it is not enough to ask your customers how much they are willing to pay.
Working out the questionnaire is a more sophisticated procedure. It doesn't matter what results you get. They are still harder to estimate than a straight answer "I am willing to pay so-and-so much". Thus, it is very important to ask the right questions and analyze the answers. It will help to choose the best monetization option. "The Anatomy of SaaS Pricing Strategy" by PriceIntelligently covers all you need to know.
Top 6 SaaS key metrics
There is a unique point that distinguishes SaaS from corporate software developers of the past and current business models of cloud solutions. It is that SaaS is designed for small amounts of recurring income. This means it is important to focus on key metrics. I suggest focusing on these 6 most valuable metrics:
Once you identify the cost of attracting new customers, you will be able to work on finding the most optimal development channels for your product.

Customer Acquisition Cost

or

CAC

is a marketing costs divided by the number of new clients over a particular period of time. David Skok referred to this equation as a

startup killer

. As soon as you begin analyzing this metric you can begin to understand the real scalability of your product.


Lead Velocity Rate

or

LVR

shows the growth of your Sales Qualified Leads from month to month. Put simply, this rate shows how many new leads you attract while you are developing your product. It's a very important metric as it shows the real market need and interest in your solution. It also helps you to focus on the success of both your marketing and sales. To calculate this metric we use the following formula. Before using it I recommend you to check

the following examples

of such calculations.



By calculating your monthly income you'll find out your

Monthly Recurring Revenue

or

MRR

. This is a complicated metric, as you need to include the revenue from new customers, up-sales, and the churn rate. This is the metric  that shows your current stage of success. You can also use

a good calculator

here. By the way, a lot of companies use it to take into account Annual Recurring Revenue that typically doesn't include these nuances.


The churn rate shows how many customers leave your application over a set period of time. It's a critical identifier for highlighting your users disappointment. There are many reasons why they might leave.
This may be due to market conjecture, your own chosen strategy failing or other reasons. Sixteenvetures observed, that a

5% annual churn rate

is considered acceptable for SaaS products. To calculate your churn rate you can track the data from your CRM to see how many users stopped using your software in each month. 

As most SaaS products operate monthly, you need to track your

Average Revenue per Account. Also known as ARPA, this is an average revenue per user. You need this data to observe how clients evolve within your platform. Would they be prepared to pay more or less? How much do new customers spend? What are the main reasons?



The most critical thing that can help you to make a decision regarding the course of your products lifetime is

LTV. Lifetime Value

represents how long you retain users on your product. If your ARPA is $50 and your LTV is 12 months you'll receive $600 on average per user. If your business model is viable, your LTV would be more than the Customer Acquisition Cost.

I would recommend you to check Neil Patel's

case study

on LTV calculation.

Metrics are an important part of fundraising. If the founders are familiar with them, it helps them to create a proper pitch deck. Numbers are a hugely important insight for any investor.
Why SaaS companies fail
What I personally love about working in the startup community is that I am always learning. No matter if you succeed or fail. There is always a chance to analyze the results, improve them and hone your skill set for future projects. 
Take a look at the 4 most common reasons why startups fail. Let's find out how to avoid the mistakes that lead to founders appearing on the postmortem list.
In contrast to popular belief, the main reason startups fail does not lie in the technology area. But instead, it is linked directly to

market needs

.

Ensure that the market needs your product and it is not just a vanity project. The easiest way to avoid this common issue is to follow

Lean Startup approach

. It's a budget-friendly and customer-centric framework that helps you build successful applications

.

The second most common reason is usually considered to be running out of cash. But I think that this is not the real reason. I think it as more about

a failed business model

. If we talk about metrics, it just means that your churn rate is higher than your growth.

Steve Blank, a well-known author of Customer Development, proved that

first-to-market status

is overrated

. Xerox was the first creator of a computer mouse. But Microsoft and Apple were the companies which made money out of it.

Sometimes investors are impressed with the team rather than the idea or even the product. If you choose the wrong team, you may fail. Successful product startups are built on three main things. They are — the team's ability to find a market, determine a growth strategy and implement it with limited resources.

A poor management team or the lack of good sales people will limit your growth.


Learn about SaaS
Below is a list of the 5 must-follow resources to improve your SaaS skill set.
Summary
I hope you enjoyed this all-in-one SaaS article. We have tried to cover everything regarding SaaS to help you understand how impressive and deep this topic is. Some founders think business development is easy. And, of course, it can be. But only when you are willing to make mistakes, learn from them and continue to move forwards. If you don't, you will be left behind and not experience any signs of success, especially when it comes to digital products. 
Thank you for reading this article. I would be pleased to receive any comments on any issues you feel remain unclear.
Posted by
September 20, 2019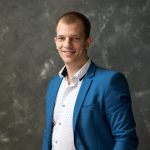 I am serial entrepreneur and IT professional. Launched 4 own products and more than 20 products for customers in SaaS and Marketplace industry
Can we send you our next blog post?
We'll send you about 3-4 posts a month. Only the best stuff you'll like.