How to Outsource Web Development in 2020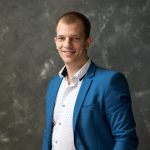 Startup tips
Web Development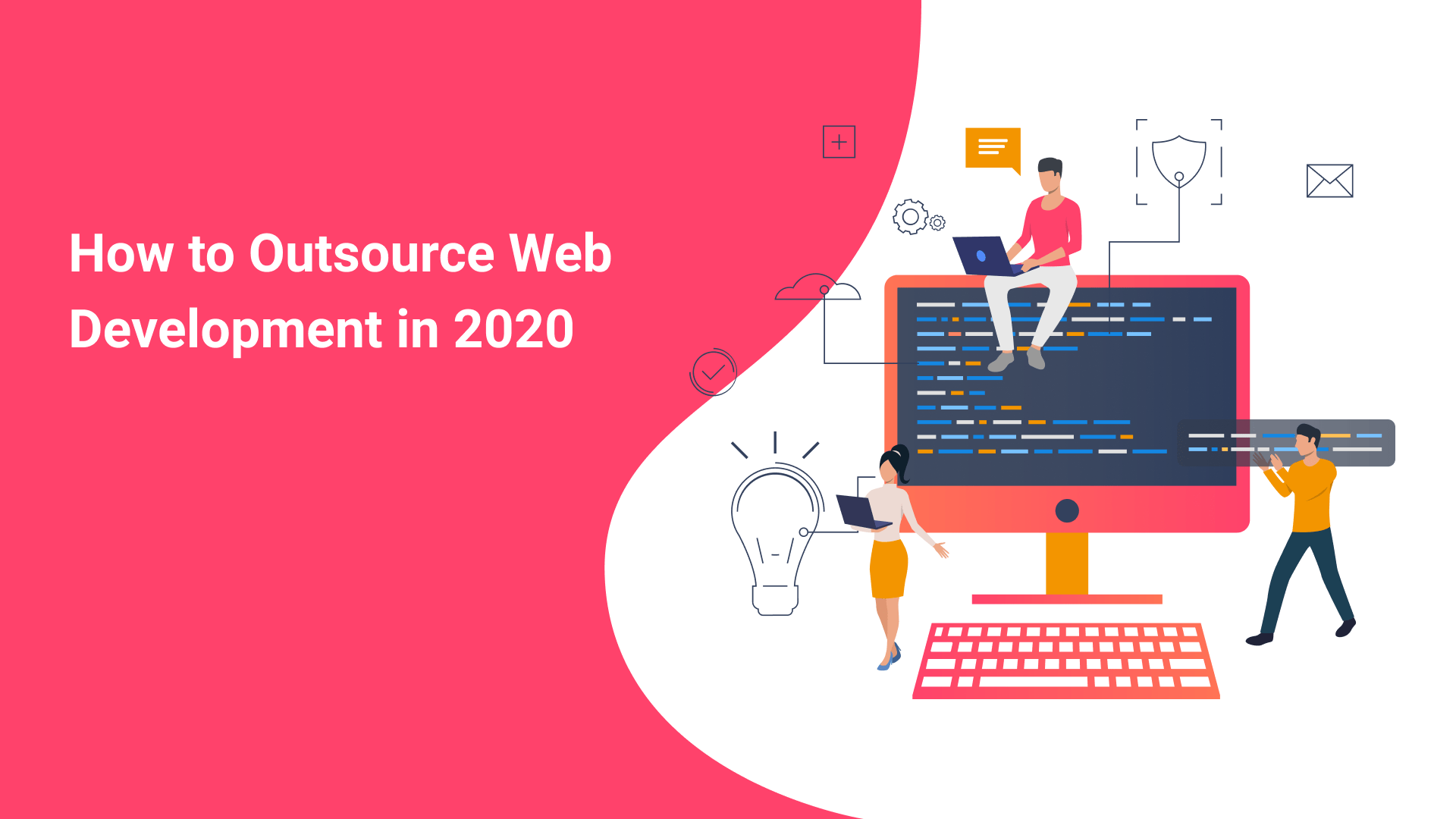 21

min read
Outsourcing has become a global trend today.  The industries where outsourcing doesn't make sense are almost gone. Especially, it is a popular option to build an MVP.
Since digital progress leads to the necessity of showing an online presence, web development is a must-have. But not every company has time, people and money resources to hire someone to build a website in-house. Thus, web development outsourcing becomes an opportunity for every business.
Large businesses have been outsourcing for many years. Today, technological progress makes it accessible for small businesses as well. The 2019 research shows that 55% of companies outsource the development of applications.
Starting your own web outsourcing journey from scratch may be challenging. This article is to help you outsource web development wisely and effectively. I will explain the importance of outsourcing, how to outsource web development and find an outsourcing service provider.
We will also take an in-depth look at the main regions and countries you can outsource web development to, and explore their prices and advantages.
Why Do Companies Outsource?
While the main reasons for outsourcing may vary depending on the field of the company's specialization, there are three ultimate motives.
According to Deloitte's research, the primary reason for a company to outsource jobs is to save costs (59%). The second reason is that outsourcing allows companies to focus on their core competencies (57%). 47% of companies outsource to solve capacity issues.
Among other reasons why companies outsource is an ability to have access to intellectual capital.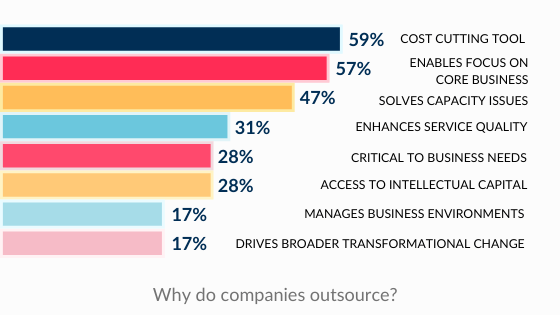 Specifically referring to outsourcing website development, this option gives small and medium-size businesses an ability to use the technologies without building them from scratch.
The need and importance of outsourcing is hard to overestimate. It provides access to a larger pool of talents while giving entrepreneurs an ability to cut labor costs.
With outsourcing growth expected, 72% of IT companies are already outsourcing.
You can be a nontechnical founder with a groundbreaking idea. But to build a web or mobile application, you will need a team of developers anyway.
The best option for every entrepreneur, who hasn't got a team yet is to outsource app development to a contractor. An outsourced team will build your application professionally and in the shortest possible period of time. When you will get a ready-made application, you can launch it and then hire an in-house team to take over your project.
Middle-sized and some small firms choose to outsource internationally in order to work with experienced professionals and reduce the amount of risks involved in web development and the cost of MVP design.
Benefits of Outsourcing
There are a lot of reasons why outsourcing is good for your business. Here is a list of the main outsourcing benefits.
Outsourcing allows to save costs
Cost-effectiveness is one of the major benefits of outsourcing for small businesses. Outsourcing can save companies 20-75% of the estimated budget, depending on a region they outsource web app development to.
Apart from favorable rates of web development in particular countries, an outsourced team doesn't require a hiring process and training. One of the benefits outsourcing gives you is that you don't need to hire HR and office manager, pay a rental charge or buy equipment and furniture.
Access to larger pool of talents
Outsourcing is not only about reducing the cost of web development, it is also about finding the best specialists for your project. Building your project in-house usually ends up having the most skilled staff you can afford.
Meanwhile, outsourcing web development offshore allows finding particular specialists your project requires. It provides you with an opportunity to choose, giving access to a much larger pool of talented specialists.
One of the main outsourcing advantages is that it allows scaling a project more quickly. An outsourced team is experienced in scalability and is able to add more specialists in the project development team if needed. When you have an in-house team, every new specialist takes too many resources.
Outsourcing allows having a team of specialists under the leadership of the Project Manager. This person eliminates all the risks related to the development. He or she bears the responsibility of planning the project development, communicate with a client and solve inner issues. Whatever happens, an outsourced team has time limits, restrictions, and is obliged to follow the signed contract.
IT outsourcing companies always sign a Non-Disclosure Agreement with their clients. They also use Gitlab security repositories and securely hosted services. Thus, you can be sure that your project and idea are in good hands.
Focus on your core competencies
The main advantage of outsourcing software development is that it allows you to focus on generating profit. As an entrepreneur, you know that sometimes it's just not enough hours in a day to get things done. Outsourcing gives you the ability to devote yourself entirely to marketing, sales, testing of business hypotheses or other important processes your business needs.
Once you find an outsourcing vendor, you settle the project development and set time frames. From that moment you, as a client, only approve the work of your team and comment on it.
The experienced outsourcing companies always look for a long-term commitment with their partners. Thus, they will handle not only the tech part of your project but help you run the related business processes.
Here in SpdLoad, for example, we are always conducting market/user research and analyze potential competitors. It is vital for making your product successful and profitable on the market.
Speed up process organization and development
The market is overwhelmed with the number of the application. If you want to differentiate, develop and launch an idea faster than your competitor, you need to be smart and fast.
Outsourcing allows to delegate web development and focus on marketing and sales. It also offers access to innovative technologies that companies otherwise are unlikely to get.  Outsourcing speeds up the organization and development processes.
The outsourced team usually works in accordance with some development methodology. It means that your web application is developed quickly, efficiently and with minimum changes involved.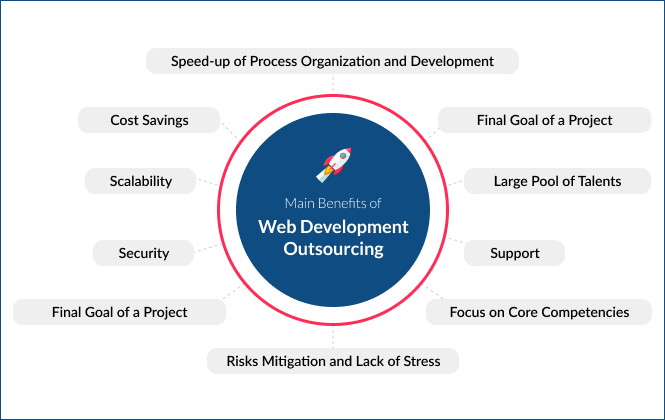 How to Outsource Web Development
When considering outsourcing what should firms be sure to avoid is taking hasty decisions. It is important to study the steps on how to outsource.
Don't start with posting a job offer on the first collaboration platform you see. One of the challenges of outsourcing is to choose the best company and ensure that your project is in good hands.
Another common pitfall for a startup founder is an equity-based development. Abdo Riani, Forbes contributor and startup consultant, says that:
In just a few months, an early-stage startup can grow from an idea to product and a promising venture.

Exchanging equity for services is not a sustainable bootstrapping strategy for several reasons.

First, service providers are contractors who work to complete a certain job. When this job is finished, their work is complete but the equity is still theirs.

Second, most investors aren't interested in funding startups that distribute equity to service providers.

Third, in most cases, it's not worth agencies' while to drop every project to focus on one.

Web agencies often get pitched equity proposals in exchange for services. This raises a lot of questions and red flags.

Entrepreneurs should refrain from selling equity. Instead, with a limited budget, they can work with the company to minimize costs by reducing the scope of work, which is recommended in any case.

Don't start with posting a job offer on the first collaboration platform you see. One of the challenges of outsourcing is to choose the best company and ensure that your project is in good hands.
To understand how outsourcing works, you should examine its framework. It comprises of 8 steps:
Decide on Your Goal
Before web development outsourcing, you should know your final goal and project needs. The undefined expectations will result in time and money wasting. You need to start with making up a written description of your web application.
Answer the following questions:
What is the final goal of my project?
What are the project needs?

Clarify the Project Requirements
The next step is to think about your business goals and tech requirements. Try to be as specific as possible answering the following questions:
What are the business goals?
What are the tech requirements for my project?
What is the technological stack I would like to apply to the project?
Don't be afraid to disclose all the functionality of your project. It will help a future team to understand your idea and estimate the project budget and timeframe.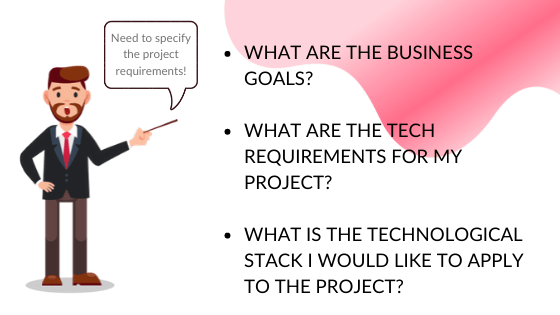 Calculate the Budget and Time-frame of the Project
Since every region has its own rates for outsourcing, the estimated budget will help you choose the one that suits you the best. (Later in this article I give an in-depth analysis of every location and its salary rates).
But it is also important not to hire the first vendor at the cheapest price. Set your budget and choose the best outsourcing web development team that suits it.
You should also clarify the length of the project. Think of its time-frame and set the deadlines. Here are two main questions you need to answer:
How much am I ready to pay for the web development of my project?
What are the dates of the delivery of my project?
Choose the Type of Outsourcing
To search for a web development outsourcing vendor wisely and efficiently, you should first decide on the type of outsourcing you need.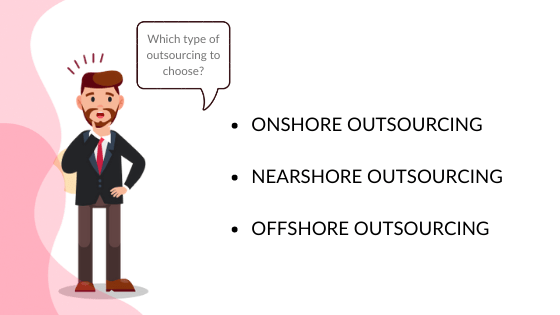 There are three main types of outsourcing:
When a client outsources operations to another country located in the client's country or region it is called onshore outsourcing. If you outsource locally, you can reduce risks and costs on training your own personnel and forget about language and cultural barriers.
However, if a client wants to save money, onshore outsourcing isn't the best option. It will also influence the speed of web development. Since the cost of web development is high enough, a client will be facing difficulties with building marketing and sales processes.
The quality of onshore web development may be good enough, but nearshore and offshore options certainly open up far more attractive prospects.
Outsourcing to a company located in the same time zone is referred to as this type of sourcing. The main advantage of nearshore outsourcing is that a client and an outsourcing vendor have similar culture and language skills.
If to compare nearshore outsourcing to onshore one, the first one allows to save more money and, thus, speed up business processes.
Nevertheless, nearshore outsourcing still doesn't allow to choose the vendor with the expertise of the highest quality.
Offshore or international outsourcing means that a client hires a web development team, which is located in a foreign country.
It is highly probable that a client and offshore web development company speak different languages and have different culture. But most of the offshore vendors are speaking English.
There are numerous advantages of offshore outsourcing. Hiring an offshore outsourcing company allows a client to access the largest pool of talented specialists without spending too much money. It also promotes a boost of all ongoing processes.
Type of Outsourcing

Characteristics
Onshore
Nearshore
Offshore
Cost-Effectiveness
Low
Medium
High
Speed
Medium
Medium
High
Quality/Expertise
Low
Medium
High
Risks
Low
Medium
Medium
Consider these types of IT outsourcing and choose the best option that fits your particular needs and business goals.
List the Potential Web Development Outsourcing Vendors
Once you have chosen a type of outsourcing and prepared project specification, you can start looking for a web development outsourcing vendor. You can use such platforms as Clutch.co, GoodFirms.co, check the search engine results or ask your business network for a recommendation.
The next step is to make a list of potential companies you would like to work with. But don't choose the first company that came along. List 10-15 best candidates that seem to meet your expectations, have a reputation and correspond with your project needs.
Prepare Questions for Interviewing the Potential Vendors
Now, when you have chosen candidates for your web development outsourcing, try to collect as many details about them as possible.
How to Choose an Outsourcing Company?
The most efficient way to choose an outsourcing provider is to conduct video interviews. Prepare the questions for interviewing outsourcing partners beforehand.
Don't be afraid to ask any questions you consider to be important. What factors should be considered when making the outsourcing decision?
Experience. Ask a company's representative if the team developed projects for similar industry to your before.
Years on the market. How long does the company exist on the market?
Portfolio. Check the projects the company has already built.
Tech Stack. Is the company experienced in the technologies needed for your project? Check the tech stack and capabilities of your potential vendor.
Company's Website. Sometimes it can be informative to check the company's website or social media to better understand its potential. You can also read some articles in the blog section if the company has one.
Feedback. Check the reviews of the previous clients. What do they say about the team and the cooperation results?
Team. Check the skill level and experience of the key team members. Ask the company's representative about the procedure of hiring personnel. Find out the employee turnover rates and check what the former employees tell about the company.
Internal Workflow. Ask an outsourcing vendor about the methodologies used and support provided. Find out how the company runs QA process and fixes bugs.
Communication. It is a key to successful web development. Thus, you need to find an outsourcing vendor, who speaks your language. Ensure that a Project Manager of your future team is fluent in English. Pay attention to cultural aspects as well.
Security. Ask your outsourcing vendor about the protective measures they usually take to secure the projects. Ensure that the company can sign a Non-disclosure Agreement with you. Find out the payment methods the company can offer.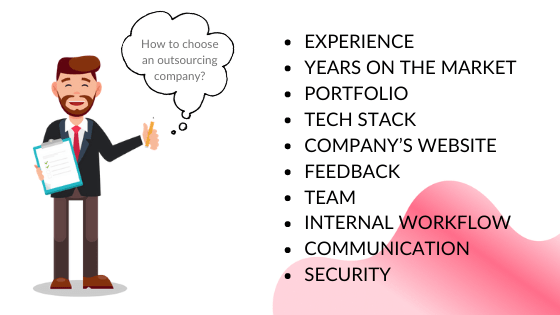 Note that the best outsourcing company would be interested in all the project specifications to offer you the best solution. It is an important aspect you should pay attention to.
Check all the information carefully and note all the details. I recommend you to write down all the answers to these questions in a Google document to ease the screening process.
All the collected information will help you to narrow down the list of potential web outsourcing vendors. Thus, you will be able to choose one partner that fits you the best.
Choose a Web Development Outsourcing Vendor
Once you have chosen an outsourcing provider, create a statement of a contract. It should reflect an amount of services provided, a timeframe of their provision and payment details.
Set up clear terms for delivery of pieces of work and an entire project. Specify the deliverables and milestones. Negotiate payment terms and methods.
It is better to establish a financial penalty to reduce risks. Thus, if your outsourcing partner fails to meet your requirements stated in the contract, he or she will bear losses.
Before getting down to work, insist on signing an NDA contract to avoid leak of data.
Ensure Efficient Communication
Communication is key to a successful web development. Especially if you are hiring an offshore outsourcing company. Time difference can become a problem, but only if you are hiring an inexperienced team. Experienced outsourcing companies know how to provide smooth communication and shift their schedule to fit your timezone.
Take into account time differences and work schedules to arrange efficient communication. You can use chats or video chats in such tools as Slack, Skype or WhatsApp.
Experienced web development teams always work under the control of PM (Project Manager). PM is in charge of reporting to the client with updates. Being a client, you can contact a PM as regularly as you wish, ask any questions and comment on the deliverables.
Make sure that your team and you are on the same page. It will help to reduce mistakes and revisions and eliminate additional expenses and miscomprehension.
Once the workflow is established, you can reap the benefits of outsourcing and focus on your core competencies.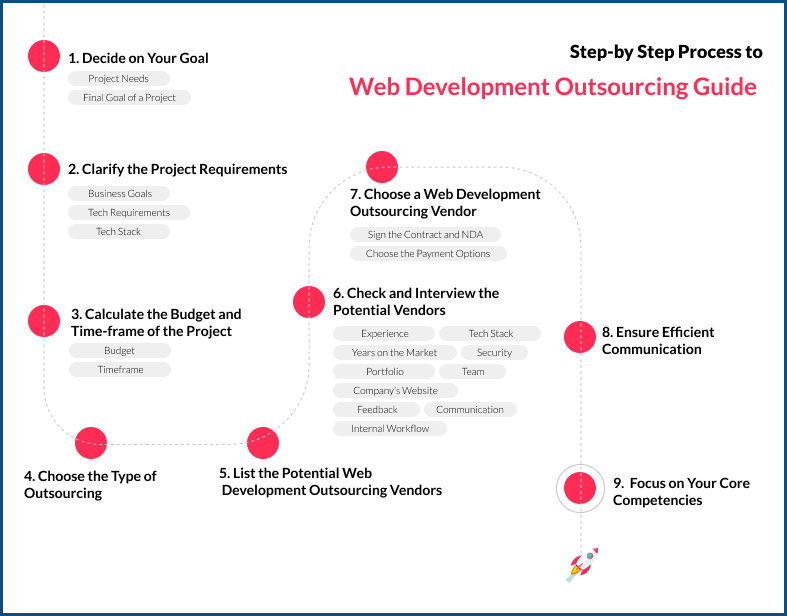 Factors That Influence Price of Web Development Outsourcing
There are several factors that define web development outsourcing cost:
Project's complexity and tech stack
Number of specialists needed for the project
Average hourly rates for each specialist in a country you are going to outsource web development to
Time frame for the project
Minimum Team Needed to Outsource Web Development
The minimum set of the web development team should consist of:
A project manager (or PM) is like a conductor of the development team. This specialist can make your product be developed the way you want. A PM is always on your side, but also understands the team and listens to its opinion. Being in charge of the entire development cycle and keeping the track of your budget and time, a project manager can make your symphony sound the way it will impress others.
Back-end developer is a key specialist for web development. He or she is in charge of server-side of your project. A skilled back-end developer can come up with the effective solutions that will make your product highly-productive, customizable and scalable. Poor back-end will certainly affect the product performance, and turn any idea into disaster.
Front-end developer is in charge of a client side of your application. It's a specialist, who stands between the coding and design. Being skilled in technologies, front-end developer is able to bring to life a design of any complexity. He or she ensures that your application comes up correctly in different browsers, operating systems, and devices. It's a specialist, who plays an indispensable role in your team.
The designer is in charge of making your product attractive to the customer. I don't talk about UI or UX design intentionally since outsourcing teams usually provide applications with both good look and user-experience. A high-skilled designer helps to embody an entire concept of your idea and show the clients what they eager to see.
Best Countries to Outsource Software Development
Web development outsourcing is easy today since there are plenty of countries offering these services.
When companies decide to outsource, as a matter of priority, they aim to save money. Not every destination can offer the same quality for a favorable price. Thus, I would like you to check my detailed research on prices for outsource in different countries.
Let's consider Eastern Europe, Asia, Latin and North America with their best countries to outsource software development.
Eastern Europe
Eastern Europe is one of the best regions you can outsource web & app development to. Such countries as Ukraine, Poland and Romania can offer high-skilled developers and IT specialists for projects of any complexity.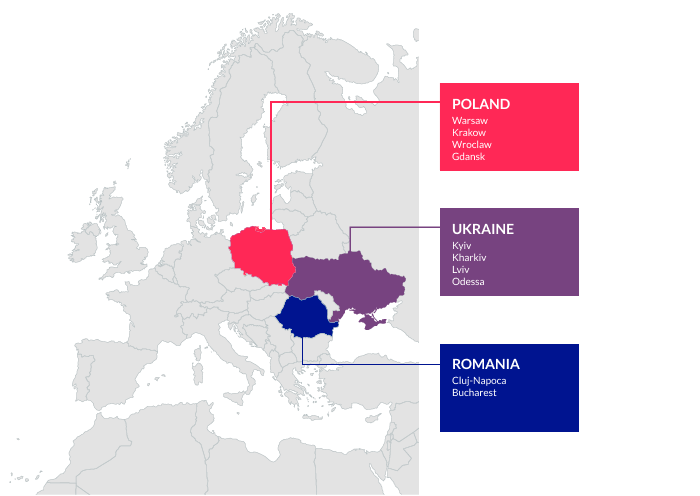 Here are the main reasons the US and Western Europe companies choose Eastern Europe (especially Ukraine and Poland) for web development outsourcing:
Low prices for top-notch specialists
Large pool of talents
English proficiency and culture affinity
In 2019 Eastern Europe has become a leading outsourcing region with more than 1 million software developers educated and trained here each year.
Favorable prices and strong programming skills make Eastern Europe one of the most attractive destinations for outsourcing. An average hourly rate for an outsource specialist here is $30-$70.
If to compare Eastern Europe to Asia, the cultural differences with the US are minimal. The country demonstrates the closest mentality to the Western region.
A time difference between the US and European countries is only 6-7 hours.
The most popular countries to outsource web development are Ukraine, Poland and Romania. Let's take a closer look at their advantages and rates.
IT outsourcing in Ukraine
Ukraine is a leading East European country with a large pool of talented IT specialists. The country is listed in the WIPO Global Innovation Index. 50% of Ukrainian outsourcing companies revenue comes from the US market.
78% of Ukrainian companies make money on web development, 64% – on the mobile applications development.
The country has more than 170,000 IT specialists. The annual number of IT graduates is 23,000 and this number is growing annually.
Ukrainian specialist are considered to score in:
Web and mobile Development
Cloud and SaaS Development
Content Development
Graphic Design
Web Analytics
Gartner research notes that Ukraine is the most cost-effective destination among post-soviet countries. The 2016 Statista research showed that Ukraine had entered the list of the World's Most Attractive Countries for offshoring in 2016.
Despite the rates of Ukrainian web developers are low, they are easy to work with. More than 80% of Ukrainian IT specialists have an intermediate level of English or higher. Those of them who don't, usually work under the leadership of project managers, who are always fluent in English.
The major outsourcing development companies are located in Kyiv (118), Kharkiv (68), Lviv (64) and Odesa (41).
Average Hourly Rate
Country
Project Manager
Back-end Developer
Front-end Developer
Designer
Ukraine
$20-$70
$30-$80
$25-$75
$30-$60
Poland
An IT industry is growing fast in Poland.  This country has a large pool of skilled specialists and considered to be one of the most attractive countries for web development outsourcing.
Poland is the 5th best technology-advanced country in Europe with its main competence in computer networking and security engineering. It was also ranked 15th in the top 50 Digital Nations in 2019.
Yet, taking into account how popular this destination is, today Poland is the most expensive Eastern European country to outsource web development to.
Average Hourly Rate
Country
Project Manager
Back-end Developer
Front-end Developer
Designer
Poland
$25-$90
$40-$95
$30-$85
$35-$68
Romania
Romania is a quite popular destination for outsourcing web development as well. This country has more than 80, 000 developers with competitive skills in software engineering.
IT specialists here are skilled in PHP, Java and other languages. The main IT hubs are located in Cluj-Napoca and Bucharest.
Average Hourly Rate

Country
Project Manager
Back-end Developer
Front-end Developer
Designer
Romania
$28-$93
$45-$95
$30-$85
$35-$75
Latin America
According to Coursera Skill Index Research, the most of the 11 Latin American countries have below-average skilled specialists. Nevertheless, the region lacks innovation environment and profound education in maths and science.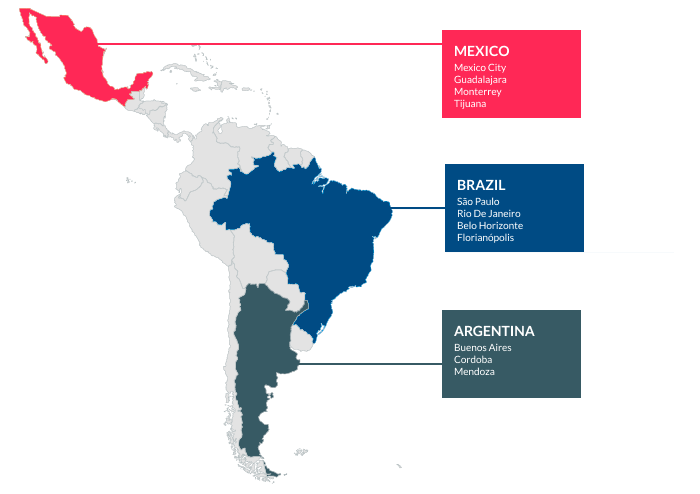 Being a relatively new outsourcing destination, Latin America can offer services at low prices. The workforce of this region is quite impressive, but still lacks technical knowledge.
The countries of Latin America are only at a starting point of building business processes and upbringing tech-savvy specialists. Such region as Eastern Europe can be more beneficial for companies looking for high-quality and low-cost web development.
Yet, the US companies can be attracted to Latin America due to almost fully overlapping working hours, intermediate English skills, cultural similarities and geographical proximity.
The best countries for outsourcing web development in this region are Brazil, Mexico and Argentina.
Mexico
Being one of the top Latin American destinations, Mexico is ranked number 43 in technology. The number of specialists in this country is constantly growing.
Mexico shows good results in HCI with a skill level of 54% in this field. However, software engineering here is still lagging (only 17%).
The US companies can benefit from outsourcing web development to Mexico, since both parties will be able to work and communicate in the same timeline and arrange face-to-face meetings.
The top Mexican IT hubs are Mexico City, Guadalajara, Monterrey and Tijuana. The destination is still considered to be risky, but offers favorable prices for various services.
Average Hourly Rate
Country
Project Manager
Back-end Developer
Front-end Developer
Designer
Mexico
$35-$100
$45-$190
$40-$110
$45-$110
Brazil
Being the largest economic center of Latin America, Brazil is ranked to be the 30th best technologically advanced country.
Brazil has the highest skill potential in the region, but still can't compete with such destinations as Eastern Europe, Asia and North America.
High level of youth unemployment (25%) and reduction in prices for AI technologies makes Brazil vulnerable in the outsourcing market.
The main IT hubs of Brazil are São Paulo, Rio de Janeiro, Belo Horizonte and Florianópolis.
Average Hourly Rate
Country
Project Manager
Back-end Developer
Front-end Developer
Designer
Brazil
$50-$120
$50-$200
$50-$100
$45-$110
Argentina
Coursera Global Skill Index ranked Argentina a number 1 tech Latin American country in 2019. The country shows the best results in software engineering, statistics, accounting and marketing.
While the prices for web development in Argentina are quite high (higher than in Eastern Europe), it is still an attractive country for the US companies.
The most popular programming languages in this country are PHP (78%) and ASP.NET (21%).
Let's explore the rates of specialist in Argentina:
Average Hourly Rate
Country
Project Manager
Back-end Developer
Front-end Developer
Designer
Argentina
$45-$110
$50-$180
$40-$100
$35-$100
Asia
Being one of the most cost-saving regions for web and mobile development outsourcing, Asia can offer a large pool of talents.
Asia is a top-rated outsourcing destination for outsourcing. Such famous IT companies as Google or IBM outsource software development to this region.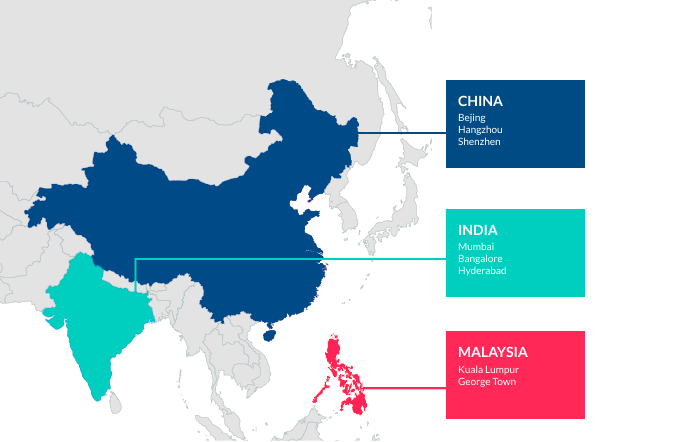 But we should not forget that tech giants can afford to hire in-house managers, who know Asian culture, interpreters and other specialists. Meanwhile, small businesses may face the cultural differences that will be too hard to overcome.
The main countries in this region are India, China and Malaysia.
India
India is one of the most popular destinations to outsource web development to. But it is mostly related to its low salary rates and relatively high level of English.
India has a large pool of IT specialists and high number of STEM graduates. The main tech cities of India are Mumbai, Bangalore, and Hyderabad.
As the research says, India is ranked number 44 among Asian countries in technology area. It shows the best results in databases (37%) and security engineering (32%).
Nevertheless, outsourcing web development to India is a rather controversial issue. An extremely low price for web development and cultural differences sometimes lead to poor quality of the delivered products and services.
Average Hourly Rate
Country
Project Manager
Back-end Developer
Front-end Developer
Designer
India
$20-$60
$30-$75
$20-$70
$20-$60
China
In 2016 China had 4.7 million STEM graduates. And it is not surprising, since this country has an innovative education model.
China accounts for about one-third of global unicorn startups, incubating dynamic business models, especially related to the digital economy. The research shows that China is a tech-driven country with skilled specialists and innovative vision.
Since China is ahead of IT market today, salary rates in this country are increasing significantly, being now the highest in Asia. The level of English language and cultural differences may cause difficulties as well.
The main Chinese IT hubs are Beijing, Hangzhou, and Shenzhen.
Average Hourly Rate
Country
Project Manager
Back-end Developer
Front-end Developer
Designer
China
$30-$60
$40-$75
$35-$60
$25-$70
Malaysia
Malaysia is the third most attractive Asian country for outsourcing. It represents about 1.7% of the total BPO market in the Asia Pacific. The main competence of this country is in the field of databases and computer networking.
Average Hourly Rate
Country
Project Manager
Back-end Developer
Front-end Developer
Designer
Malaysia
$35-$60
$35-$75
$30-$60
$28-$50
North America
A region of North America has the most educated population in the world. Thus, it is not surprising that it scores in technology and data science.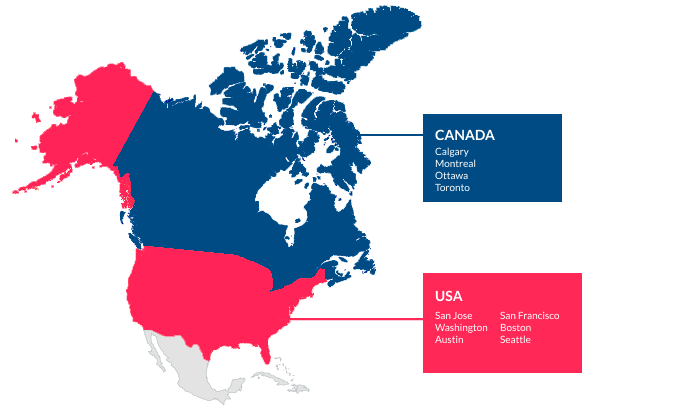 The strongest performers of this destination are the US and Canada. Both countries are leading in business and IT field.  Yet, outsourcing web development to North America is not the best idea. An average hourly rate of outsourced specialist is $140-$210.
The US
Being a birthplace of Silicon Valley, the US is one the most famous software development countries in the world. It provides particularly high level of IT services. In 2019 New York is reported to become a potential digital leader.
A recent Softomotive survey says that 46% of middle-sized businesses in the US adopted RPA.
Yet, extremely high prices for education and a lack of software developers make outsourcing to the US too costly.
Average Hourly Rate
Country
Project Manager
Back-end Developer
Front-end Developer
Designer
US
$150-$215
$180-$275
$160-$265
$80-$150
Canada
English fluency, comfortable time zones and cultural similarities make Canada attractive for the US companies. Moreover, the cost of outsourcing here is lower than in the US.
Nevertheless, outsourcing web development to Canada is still too expensive, especially for small businesses.
Average Hourly Rate
Country
Project Manager
Back-end Developer
Front-end Developer
Designer
Canada
$140-$205
$170-$250
$145-$220
$70-$140
Prices for Outsource in Different Countries
An average hourly rate for web developer in Eastern Europe is $30-$70. The web developer rates slightly change relatively to the country. Ukraine ⁠— $25-$75, Poland ⁠—  $35-$85 and Romania ⁠— $30-$75.
An average hourly cost of outsourcing in Latin America is $40-$100, namely in Brazil ⁠— $50-$120, Argentina ⁠— $40-$100 and Mexico ⁠— $40-$110.
An average outsourcing app development cost in Asia is $30-$60 per hour. China charges about $35-$60. Outsourcing app development India cost is $20-$70 per hour. Malaysia rates $35-$60 per hour.
Being the most expensive destination, North America hourly rates are about $140-$200. The US and Canada charges $150-$215 and $135-$190 accordingly.
Below you can see a comparative table that demonstrates cost of outsourcing software development in different regions/countries and time difference to New York City.
Region
Country
Overall Average Hourly Rate
Time Difference to NYC (The US)
Eastern Europe
Ukraine
$25-$75
7
Poland
$35-$85
6
Romania
$30-$75
7
Latin America
Brazil
$50-$120
2
Argentina
$40-$100
2
Mexico
$40-$110
1
Asia
China
$35-$60
13
India
$20-$70
11
Malaysia
$35-$60
13
North America
The US
$150-$215
0
Canada
$135-$190
0
The conducted research shows that Asian countries can offer cost-effective solutions, however the time and cultural differences can be an obstacle for productive communication and cooperation.
If to talk about cultural affinity and the most insignificant time differences, Latin America is a top choice. However, the prices for web development in this region are higher than average.
The same can be said about North America. High level of IT specialist and open-mindness to various innovative approaches don't exceed the high rates region offers.
According to the research Eastern European countries are the best option for outsourcing web development. While the prices for software development are relatively low in this region, a pool of skilled specialist is very large.
How to Outsource Effectively
Outsourcing IT services is a common approach used by companies in various industries. There are many advantages of IT outsourcing.
Outsourcing is a cost-saving opportunity to scale and develop digital products quicker. A client from any corner of the world can access a large pool of talents and hire the best specialists in the industry.
The most productive outsource solutions are to focus on your core competencies and hire an offshore web development company. But while the framework on how to outsource software development seems to be clear, the main challenges of outsourcing lie in choosing the right location and company.
We have conducted research on the most popular outsourcing destinations. The numbers show that the best region for outsourcing is Eastern Europe with Ukraine perfectly balancing between low price, high quality, convenient time zones and cultural affinity.
Today there are more than 1000 outsourcing companies in Ukraine. All of them are motivated to do their best to fit the needs of foreign clients, become better in their field and attract more clients.
I hope you liked this article. Feel free to comment or contact me about web and mobile development of any complexity. SpdLoad is always here to help.