How Much Does It Cost to Build a Website for a Small Business? Cost Breakdown by Type of Website, Team, and Location
14

min
The cost of a business website project varies from $10,000 to $60,000. But what impacts the price of web development?
This article helps business owners and marketers understand what lies behind the business website development process.
It will present the main factors that impact the cost of a corporate website design and development:
The complexity of a website;
The type and location of a development team;
Hidden factors of business website development;
and more!
Let's get started.
If you prefer visual to text, then go straight to the bonus Infographic "How much does it cost to build a website for a small business?"
How Much Does It Cost to Build a Website for a Small Business?
As we said, there are many factors that impact the cost of web development for a business site. However, we will consider 3 the most important: the complexity, the type of a team, and the location of a team.
Cost of a Website For a Small Business Depending on the Complexity
For your understanding, site complexity is a collective metric consisting of design complexity, number of pages, roles, and integrations.
Development complexity is not limited to these parameters. But it will be enough to discuss the price.
| | |
| --- | --- |
| Complexity level | Average cost, $ |
| Basic Website Development | 5,000 |
| Average Website Development | 15,000 |
| Complex Website Development | 30,000 |
Business tasks determine the required complexity of the site. While site complexity can be implemented using different types of a team.
Cost of a Website For a Small Business Depending on the Type of a Team
We will consider 4 types of a team for website development. As a basis for calculating, we'll consider a website project of average complexity.
| | |
| --- | --- |
| Type | Average cost, $ |
| In-house team | 40,000 |
| Local development agency | 48,000 |
| Freelancers | 7500 |
| Outsourcing agency | 16,000 |
We will take a closer look at each type of team later.
But if you consider the in-house development team as the most preferable for a business website development, you could miss the hidden cost.
Use our software developers' salary calculator to find the real cost of hiring an in-house team.
Finally, let's find out the connection between the location and the cost of a business website.
Cost of a Website For a Small Business Depending on the Location of a Team
As previously mentioned, we'll use the website of an average complexity as an example for calculations.
Let's say it consists of up to 50 pages. Each page will take on average 8 development hours. I.e. such a project will take up to 400 hours.
| | | |
| --- | --- | --- |
| Location | Rate per hour, $ | Average cost, $ |
| Australia | 90 | 36,000 |
| The US | 150 | 60,000 |
| The UK | 120 | 48,000 |
| Western Europe | 100 | 40,000 |
| Eastern Europe | 50 | 20,000 |
| South Asia | 25 | 10,000 |
The choice of the team can be equated to the most important factor that determines the price of development.
Simply because an inexperienced and cheaper team can lead to a situation where the business owner will have to pay twice to get the required result.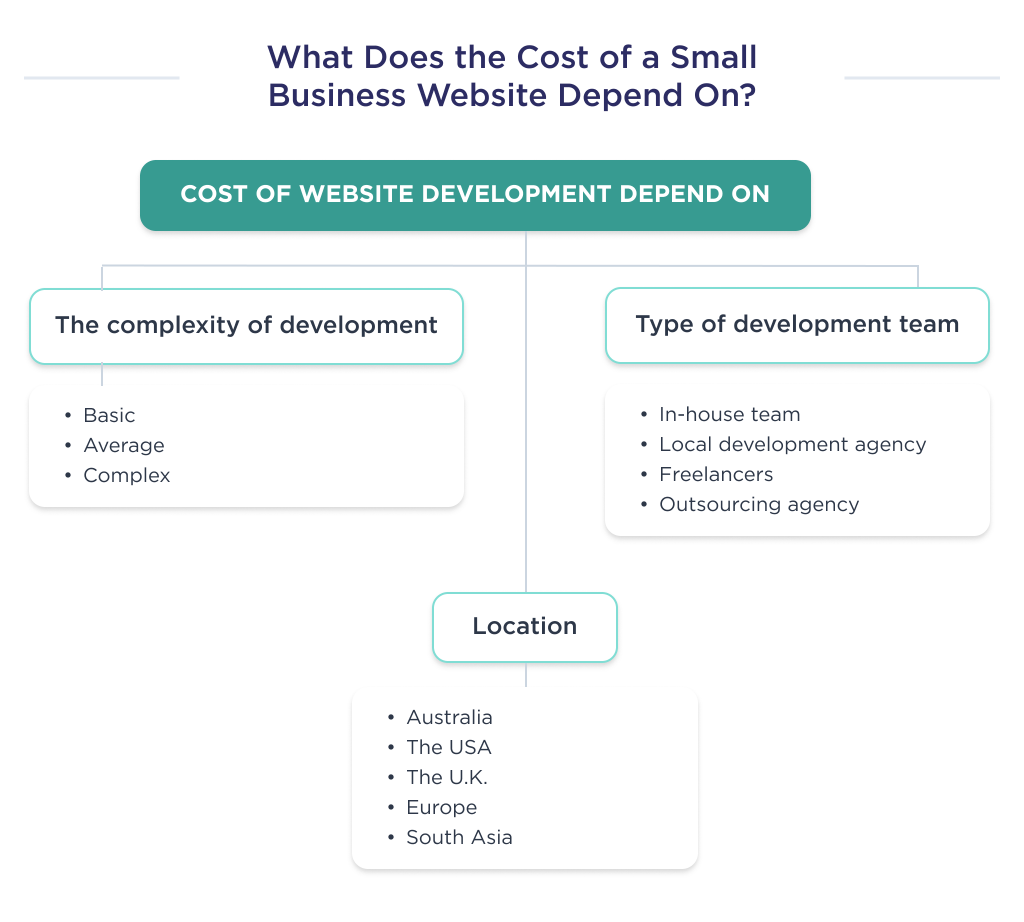 Now let's take a look at the set of other factors.
What Factors Impact the Cost of Small Business Website Development?
Several things come together to build one working solution. In the case of a small business website, the following elements may impact the cost:
Website size or the number of pages;
Type of design;
Technology selection;
The proper cost calculation starts from an extensive research phase, which helps to better understand the industry and market.
With every decision that you take, the cost of a website for a small business will vary.
Since we work in this industry and understand the core metrics, we know the right way to build a small business website and optimize the cost.
Factor 1. Size of a Website
The size of a website is the most obvious factor that impacts the cost. More pages – more expensive web development. But why?
The truth is that the number of unique pages or unique blocks on each page impacts the cost.
Since you are building a corporate site, the average number of pages falls between 20 to 50.
The pages of a corporate website consist of:
Homepage
About us
Services pages (depends on your work)
Careers
Investors
Contact Us
The more coding and customization are required, the higher will be the small business website development cost.
But what's the role of design in defining the cost of the development phase of a small business website?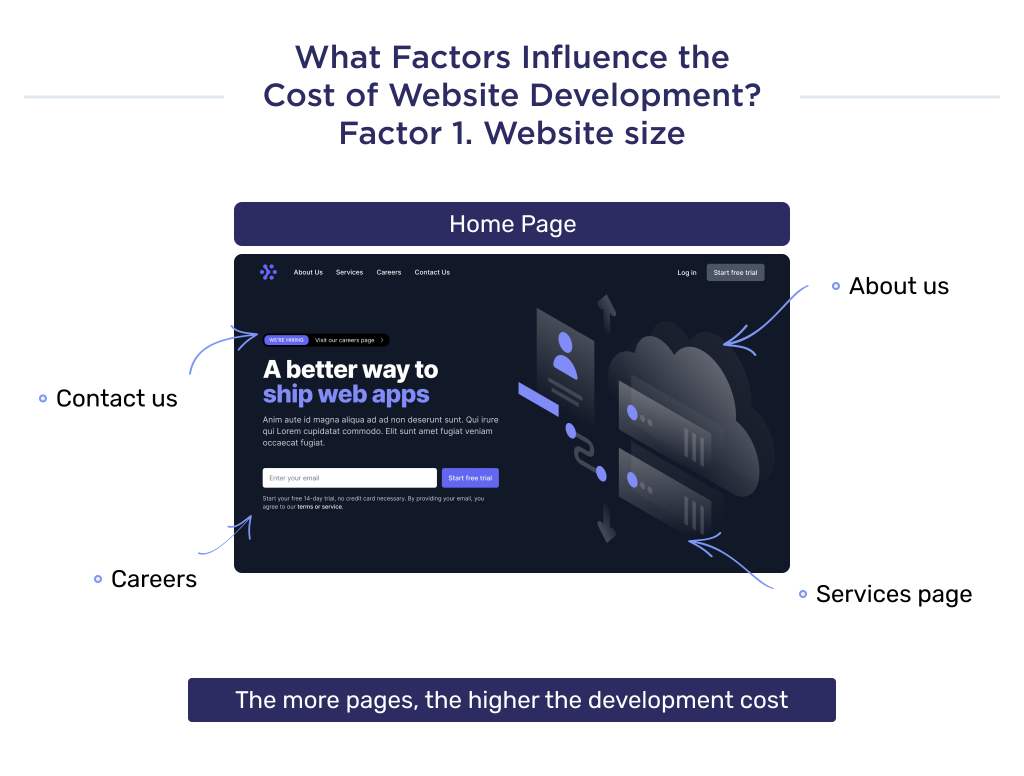 Factor 2. Type of a Design
The second essential aspect of website complexity is website design.
Indeed, you are making a website to impress, attract, and delight your viewers and customers. The number of features impacts the final cost.
To help with the design complexity, the small business website cost, we look at three significant parameters.
Template-Based Approach
94% of the users decide to stick or bail from your website after seeing the design for the first time.
Google says that if a new site takes more than 3 seconds to open, the majority of the users will bounce off.
So, you have to make sure that the temple you use is simple yet attractive.
Templates and mockups also vary in their accessibility and cost.
Choosing an industry-relevant template will be easier to modify as per your requirements.
Design Library-Based Approach
Depending on the programming language and design software you choose, the component libraries may differ.
Choosing a diversified library and less variety of features will increase the redesign complexity.
In contrast t, a library with fewer items and components will increase work and cost.
Custom Design Approach
There are several pre-built UI kits at your disposal.
You can use them to jumpstart the designing process.
It will be easier and cost-effective.
Plus, using pre-built kits ensures consistency across the simple website.
But if you choose to go the customization way, you will get better collaboration between:
Design and web development;
Design and strategy;
Design and consistency;
So, the cost of a website for a small business depends on the type of design solution you will use.
In turn, the choice of the design solution is guided by the business challenges to be solved. The same principle is determined by the technical stack choice.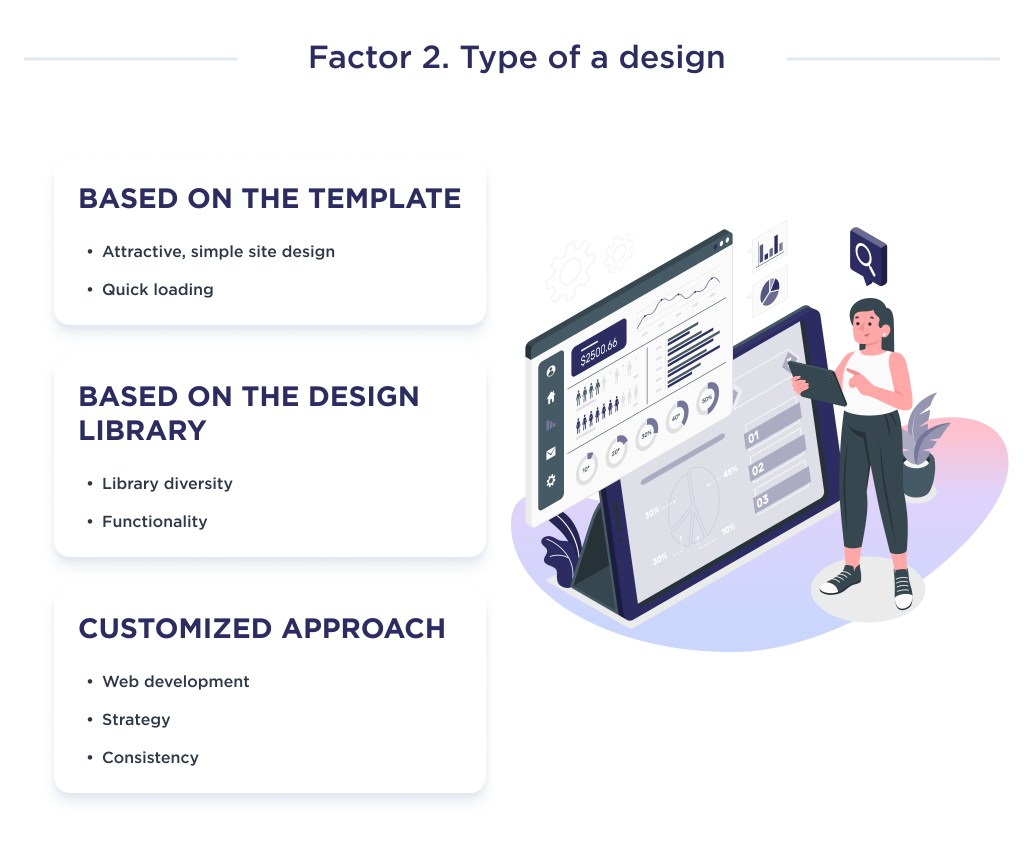 Let's talk more about it.
Factor 3. Technology Stack to Use
Tech stack implies what technologies you will use to build and design the website.
Besides the technologies for a custom new website, we'd like to also talk about web constructors and template-based development.
Constructor-Based Websites
A constructor-based website for a small business often is a single-page website made on a website builder like Weblium, Wix, Squarespace, and so on.
Building a website with the help of constructors is usually the cheapest and fastest way to develop a website option. The average web constructor like Wix costs $18 per month.
Let's look at the pros and cons of constructor-based websites.
Pros
Cons

They are affordable
They are easy to use
There are plenty of features
Many of them come with search engine optimization tools

There is not so much functionality for free options
There are fewer options to be unique
Advanced features cost more
They don't rank well in search engines like Google
It leads us to the next point – template-based websites.
Template-Based Websites
Template-based websites or web-page templates for a small business provide a range of predesigned options that contain ready-made layouts and features for any website. They usually help to make web design more advanced: engaging and interactive.
Most users choose website builders such as WordPress. There you can also choose website templates that are created for WordPress. Their cost ranges between $30 and $300. When it comes to managing content, there is no better option than WordPress sites. It's open-source and straightforward to use.
You can get a template and edit it according to your style and vision, but a template still won't provide the uniqueness and customization you want.
Let's look at the pros and cons of template-based websites.
Pros
Cons

They allow rapid design
They are affordable
They are simple in use
They are customer-friendly

Probably templates you like have already been used
The flexibility to your brand's need is limited
There is an extra charge for support
There is not much design process to fit the needs of your brand
If you decide to create a website from the ground up, you'll need a customization option.
Custom Websites
Trite statement, but custom websites allow you unlimited customization of the customer and user experience for your business.
The more coding and customization are required, the higher will be the cost of a website for a small business. More pages mean more coding and, ultimately, a higher price.
Let's look at the pros and cons of custom websites.
Pros
Cons

There is a freedom of design options
There is more custom functionality
Custom solutions are unique and created especially for your business
Custom websites can scale accordingly to your business

It requires more amount of time
It requires more support and maintenance
You need to communicate your visions to the team
The entire process can be resource-consuming
Though in the end, the custom solutions will be worth the time and effort. But while calculating the price, you should take into consideration all possible hidden factors.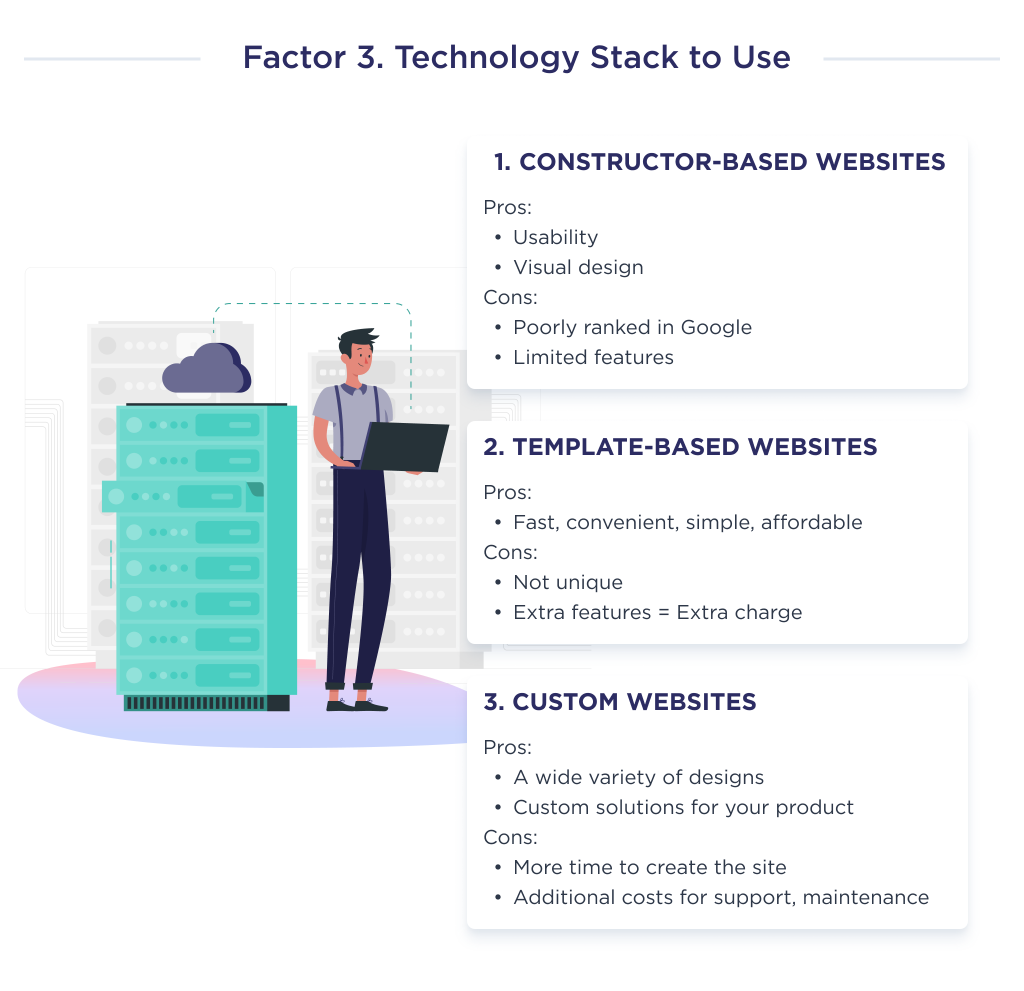 Hidden Factors Impact the Cost of Small Website Development
These are aspects that require more workforce, innovativeness, and uniqueness.
What now follows is the costs of a new site for a small business that helps run, sustain, market, and attract customers to a website.
Hidden Factor 1. Setup and Maintenance
Maintenance costs can be twice the cost of web development. For example, if your small business website costs $20,000, maintenance costs $40,000 per year.
The setup and maintenance process contains such aspects:
1. Hosting
Without getting a hosting plan, you cannot run your website on the web.
The average cost of website hosting falls between $24 per year to $10,000 per year.
The web hosts needs depend on the website size, bandwidth requirements, number of users coming to your web address.
2. Domain Name
The name of your website is a part of branding.
Here too, you have to get yearly plans for the custom domain name.
The typical small business website domain name will cost between $2 to $20 per year.
3. SSL Certificate
An SSL Certificate is the marker of security.
The purpose of this certificate is to protect your website data and your users from theft and breach.
The users send and receive data from your website during data transfer while adding information, forms, and emails.
For an eCommerce website, having a robust SSL certificate is essential.
You can choose not to have an SSL certification, but it will hurt your marketing and lower reliability.
That is why you can expect to add $10 to $15,000 as the certificate small business website design cost requirements.
We are left with one thing that is imperative to identify the actual cost of a website project for a small business. It's Marketing.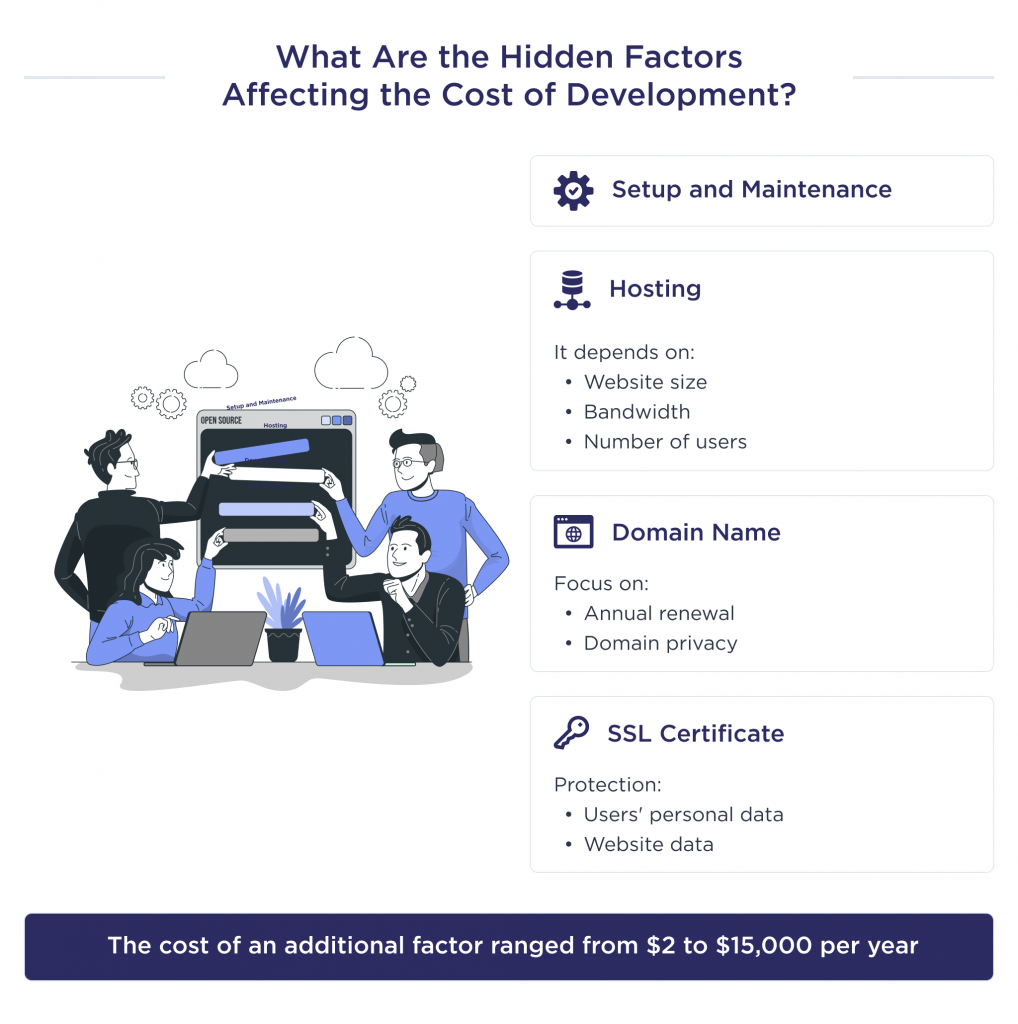 Hidden Factor 2. Marketing
Startup marketing is one of the most critical aspects of building, growing, and maintaining your market presence.
Marketing will cost x2 – x3 to the development costs. If your small business website costs $20,000, then marketing costs $40,000 – $60,000 per year.
Website marketing mainly includes SEO that provides the following aspects.
1. Information Architecture
Information architecture or IA is like a guide map of the website's structure. It helps understand how to synchronize content management systems, contexts, and users.
The content implies a type of data and content, content structuring, content volume.
The context here refers to the goals, objectives, and motivations of the target audience according to your website content structure.
The users involve the target audience and user experience.
Information architecture closely connects to technical SEO.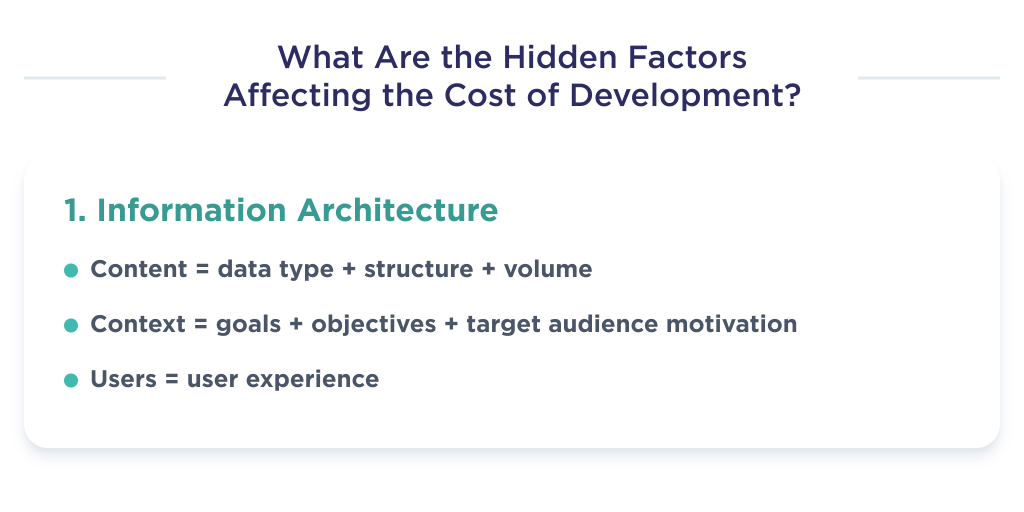 2. Technical SEO
Technical SEO and the website design are always connected. SEO helps optimize the website's infrastructure to promote easy crawling and better SERPs.
Some aspects of SEO are:
XML Sitemaps
Page speed
Data structuring
Robots.txt
Site navigation
The sitemap and the structure of data are defined by informational architecture. Meanwhile, the complexity of design, number of animations and interactions, define the download speed.
However, without properly done technical SEO, your small business website won't rank well, i.e. won't bring any inbound leads.
And that's the point, where the technical aspect connects with the marketing one.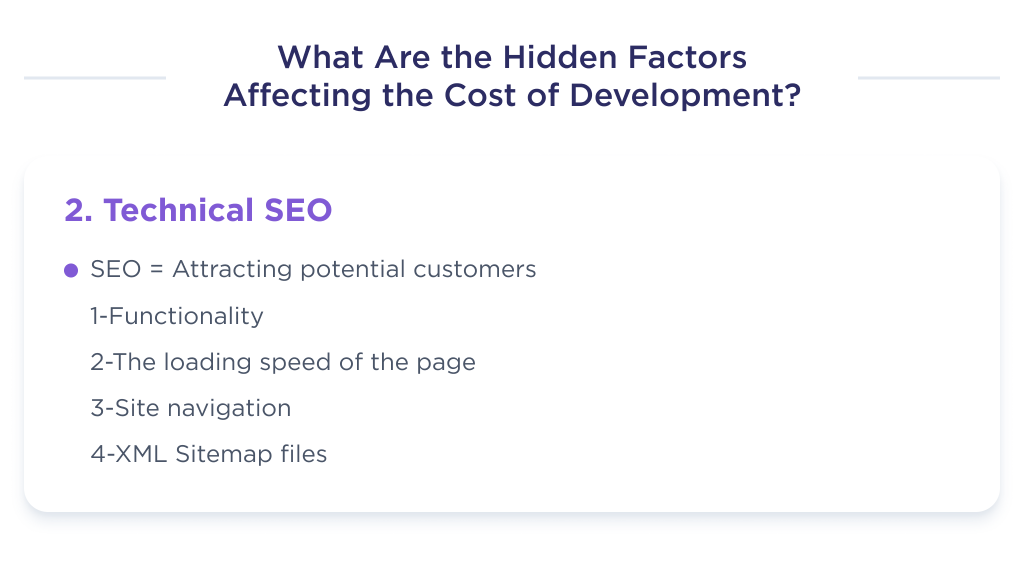 3. Marketing Strategy
The marketing strategy requires time, innovation, creativity, and uniqueness. Once the website is up and running, you need marketing to attract new users and retain them.
But before launching the website, you need to look at:
The tonality of the сontent and voice
Content plan
Conversion rate optimization or CRO
Your website's tonality should match the business values and objectives.
The voice and tone of your website may not have a direct relation with the cost upfront. But if you do it the right way from the beginning, you will save a lot of money redoing it later.
Building a content plan takes into account the long-term objectives.
Without conversion-ready content, your website will not be able to rank and get a conversion.
All of these are a part of the small business website design cost.
To build a content plan, you need to look at:
Target audience
Content by competitors
Available content types
Lastly, you need to design the website according to the Conversion Rate Optimization. It is essential to implement in the beginning, as it helps increase the visitor footprint.
More importantly, CRO depends on your KPIs and set goals. You can create the website as per the KPIs and then measure the CRO against the plans.
The connection between CRO and the business website cost can be confusing. Still, if you have an effective CRO strategy prepared before designing, your website will be developed with the proper process.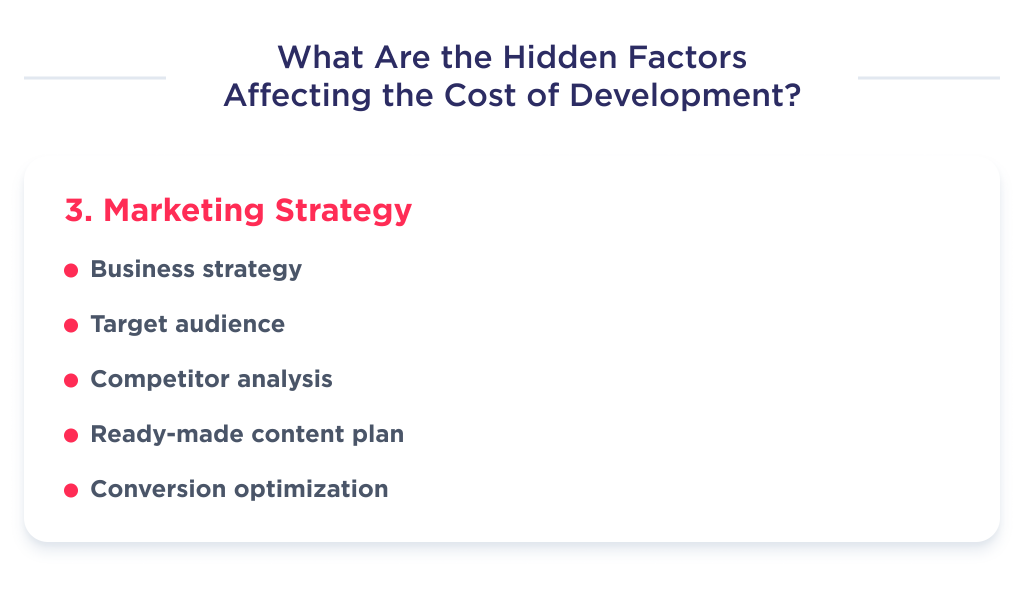 4. Search Engine Optimization
The concepts of technical SEO are more related to website structuring and design.
The type of SEO we are talking about here is related to the content.
Activity
Description
Content Making
Look at things like keywords, On-Page SEO, images, Alt-texts, etc.

The initial small business website cost for SEO is web content writing and using the right keywords.

Along with this, ensure that you include relevant meta tags, HTML tags, and meta descriptions.

Google's crawlers are hungry for good, well-designed, and SEO-rich websites.

Good content means better conversion.

But to reach that stage where the users come across your website on Google, you need good SEO.

Link Building
Links to your blogs, articles and other content is another way to raise the bar of your authenticity.

Google is again in a frenzy for authentic and legible backlinks to and from your website.

The more links connect to your website, the better will be the position.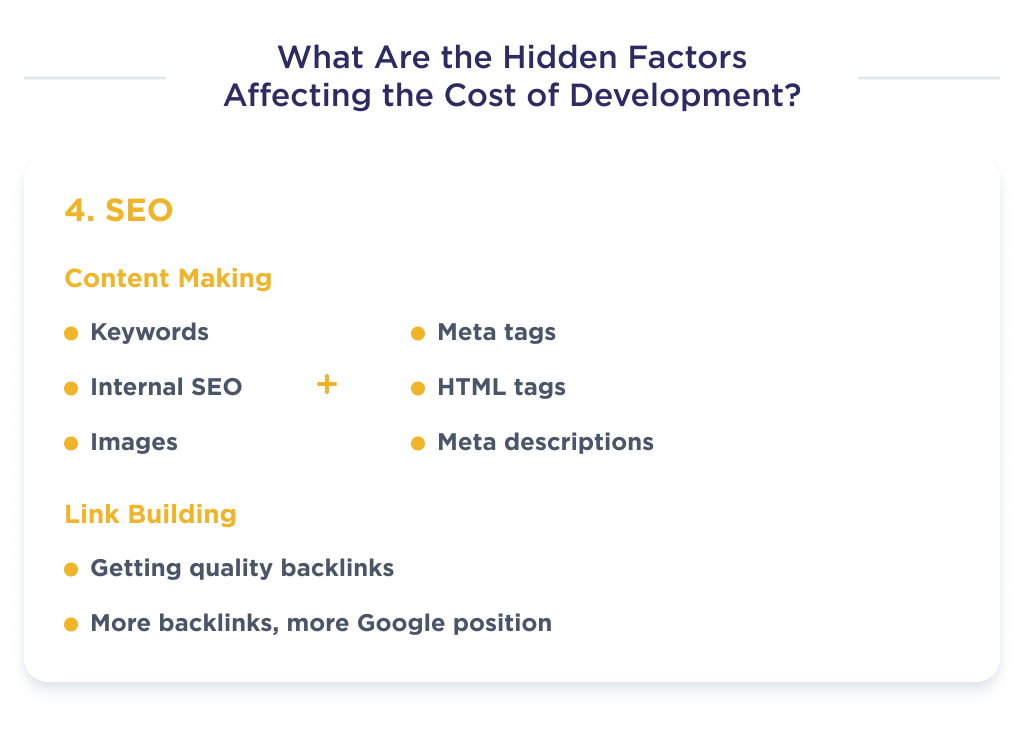 But what team do you need to build a corporate-style website? Let's see below.
How Does the Development Team Impact the Cost of Website Development?
Suppose you choose to hire a development team for your corporate website development.
To build a custom corporate website, the average team you need will contain:
Project manager
Business analyst
UX/UI designer
SEO manager
Backend developer
Frontend developer
Markup Developer
Tester
These are job roles that you must employ for building the platform.
While you don't have a wide scope to change the price with other aspects of the business website costs, the team selection can bring a huge difference.
The time required for a website design also depends on several aspects.
You can include:
Structuring
UX prototyping
UI design
Development and connection of integrations
QA testing
Deployment
As for the options of hiring a team, there are usually three options to choose from:
Hire In-House Team
Hire a Local Agency
Hire Freelance Team
Hire an outsourcing agency
Let's research each of the options in detail.
Type 1. In-House Team
Hiring an in-house team means you need to gather your team. Here, you can find specialists depending on your product's goals and hire in-house web developers at the cost you suggest.
An in-house software developer for a corporate website can cost you between $70,000 to $500,000 annually. If you need an in-house team, you need to understand this amount can increase proportionally.
Here are some of the pros and cons of hiring an in-house team.
Pros
Cons

You will have all your developers in one place working on a common goal
There will be no external access to your project
You can get seamless collaboration

The cost of building such a team is high
There can be overhead costs
Scaling your team can be a time-consuming process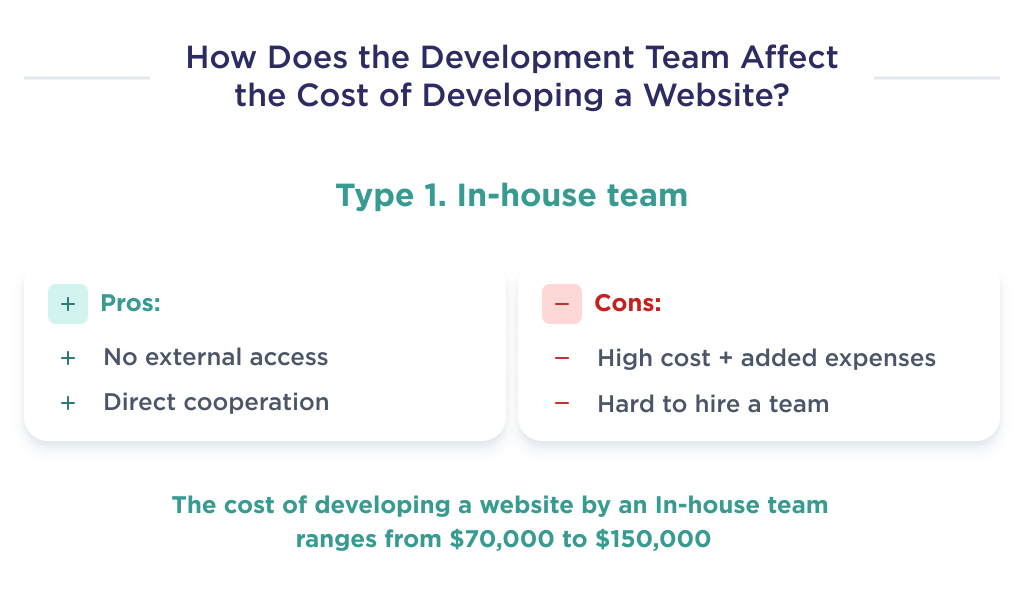 Type 2. Local Agency
If you are looking at an American web design and web development agency, the average cost of getting a US agency to work for you is more than $150 per hour.
Considering you employ them for 500 hours, you will spend $75,000 for the entire project. For a startup business, that could be quite a lot
Here are some of the pros and cons of hiring a local agency.
Pros
Cons

Despite the cost, the quality of the work delivered by a US agency is extraordinary
You don't have to worry about communication and deliverability
You will find access to innovative and tech-savvy web designers and developers

The highest price is for the design and development
For a small business, the price is not very friendly
It can be expensive, depending on the location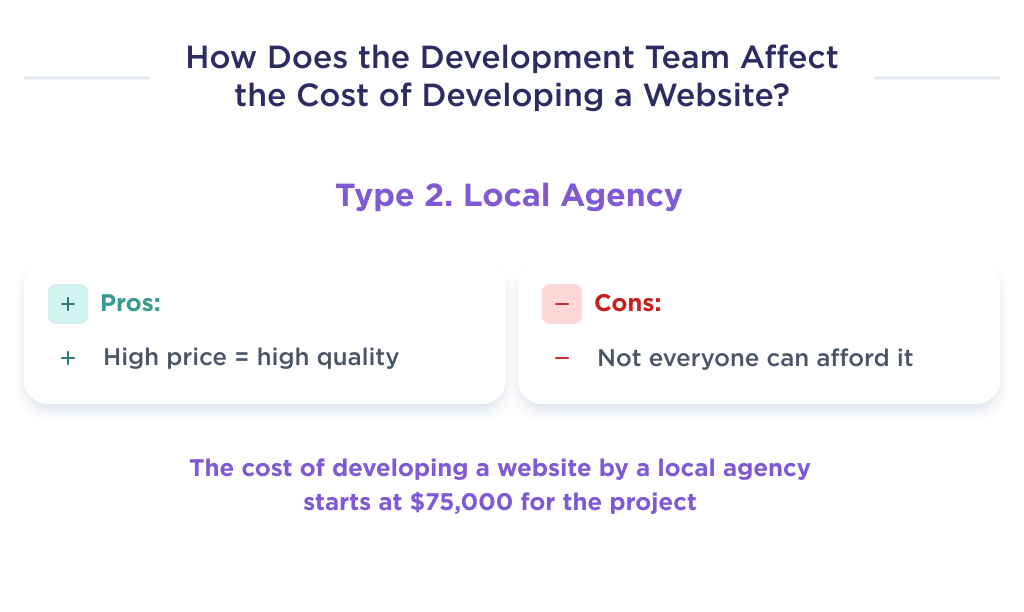 Type 3. Freelancers
Freelancer website designers will charge somewhere between $15 to $30 per hour. Furthermore, development experts can also cost about the same.
Here are some of the pros and cons of hiring a freelance team.
Pros
Cons

Freelancers are cost-effective
Choosing a bunch of freelancers to do your work will lead to a lesser small business website cost
They are easy to hire and onboard
You can find talent from across the globe
There are many sources like Upwork, Toptal, Guru, Fiverr, and others to find freelancers

Freelancers are not very reliable
For something as important as your business website, you need someone with accountability
They may lack deliverability and understanding of the work
You need to get 4 to 5 freelancers on board
Developing sync between all of them is more accessible said than done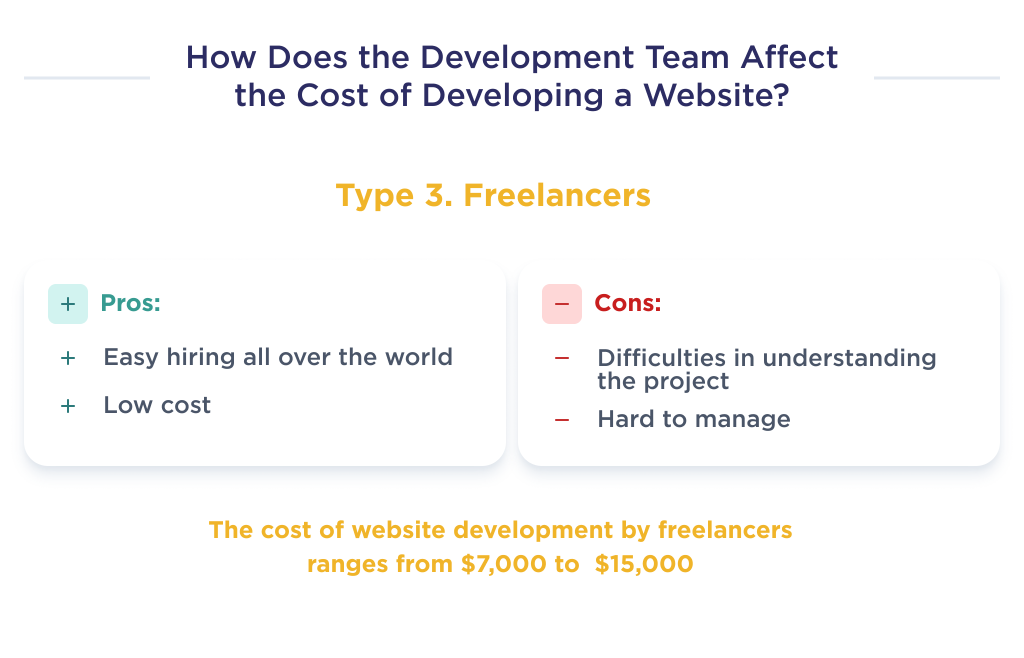 Type 4. Outsourcing Agency
Hiring an agency in Ukraine will bring down the small business website cost to $40 per hour.
It means that for the same amount of work, a Ukrainian agency will charge $20,000.
Here are some of the pros and cons of hiring an outsourcing agency.
Pros
Cons

For low-end small business website design cost in terms of quality/cost
You can get a high-quality product and prompt delivery in less time
There is no communication gap

There can be a time gap
There can appear hidden costs
You can shift time frames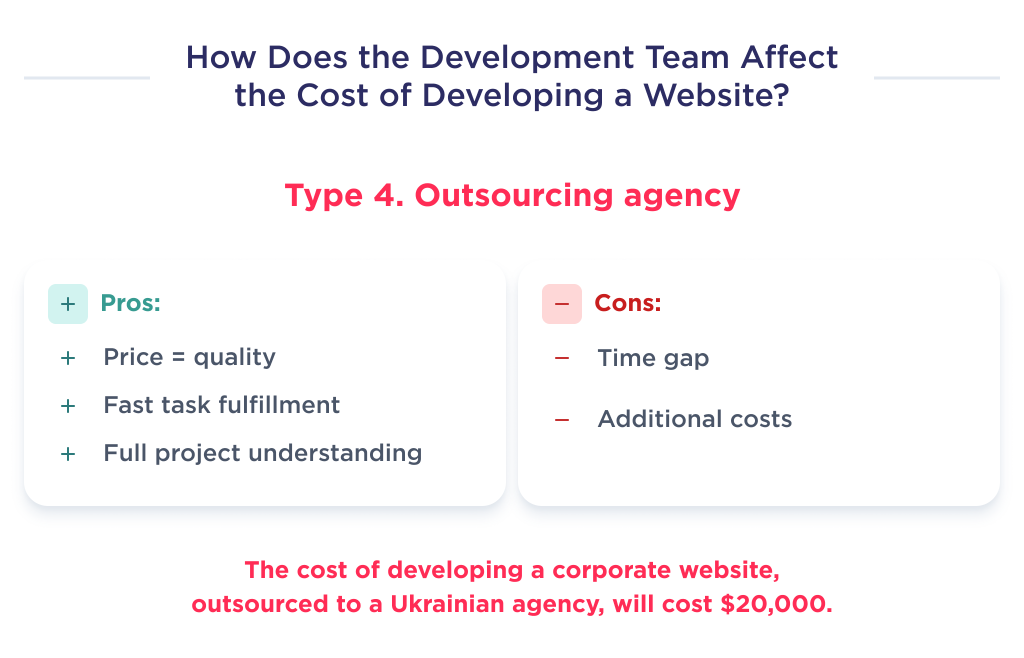 Moving ahead, we are left with the common question of how to choose the best development team.
How to Choose the Best Development Team?
The search for the best development team is one of the most critical and fundamental issues.
You need to be careful because you are looking for specialists who will implement your ideas, so the future of your project depends on their skills and abilities.
We recommend looking at such things:
Potential of the company to help you succeed.
The company's portfolio proves its expertise.
The cost of the company's services.
The location of the potential partner.
The size of the company.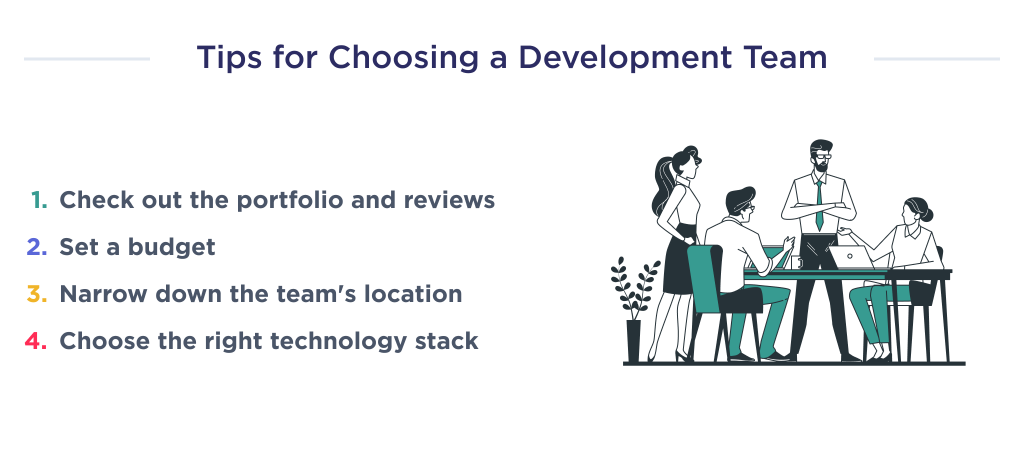 As you can see, there is a lot of things that go on behind the curtain.
What's Next?
SpdLoad packs a big punch in terms of customized services and functions to bring your business to new heights.
When you come to us to build your corporate website, we will follow an innovative and iterative approach.
You can also check some of our case studies to identify our approach and success rate.
Our team of designers and developers will make sure that you get the right product at cost-effective prices.
From the first step of the discovery workshop to product launch and maintenance, SpdLoad is steadfast in its approach to giving you the best experience.
In the end, you can expect a low small business website cost of high quality.
Contact us today to know more!
Bonus Infographic
Below you can see a summary of our detailed guide. Check out the highlights of developing a corporate website.