How to Make Your Website Stand Out From Competitors
9

min read
Your business website is how many customers first notice your brand. That means you need to make a killer first impression with a website that stands out among a sea of your harshest competitors.
Up to 48% of consumers have stated that a business website's overall design is the deciding factor in determining credibility. So, when it comes to the design, content, and strategy you'll need to pay careful attention to several important factors.
What Makes A Website Stand Out?
A stand-out website is a site that learns from its competition. It provides valuable services to customers through a winning combination of ten factors.
These include:
What your competitors are doing
Your images
Your branding
Incorporating the company culture
Incorporating video
Updating regularly
Free offerings
Live customer service features
Including case studies and testimonials
Search engine optimization efforts
In this article, we'll pour through each of these factors, explaining in detail how you can incorporate them into your site to make your online presence stand out above your competitors.
1. Analyze The Competition
Before focusing on what you have to do, you first need to look at what your competitors are doing. No one is saying that you should copy what the competition is doing. By understanding what works and doesn't, you can get a better idea of how to compete for the loyalty of customers.
This is especially true, depending on your industry. Here's an example from a business that sells rims for trucks. That's a product with a lot of competition online. So by checking out a chief competitor, there's a lot you can learn.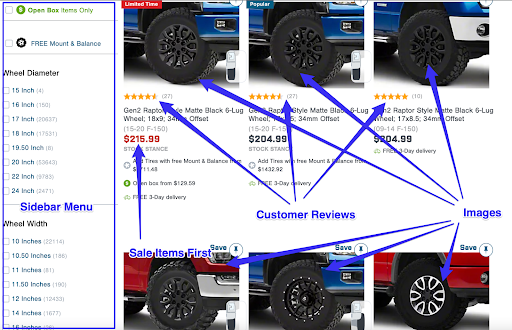 In the image above, we've highlighted several features included on this page.
You can study what you like about the page and what you think can be done better. This can also be a window into industry trends along with the wants and needs of the audience you're trying to reach.
By creating a list of Dos and Don'ts from the example your competitors set, you can formulate a plan of attack and hit the ground running.
2. Appeal to Customers Through Creative Imagery
The images you choose to share on your website can speak volumes about who you are and what you do. Human beings are visual creatures. That means you can convey a lot through powerful imagery.
This comes into play for niche markets like real estate. If you're a startup real estate professional building your business from scratch, many visual elements can be incorporated to capture the imagination of future buyers and clients alike.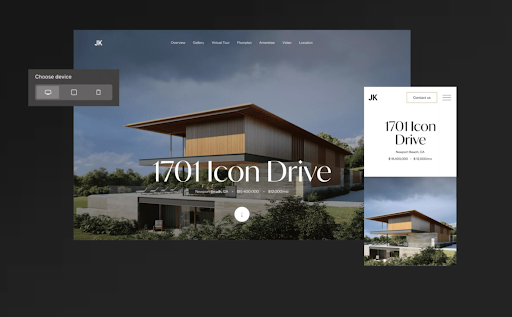 Luxury Presence, a company that designs websites for realtors, suggests including image content that immediately captures that eye and draws the visitor's attention.
The expert designers that work there agree that the images you choose should be optimized for whatever device the viewer is using, as seen in their example image above.
That striking image works in both desktop and mobile formats.
You don't need expert graphic designers to create winning images for your online home.
Photo editing software like a background remover can come in handy when you need professional quality on a budget. Remember, 92.6% of people emphasize visual factors when choosing business websites to shop from. That's why these elements are so vital to your success.
Of course, many free online resources can be incorporated into your design if you're on a very tight budget due to your website development cost. Try searching for eye-catching free vector images to round out your pages.
3. Inject Consistent Branding Into Your Website
One of the best ways to make your website stand out is to start with excellent branding. Try researching examples of great logos, color palettes, font pairings, and photography styles. Once you have put together a great branding strategy, you can build your website around that.
However, you must keep your branding consistent. This advice goes for the various pages of your website and anywhere else you're marketing on or offline. The branding on your website should match:
Social media pages
Landing pages
Online ad campaigns
Billboards
TV commercials
YouTube videos
You'll want to create a consistent brand experience across the entire customer journey.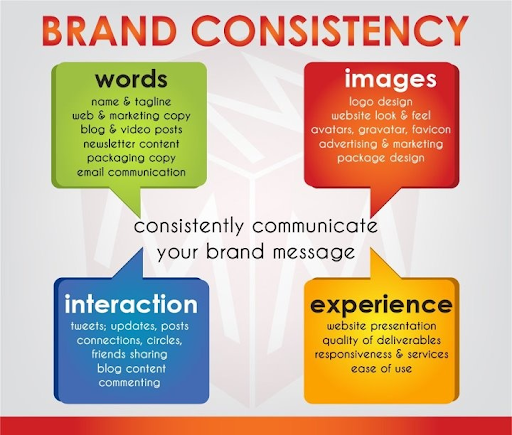 Let's say your prospective customer finds you through your Instagram page. They click through to your website, and suddenly your logo, color scheme, and general theming are all vastly different.
That creates a jarring experience for the customer that will cause them the bounce from your website and tarnish their trust in your brand.
4. Include Company Culture In Your Content
By understanding your audience, you'll be able to determine what kind of content and overall attitude resonates with them. Once you've done that, incorporate your brand's voice across your website.
This can include a special about section detailing your company's journey. It should talk about how you started, your philosophy on the industry, and what your goals are. You can take this opportunity to introduce your team in a fun or quirky way.
Consider professional headshots showing off your team's personalities, followed by biographies of all your major players. Let your potential customers get to know the people they'll be working with.
If you can convey personality and give your consumers a good idea of what you stand for, you can win their loyalty before they engage with anyone directly.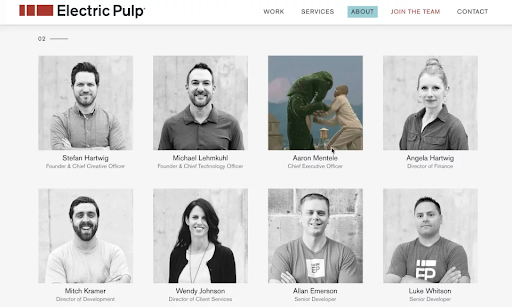 Just make sure that your content's voice and tone align with your audience's sensibilities.
If you're a law firm, you want to keep things professional and showcase your expertise. If you're a young tech startup looking to market to other young companies, you can take on a more casual tone and inject some humor into your brand.
5. Incorporate Video Elements
The video should be a regular part of your website because it's extremely effective. That's why 83% of people prefer watching video over processing information through audio or text.
It's estimated that by the end of 2022, video content will make up 82% of internet traffic.
Make video a regular feature of your website. There should be video elements on your homepage as well as your product pages. Showcase your products in action, and let people see others with the same pain points as them, resolving those issues.
If you're a software company, create virtual whiteboard videos that explain how your product can help businesses dominate the market. Have these videos produced professionally, or edit them yourself using video software like iMovie.
Just remember that the quality of your video content speaks to the quality of your site and your business as a whole.
That's why presenting a professional product with stellar visuals, and an appropriate soundtrack is important. If that's beyond your skill set, it's best to outsource.
Upload your videos to YoutTube and embed them on your site. This creates another pathway for YouTube users to find you.
6. Update Regularly
Your website needs to be updated regularly if you want to encourage enhanced traffic. That means including an informational blog that you're adding content to on a regular schedule.
If people come to expect new articles from you on Tuesday and Thursday mornings, they'll be coming to your site on those days. Disappoint them by greeting them with nothing.
Choose a posting schedule that works for you. Test out different days to see what kind of engagement you get.
Once you've workshopped the timing, incorporate your schedule and make it known to your audience. By providing high-quality content regularly, you can become a trusted source of information.
Consider other forms of content like a weekly YouTube show, a newsletter that links back to your site, or even a podcast if you have something constructive to share through the world of on-demand audio.
It's also important that the information on your website never falls out of date. That means updating older blog posts regularly to add new stats and address changes.
If you change any of your processes, this should be changed all at once throughout your website so as not to confuse visitors.
For example, if you're offering a discount in May, but you still have it listed on June 6, people will be mad when you tell them that they can't have it. They will then come to doubt you as a reliable source of information.
7. Offer Something For Free
People love getting something for nothing. And if you're offering something that costs you nothing to give, that's even better.
While people love free items and add-ons, information can also be a great free feature to offer through your website. Consider creating an ebook, newsletter, or webinar series that can be marketed to potential customers.
Offer these services at no cost, but ensure that you still derive value from them.
Of course, there's value in the customer loyalty you're creating. But these are also opportunities to gather valuable customer data that you can incorporate into your marketing plan.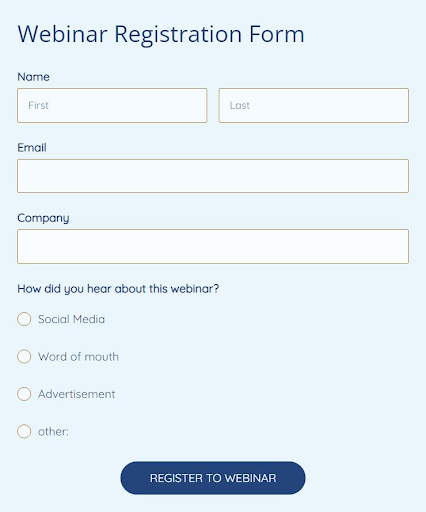 For example, to sign up for a webinar, you can ask for names, email addresses, business information, and more.
You can then allow them to opt-in to receive future communications from your business. This gives you an open door to establish communication again.
Also, you can identify certain similarities between the people you do business with. If you ask them on the sign-up form where they heard about you, see if there are any trends.
If 60% of the people coming from Google Ads ultimately convert, then you'll know that it's a worthy advertising venture to which you can dedicate more of your budget.
8. Incorporate Live Customer Service Features
People want help, and they want it immediately. Customer service email forms with a two or three-day response window just don't cut it anymore.
People want to ensure that when they have questions, you have the answers. That's why a live customer service feature, like a chat box, can go a long way toward winning customer loyalty.
If your customer has a simple question that can be answered by a chatbot, giving them that answer right away can be the difference between closing or losing a sale.
If they can't get a quick answer from your support team, they might start looking elsewhere. That's when you risk losing them to a competitor with live chat support on its website.
Make it very clear how people can get in touch with you. If you can't offer 24/7 live customer support, use an AI chatbot that can field simple questions.
Doing this offers a service they're seeking and frees time for your human customer support agents to field more complicated queries.
9. Provide Case Studies and Testimonials
People want to see proof that your products and services work. But they're not going to take your word for it alone. You're trying to sell something to them. Of course, you're going to say that it's the best.
That's why you need to incorporate case studies and customer testimonials on your page. Video testimonials especially work well.
Your potential customers can see people like them benefitting from these products and services. They come to trust the testifying customer and, in turn, your brand.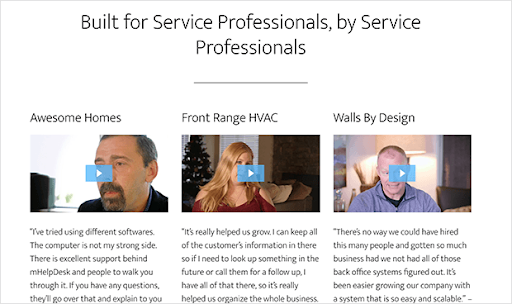 Include testimonials on your home page, product pages, and a dedicated testimonials page. Again, these should be professionally edited and include hard numbers showing tangible results.
10. Optimize for SEO
Your website could be the greatest site ever designed, but if no one can find it, it's useless.
That's why you have to optimize your site for search engines using a process called SEO.
This long-term investment in website growth is composed of several website tweaks, both on and off the page, that can help you get noticed and listed on popular search engines like Google.
SEO involves many elements, including:
Keyword research
Keyword optimization
Content writing
Image optimization
Title and alt tag optimization
Link generation
NAP optimization
And more
SEO is an involved process that requires a deep knowledge of Google's search algorithm. If you're not intimately familiar with Google's search parameters, it's recommended that you look for a professional agency to work with.
The Final Word
Your website can be the deciding factor that sparks a purchase decision for a customer between you and your stiffest competition.
By incorporating these ten powerful tips into your website creation process, you can ensure that you'll be starting the website war with a leg up over your rivals.
To review:
Analyze your competitors to determine what they're doing right/wrong
Appeal to your customers through powerful images
Be consistent with your branding
Inject your company culture into the website
Incorporate video elements into your pages
Update with new content regularly
Offer free services to drum up traffic and gather data
Incorporate live customer support
Include testimonials from satisfied customers
Optimize for SEO
For more informative blog articles, check out our blog page. Click here to learn more about how to hire a dedicated web development team to make your website dreams come true.