How to Use Infographics to Promote Your Startup
6

min read
Content marketing remains the king of all digital marketing tactics. However, not all of the content you produce to promote your startup has to come in the form of written text. Human beings are visual creatures, and providing your audience with visually appealing content is one of the best ways to capture their interest and keep them engaged.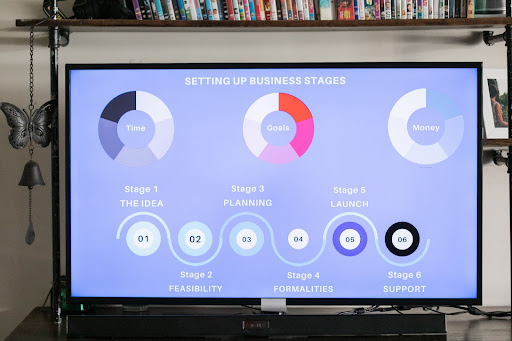 There are a lot of different types of visual content that you can use throughout your digital marketing efforts, from explainer videos to charts and graphs to photo reels and beyond. One great type of visual content that is simple to produce and offers a lot of advantages, though, is infographics. In this article, we will explain how to go about creating professional-quality infographics for your startup as well as how to leverage those infographics for digital marketing success.
Why Use Infographics?
Before we dive into how to create an infographic and the various ways in which infographics can be utilized for marketing purposes, let's start by exploring the benefits that infographics provide and why you would want to consider creating infographics for your startup in the first place.
Infographics are able to communicate a lot of important information at a glance. Given that the attention span of the average consumer continues to drop, this ability to quickly capture their interest and convey your company's key messages is something that enables you to reach people who might not otherwise take the time to read a full blog post.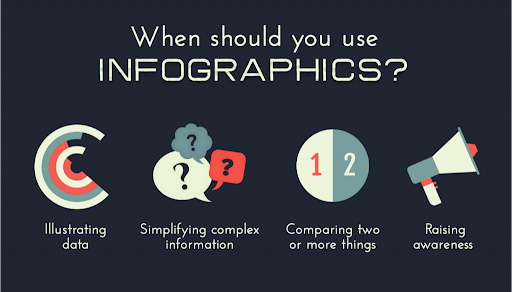 In addition to conveying important information at a glance, infographics are also a lot more likely to attract the attention of a potential customer. If a person is scrolling through social media, for example, they are a lot more likely to pause and check out an eye-catching infographic than they are to pause at a post that is nothing but written text – even if that text conveys the exact same information.
Lastly, utilizing infographics can add a flair of professionalism to your brand image. In spite of the fact that infographics are actually quite easy to produce, most people still see custom infographics as something that requires a certain level of expertise and resources to create – and having potential customers associate your startup with expertise and access to professional resources is always a net positive. Make a social media calendar and post your infographic 2-3 times a week.
The Components of an Infographic
The following components make up an infographic:
Visual Components
Color
Graphics
Icons for reference
Components of Content
Time Limits
Statistics
References
Components of Knowledge
How Can Infographics Help Your Business?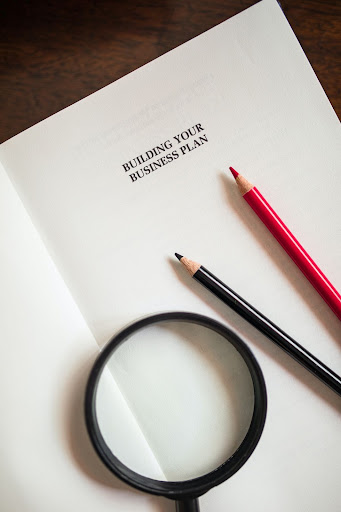 1. Infographics are more beneficial in illustrating a storyline
Infographics are extremely successful in condensing the specifics of a long tale into visual data that people can quickly connect to and recognize. In comparison to mere text, it may also communicate a tale in a much friendlier and engaging manner.
Graphic graphics, in combination with text, have the power to make a lasting impression about a business and its message.
2. Humans are a visual species
Humans are, without a doubt, visual beings. Every day, we make judgments and create views based on what we read, hear, and see.
In order to learn and adapt to our surroundings, we rely largely on visual signals. Infographics appeal to our primordial instincts by assisting us in visualising thoughts and ideas in order to connect with and comprehend them.
3. Important data is highlighted in Infographics to promote opinion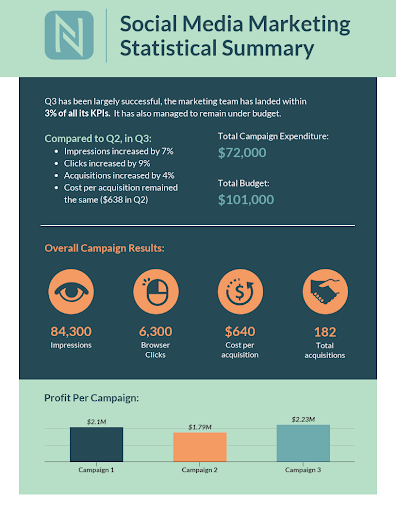 Infographics are incredibly useful for emphasizing key data and assisting you in making better decisions. Purchase decisions, voting choices, travel decisions, eating decisions, and a variety of other choices of our daily lives are influenced by infographics.
They can lead you to the information you need to stay informed and make faster decisions.
4. Infographics are extremely easy to share
If you see content that is both unique and educational and interesting, you are inclined to share it with your friends and family. People are more likely to share an infographic with others if it properly explains a subject, has important facts and is overall helpful.
This is extremely beneficial as part of your digital marketing plan. Because the more people that share your infographic design, the more traffic and recognition you will receive on the internet.
Infographics may also be an excellent way to get natural backlinks to your website.
5. Guide your reader through a step-by-step procedure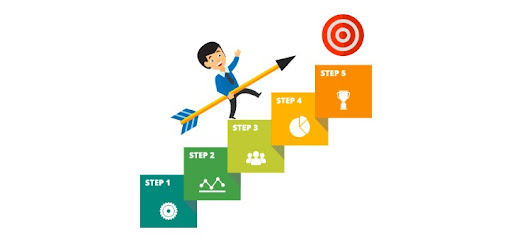 Infographics are extremely useful for guiding you through a complex procedure, timetable, chronology, or even a full-scale tale. Infographics may break down a complicated process into its constituent phases.
What Differentiates Infographics from Data Visualisation?
The simple answer is that infographics employ more narrative techniques than data visualization, although there are several reasons to utilise infographics even when conveying a data-driven tale.
These are the most important aspects that contribute to infographics being a better option than data design:
Infographics may be used to communicate almost any narrative
Interaction on an emotional level
Context
Combining several forms of material and data
Activist appeals
Performing the calculations
Marketing
How to Leverage Infographics for Digital Marketing Success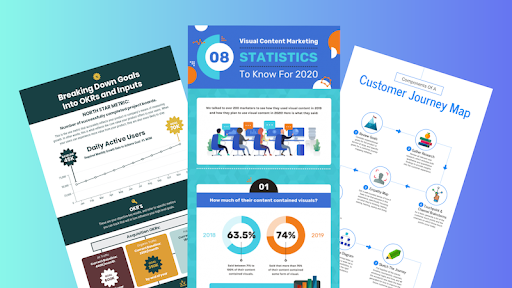 Infographic Use Case #1: Highlighting Key Statistics
If there are statistics that support the value of your product or service, creating an infographic can be a great way to present those statistics to your audience. While statistics can certainly be a compelling way to make a case for why customers should choose your product or service, they aren't always the most engaging type of content when presented purely as the written text. By compiling the statistics that support the benefits of your product and presenting them in the form of an eye-catching infographic, you can increase the likelihood that people will actually read and consider the stats that support the value of whatever it is that your startup offers.
Besides, this is a good way to power up your customer success activity. By using the best popup software you can customize auto-replies with infographics. It will help the users to get answers to their questions in the form of visual information provided by infographics.
Infographic Use Case #2: Telling the History of Your Startup
Most modern consumers like to familiarize themselves with a company before they purchase its products, and telling your audience the history of your startup is an important part of establishing brand awareness. Creating an infographic that highlights the history of your startup is a great way to present this information in a visually appealing format.
Infographic Use Case #3: Explaining How Your Product or Service Works
Unless you are promoting a product or service that requires no explanation, educating potential customers on how your product or service works is a vital objective. Before someone is willing to purchase a product, they have to first understand how it works, the benefits that it provides, and why they need it in their life. Since most people are visual learners, explaining the features and benefits of your product in the form of an infographic is often the most efficient and effective way to educate your audience of potential customers.
Infographic Use Case #4: Comparing and Contrasting Your Startup With its Competition
Presenting information in a visual format makes it much easier to compare and contrast separate subjects. If you would like to compare your product to a competing product and contrast the advantages that yours provides over the completion, a custom infographic is often the perfect tool to employ.
How to Create Custom Infographics
If you would like to get started leveraging custom infographics in order to promote your startup company, you'll be happy to learn that creating professional-quality custom infographics is actually much simpler than you might imagine. By utilizing a high-quality online infographic maker, you can create stunning custom infographics in a matter of minutes using only simple point and click commands.
This process starts by choosing from a broad selection of infographic templates to find the template that will serve as the starting point for your custom infographic. From there, you are then able to change the template's color scheme, add text, and add in any additional design elements you might like to include. Once you are done customizing your infographic, you are then able to download it in a variety of file formats that you can then publish to any number of online platforms.
Best of all, many online infographic makers are completely free to use. This fact combined with how easy it is to use these tools means that the barriers associated with creating custom infographics are largely a thing of the past.
By presenting key information in a visually appealing format that is easy to skim and digest, infographics can go a long way toward improving the results of your content marketing efforts. Given how easy and affordable it is to produce custom infographics that are attractive and professional, infographics can serve as an incredibly valuable tool in your startup company's digital marketing toolbox.
Conclusion
As you've read, infographics can be a great complement to your current marketing plan, and they can have a variety of effects on your company's growth and awareness of its products and services.
Infographics are also a great tool for businesses to persuade their audiences to take a certain action. They can be used in a variety of settings, including marketing, sales, training, human resources, and management.
You really need to think seriously about incorporating infographics into your plan.