Build or scale up your development team 2x-times faster.
Focus on high-level strategic work necessary to make your
company a success, till SpdLoad does technical part.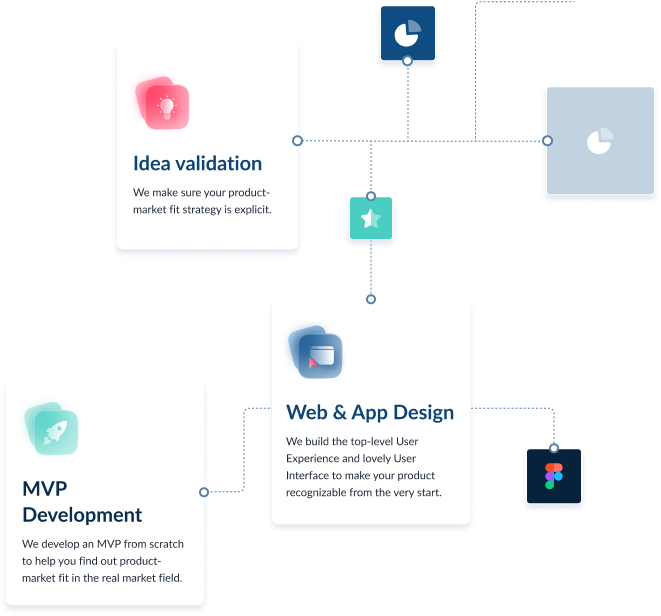 Introduction and Value Proposition
SpdLoad - is software development Partner for your venture:
We specialized on JavaScript Technology Stack
We have succeeded in solving unique problems in the SaaS and Marketplace niches
We pay special attention to the Discovery phase, building user-friendly interfaces, and leveraging Lean artifacts
Following transparent processes, open communication, and a culture of team engagement further set us apart
Customer satisfaction is our top priority
Furthermore, we invite you to watch video testimonials from our current customers
Our featured projects
No-code website builder
Mobile app redesign
eCommerce app
eLearning app
HR Web Application
Telemedicine platform
Can't find a project that resonates with your vision?
Explore more case studies to find the expertise that fits your idea
Find out more
Tell us about your idea and we'll contact you shortly
Want to create a digital product while staying focused on your main business? Need to digitize your processes or scale your internal IT department?
Who do we work with?
Startup
founders
Product
managers
Serial
entrepreneurs
Chief technology
officers
When do you need us?
You have a solid product idea but
no experience in web development
or startups
You have a working MVP or a product
and are looking for additional specialists
or a dedicated team for web development
You are running a fast-growing startup and are now
looking for development experts to expand your in-
house software development team or develop new
features.
Additional Value which we deliver
Transparent processes and communication

The process is really transparent and straightforward. We discussed all the details and confirmed features as one team.

Timothy Bendt | Founder and CEO | GetCangelo

I've appreciated their customer focus. I've found them trustworthy, which is a factor I bring to my own client relationships.

Katya Strulova | Founder | GetReinvented

Team engagement in product development

SpdLoad team contributed several valuable suggestions to improve our solution's technical aspects, which gave us a competitive advantage.

Founder & COO | Medical Startup

They understand our MVP goals based on the limited information provided.

Ernestas Duzinas | Co-founder | Hirenest

Business-focused technology solutions

SpdLoad is not just a company that does what you tell them to do and doesn't care about your business. They do care, and that's very important

Lead Solution Architect | IT Company

We didn't have much experience creating something from anything, so we liked that they made suggestions and help achieve our vision.

Andrei Kandratsenia | Project manager | Connexzion
What technologies and tools do we use?
Backend
Language:




Framework:


Database:

Frontend
Languages:


Framework:
Mobile
Languages:


Framework:

UI/UX Design
Main tool
Animation
Prototyping
FAQ
Have a question? Look here
How do you estimate the timeline for the project?
Our software project evaluation process consists of several steps:
Gathering initial requirements

Rough estimation.

And if our project proposal and rough estimate make sense to you as a client, then we sign the NDA and all necessary documents and begin our collaboration.

But the project evaluation is still ongoing to provide you with the clearest and most up-to-date numbers.

Discovery Phase

UX/UI design

Final evaluation

Continue work or revise of contract

To avoid misunderstanding: the cost of discovery and UX/UI design phases are already included in the ballpark estimation.

If the final estimation looks too high, there is always an option to cut some features or use a simpler, not-so-scalable solution.

Finally, if the estimation of application development doesn't work well for you, there is always an option to use the results of discovery and design prototypes to raise funds with angel investors or small VCs.
What is the first step you take on a project?
The first step in a project is to learn more about your (customer's) software ideas, requirements, or expectations.
This will help us properly evaluate the project and ensure the smoothest and clearest communication possible.
What is your project management style?
As we said on the page above, we are Agile evangelists: flexible, customer-centric, and market-driven.
In other words, a product for us is a solution that competes with other existing solutions to be the best for the obvious and non-obvious pains of customers.
If your idea was to build a SaaS with automation and optimization features, but your co-founder discovered that your final users want to see blockchain, big data, or machine learning, we'll surely follow your co-founder.
Not because we don't like you, but because he or she talked to your final user, and don't just imagine the product functionality.
Do you use contractors to do any work?
Nope. We're a full-cycle agency that covers everything under one roof: design to quality assurance.
How many developers do you have?
At the moment, in SpdLoad, there are more than 50 developers and 20+ non-development specialists: designers, sales, marketing, HR, recruiters, and management.
What is the potential for updates?
There is no strict answer, but in general, the answer is that it depends on the product and how you approach marketing and customer development. If you know how to attract users and are ready to listen to them and analyze what insights they could share, there will always be work for updates.
Will you have a specific point of contact?
Yes, but on different stages, it could be different people. Initially, you'll talk to our sales representatives: Andrew or Max. Once the project is started, you'll talk to your project manager: Olga or Kate. But for sure, you're able to contact anyone at any time.
How are intellectual property rights handled?
We always sign all necessary documents to ensure you're the only owner of all IPs.