How Much Does It Cost to Make an App [2021 Edition]
16

min read
This is it! You have finally started to follow your dreams and plan to leave the 9-5 routine.
Good for you!
Now that you are on your path to becoming an entrepreneur, a founder, a catalyst of change, making an application is the beginning of everything.
This article will be an excellent resource for the founders (tech and non-tech).
How much does it cost to make an app is the first question you may ask.
Well, you will get your answer here.
Before we move ahead with discussing how much an app cost, let's take a look at the latest CB Insights report on startups shut down.
29% – Ran out of Cash
18% – Pricing Issues
17% – Lackadaisical business model
8% – No Financing
8% – Burn Out
There are many other factors, but these are important for our discussion.
Notice anything familiar between them?
Yes, all of them are associated with liquidity. Directly or indirectly, every penny you send on your business affects its growth and success.
You should not also go for "Cheap."
Want to strike a balance? Read on. We have covered the cost to develop an app in detail.
How Much an App Cost? [Spreadsheet]
On average, you are looking to spend somewhere between $10,000 to $150,000.
The precise cost depends on how much integration and features does it needs to make an app that you like.
We are taking three case scenarios. Please note that we are not considering the cost of developing an app for gaming.
| | | |
| --- | --- | --- |
| App Type | Estimate Cost | Time |
| Simple Application | More than $10,000 | 3 to 5 months |
| Applications with basic Database and API features | $10,000 to $50,000 | 6 to 9 months |
| Advanced Application with Large database and features | $50,000 to $150,000 | More than 9 months |
In all the estimation of the cost to build an app, the features have the percentage of votes.
The answer to how much does it cost to develop an app can easily go overboard due to the features.
It is like fuel to fire!
That is why at Spdload, to know how much cost do we need to make an app, we follow an iterative estimation process.
To know more about it, take a look at our project discovery phase.
We also include the discovery workshop to find out how much does it cost to build an app.
What Factors Affect the Cost of Developing an App?
How much cost you incur to make an app depends on three things:
The application's complexity levels
Design and Structure
The platform on which the application will run
We will discuss these three aspects in detail, starting with the complexity.
Factor 1. Complexity Level of App Development
Features and integrations development are the main drivers for an app or an MVP cost.
How much features and integrations you choose will decide the complexity levels and the final cost.
You are creating a medium for the users to enhance their functionality, isn't it?
And there is no barrier to functionality.
Don't expect the development guys to answer how much does it cost to build an app right off the bat.
Give them time to understand your requirements and assess the complexity levels of the application and its features.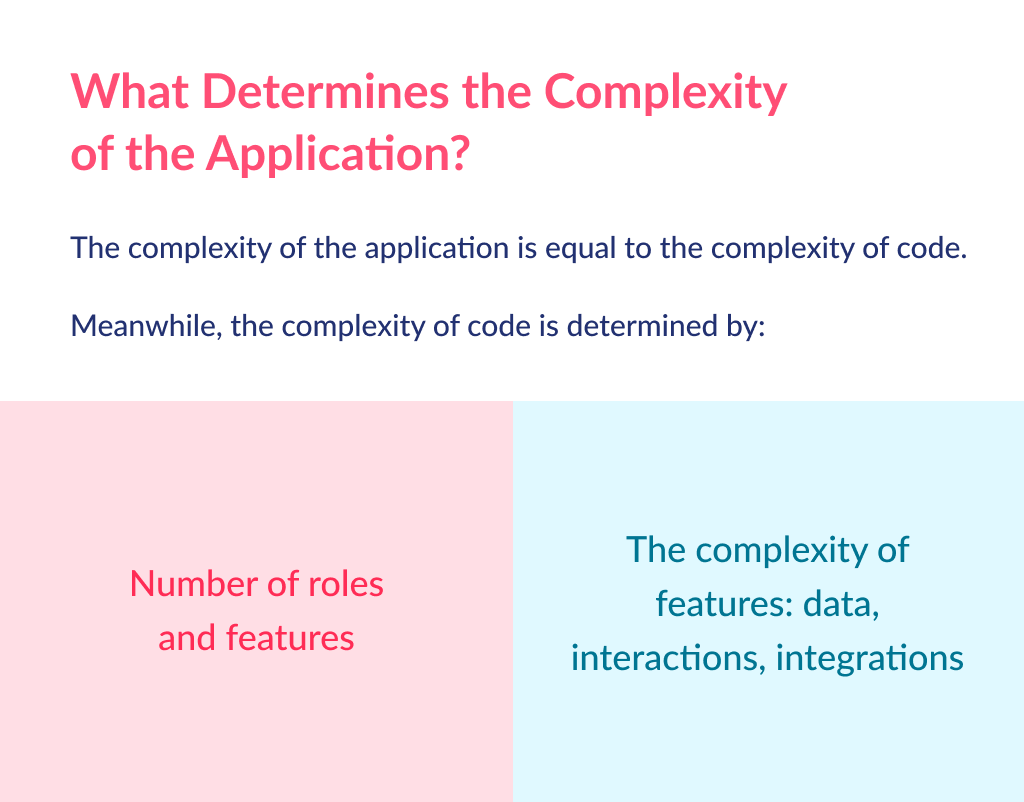 Basic features, three to four screens, simple function, and no data storage.
That is an overview of a simple application.
Such an application will have the main features, including:
Login
Signup
Profile making and editing
Search
Notifications
Messages
Admin panel or dashboard
How much time taken by the selected pool of features will help decide an app's cost.
Examples: A calculator app, time tracking app, notes app.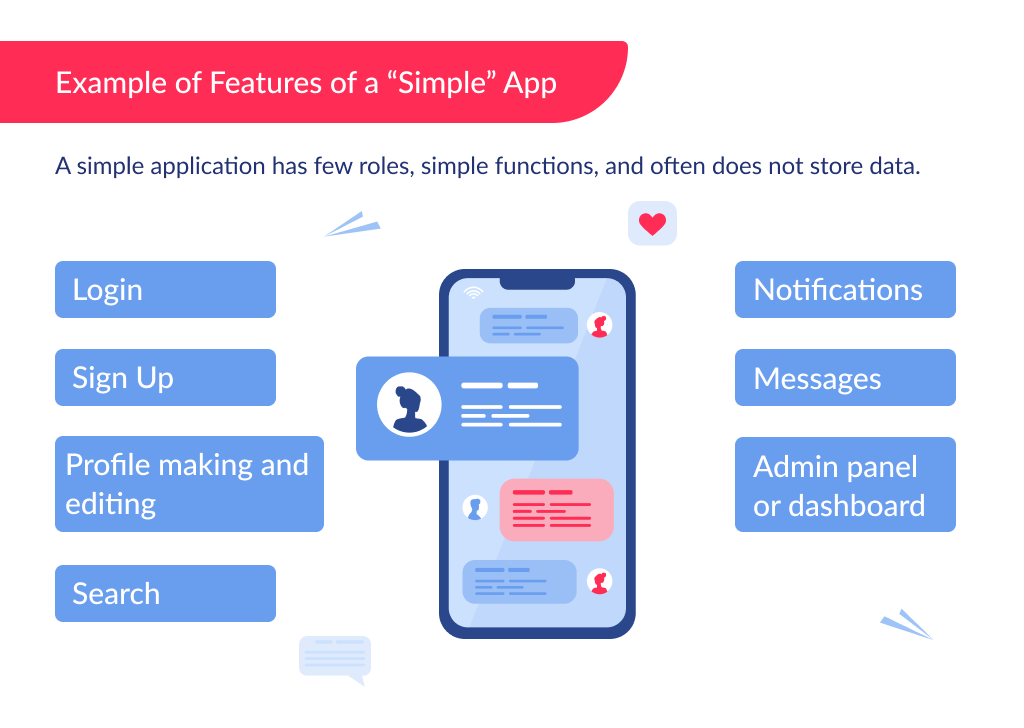 Database and API-based Applications
Why does an airplane cost more than a car?
Functionality and features, right?
Similarly, to develop an app, adding more features and databases will increase the cost.
In these applications, you are looking to add some extra features (other than the ones you find above)
Social Media Integration
In-App Purchases
Payment Portals
Geo-location
Location Tracking
Better Security
Apart from these, there is better accessibility and usage of robust infrastructure.
These are the applications that require data storage and retrieval from more than one database.
To build such an app, you should also understand how much the customer base is; it also helps define the cost.
Lastly, depending on how the developers integrate features can also make a difference in time and price.
Once you decide the features list, the developers will use third-party API or code scratch.
While importing the codes is cost-effective, writing it from scratch takes time, effort, hence, the higher cost.
Some applications require connecting two segments, the user and the admin panel, for instance.
This also requires more work and synchronization.
Similarly, there are endless possibilities you can expect from your application and features.
So, the higher the developing level of an app, the more the cost.
Examples: Photo-sharing application, taxi or food delivery application.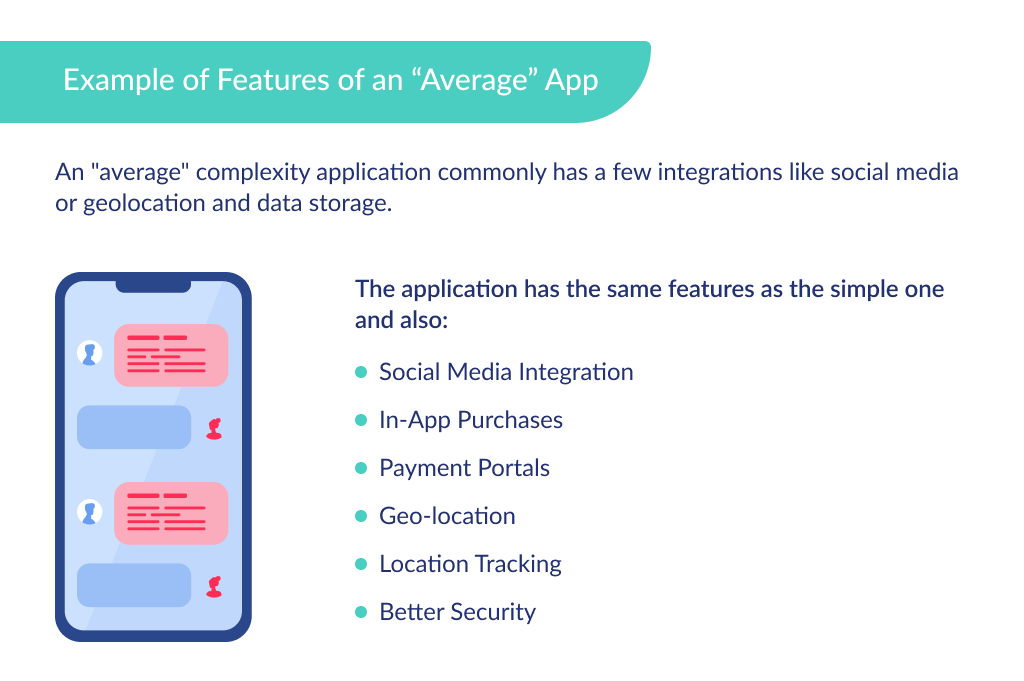 Feature-Rich and Large Scale Applications
These are end of the line applications.
The total cost to make such an app can go way beyond how much you might expect.
Here's how the development cost of this kind of app changes:
Rating Systems
Data Synchronization with more than two devices
Native features
Online streaming
In-App Calls
Messaging
Video Chats
With such applications, not only the development work is highly complex.
But, research and planning are also equally intricate.
With an advanced app, the cost to build, visualizations, platform nativity, and everything else is highly precise.
There are multiple servers, databases, and a heavy dependency on the infrastructure.
Not to mention the synchronization levels necessary for smooth functioning.
Since there are heavy customizations, the developers have to write the code for the majority of functions.
Anyone cannot fix the scope of an app and decide how much it cost. Especially before entering into lengthy meetings.
Examples: enterprise applications, CRM applications, trading platforms.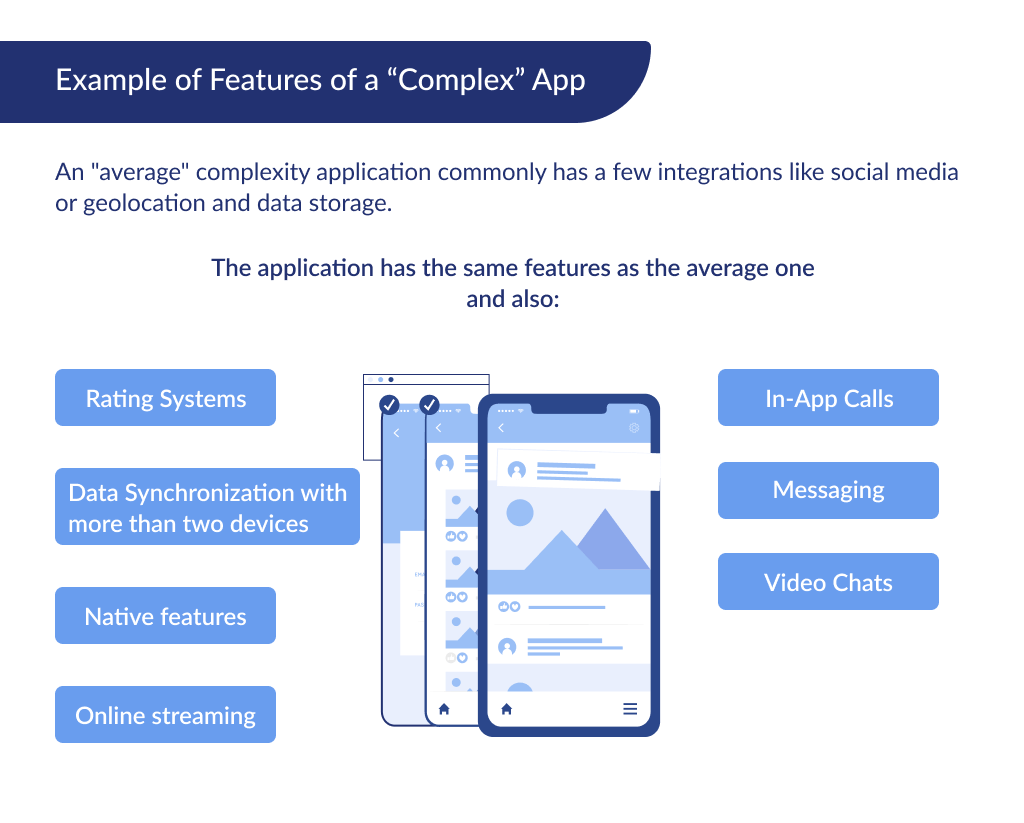 Factor 2. The Complexity of the Application Design
Moving on with how much does it cost to develop an app, we have the app design.
The design stage is an integral part of development.
You cannot separate the two to decide how much an app will cost.
Designing is much like the development part. Just as you add more features and cost rises, pro-rata. (Read more about the price of app design.)
Similarly, with designing, if you decide to use the templates, the cost will be restrictive.
But, more customizations in the design mean higher cost and more time.
There are a few things that we need to look at here as well.
Point 1. User Experience
People ignore designs that ignore people.
The above statement summarizes what it means by User Experience or UX.
UX is about how the application works.
UX involves creating the screens on paper or on a designing platform.
Ultimately, it also helps decide how much does it cost to make an app.
The goal is to make the application easy to use for the end-user.
Creating that kind of experience, understanding the market, the user, your goals, and objectives is essential.
The cost here of developing an app will fluctuate on the engagement levels and intricate design.
Examples:
Button Placement
Color Psychology
Following the user's eye pattern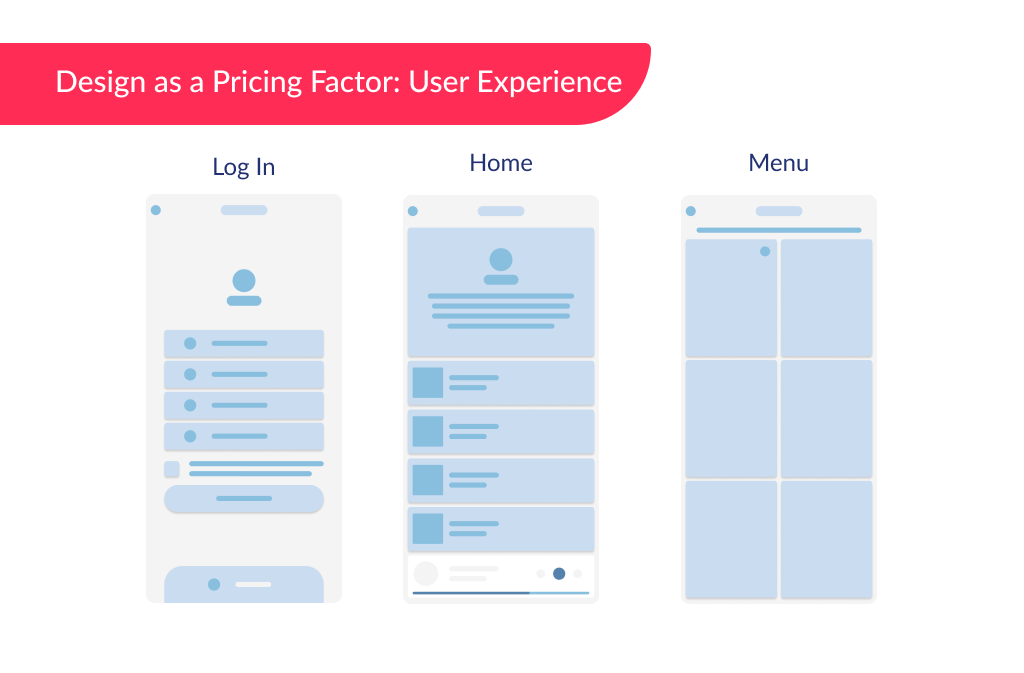 Point 2. User Interface and Visuals
There are a lot of ins and outs of application design.
However, it begins from UI or how the application will look to the viewer.
Depending on the inclusion of different visual elements, you can find how much an app cost. In fact, it influences the cost of MVP design as well.
Better design not only means a better outlook.
Designing an application follows creating the mockups that allow getting a visual hint of the solution.
Here too, the design will depend on your goals.
What do you require from your app?
Engagement
Sales
Information
So on….
Furthermore, what kind of application are you developing will also play a role in app development cost.
Basic app
Authentication
Social networking
On-demand
E-commerce
Marketplace
IoT
At SpdLoad, we lay an equal focus on the design and development to find the cost to develop an app.
Examples:
Layout
Screen
Colors
Typography
Shapes
Elements
Items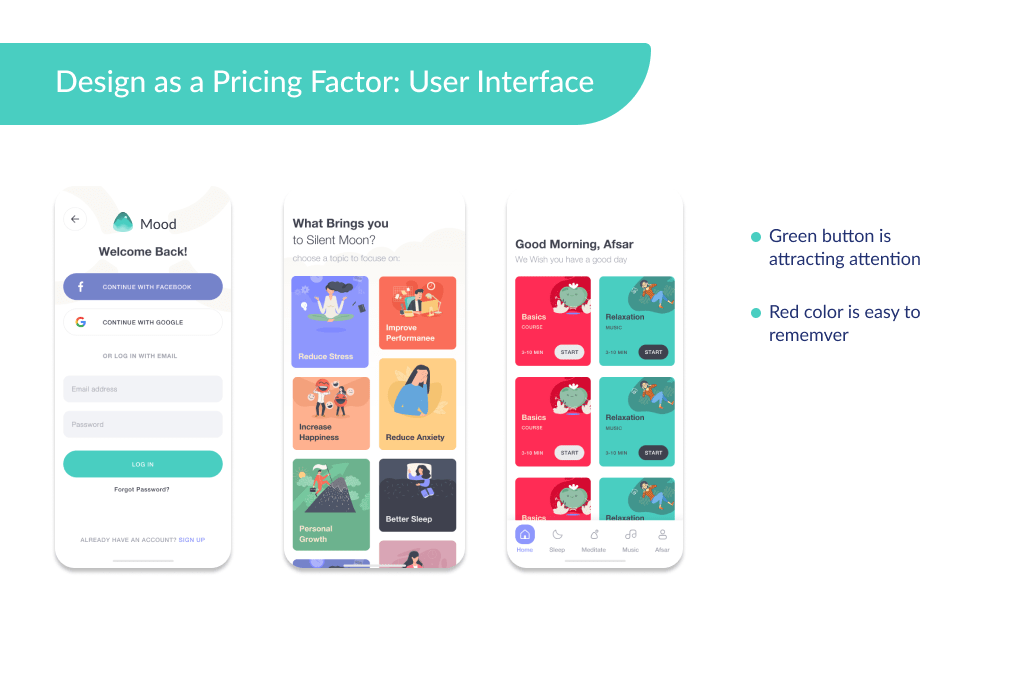 Point 3. Branding
What does come into your mind when you think of:
Apple
Nike
Reebok
Volkswagen
McDonald
Dominos
All the organizations have a brand value.
Their icons and their names stand out from a crowd of thousands of similar brands.
Why?
Because they have invested in branding.
Now when you are developing an app, you may not care to market your brand because of how much does it cost.
But, if you would notice the five reasons for a startup's failure above, the lack of a good business model is at number 3.
Branding is a part of your business model.
So, there is no doubt about whether or not to include branding in the application development process.
However, the final cost you need to build an app will depend on branding; that is why you must keep is nominal in the beginning.
After capturing the market to some extent, you can think about scaling branding efforts.
Examples:
Creating an Icon
Marketing Efforts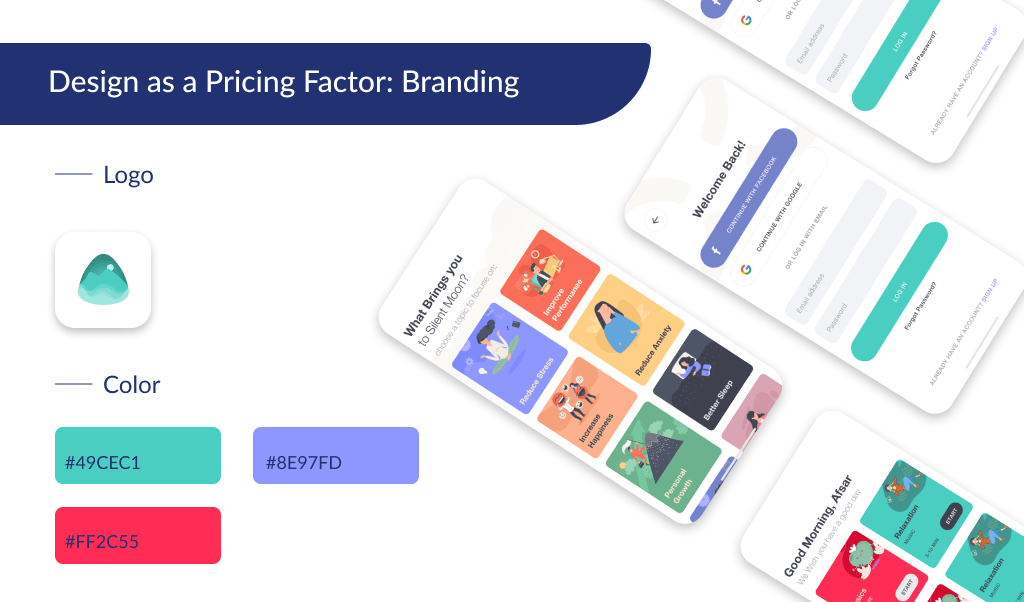 Point 4. UX Writing
When you develop an app for the user, add copywriting to the total cost.
A creative copy must compel the user to engage and interact more with your solution.
The fusion of good copy and impactful design is important for an app's success.
However, when it comes to the cost, you cannot ignore the fact that a good copy needs good money.
To know how much does it cost to build an app, ask your developer to choose a copywriter first.
Or, if you want to hire one by yourself, include the price into the final tally.
Here too, you can select from a huge pool of writers globally.
Choose a writer that shows nativity and cost-effectiveness.
In comparison, selecting a writer from a native English-speaking country will cost more.
Examples are texts in:
Landing Page
Emails
Newsletters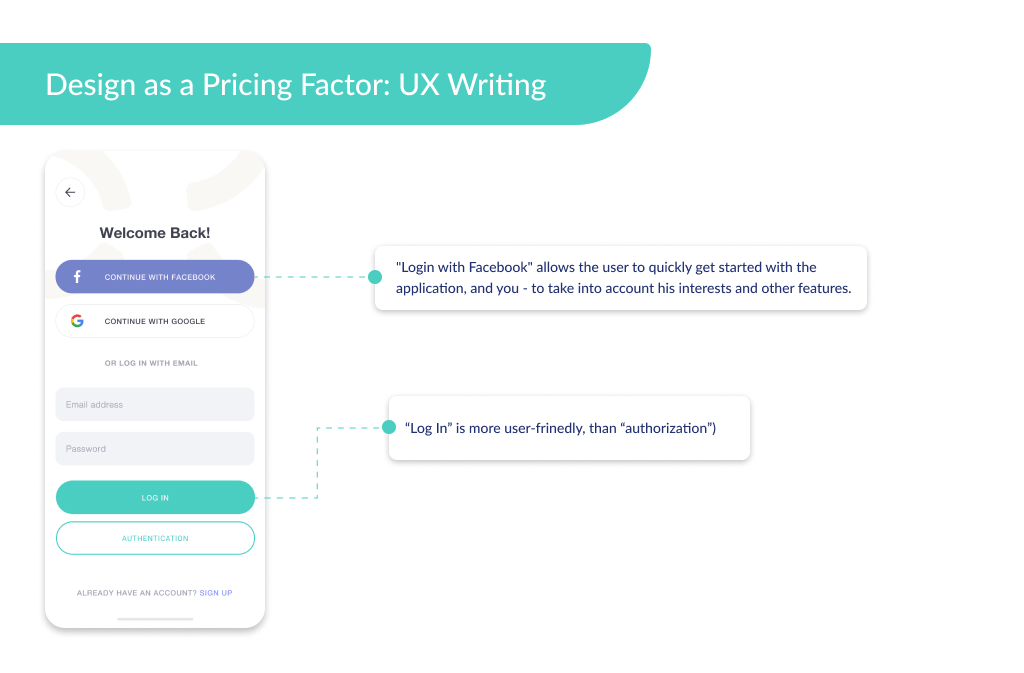 Factor 3. The Platform on Which the App Will Run
After knowing how much does it cost to developing the app by considering complexity and design, we move on to the platform.
You need to decide between two things:
Option 1. Develop Hybrid or Cross-Platform App
Hybrid here implies that the application will either run on Android or iOS devices.
In the discovery phase, that we adhere to at Spdload for deciding how much an app costs, this question is primary.
Before boiling down to one platform, take three things into considerations:
Market Share
Device Fragmentation
Prevalence
All these depend on the market you are going to target initially.
It is useful to find out the cost of iOS app development by knowing the market.
You need to know where iOS is more prevalent than Android,
The same theory relates to Android devices.
The development process for both platforms is different, but not how much does it cost you need to bear to develop an app.
Cross-platform applications get the benefit of easy-fit, smooth operation, and they can use the platform-specific features.
All of this helps create a better experience and lowers the "how much cost" answer of an app.
How It Impacts the Cost?
The cost to develop a native app is more than the hybrid one.
And this is for obvious reasons.
You require double manpower and efforts to build two apps at the same time.
Option 2. Develop a Native App
Native applications run on both platforms as particular, independent pieces.
They look and operate like a native application.
But the development process is both native and web-based, which also changes the app cost.
Native applications will indeed cover a broader market. But here's what you need to do additionally:
Dual developers
Dual designers
Dual quality assurance guys
Dual DevOps
So on and so forth…
You get the idea, right?
Since you will need to employ different people for different platforms, the cost will certainly double.
How It Impacts the Cost?
The question that you might ask is how much an iPhone or an Android app cost.
It's a legible question.
But the answer is that the cost is the same to build an app iOS and Android.
Yes!
Although the technologies, SDK, databases, frameworks, and quality assessment systems are different for both, the price is the same.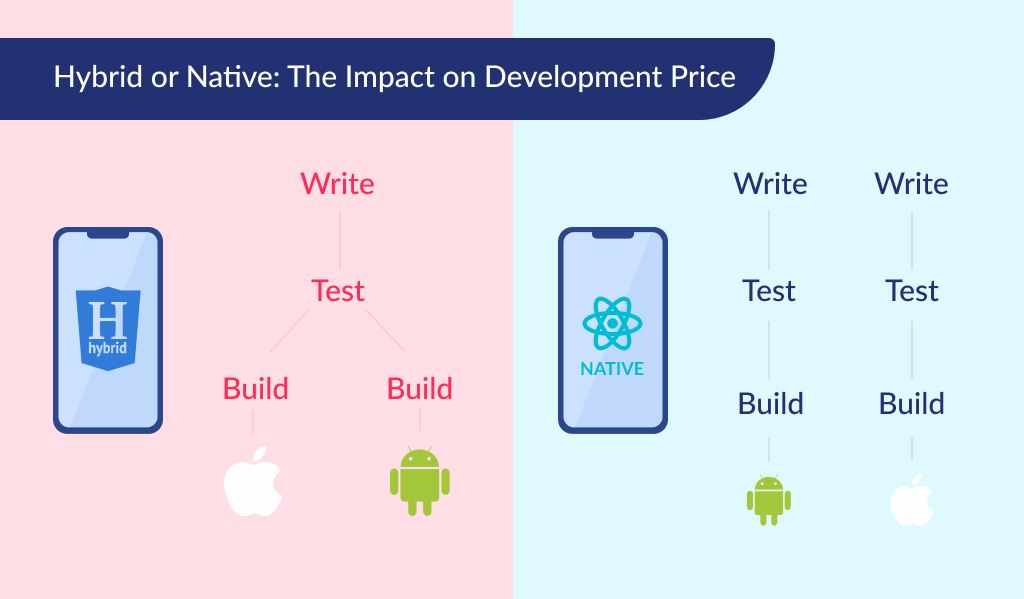 Choosing the Development Team
The final chainlink in how much does it cost to make an app is a team you choose.
It is not very healthy to assume that what kind of development one chooses does not matter.
On the contrary, choosing the right team has several benefits. One of them is lower costs and higher quality.
As a startup, your budget is low, but the need for an extraordinary product is imperative.
So, if you want to get the best bang for your bucks, choose the team wisely.
Here's some expert guidance that will help you decide how much an app cost.
Option 1: Hire a Local Agency
Criteria
Description
Cost
To develop an app, the cost charges by the local companies will be higher.

There is no doubt in that.

Depending on the country you are starting your startup in, the per-hour rates of a development team and a design team can range between $150 to $250 per hour per specialist.

So, if the total work is for 400 hours and taking an average rate of $100, you are looking to spend $80,000.

That is the app development cost.

Pros and Cons
No doubt, if you hire a local agency, you can maintain constant communication.

Plus, you will get expert quality and the possibility to make changes easily.

Lastly, a local team will be responsible and accountable for their work.

However, the cost factor of these teams is over the charts.

If you can and are ready to spend $40,000 on the product in one go, be our guest.

But this cost is bereft of the maintenance, edits, copywriting, discovery, and market analysis.

Should you go for it?
Once you run a cost-benefit analysis, you will understand that it is not worth it.
Option 2: Get an In-House Team
Criteria
Description
Cost
If you are someone who wants complete transparency, communication, and a trustworthy solution, hire your in-house team.

However, if you would ask how much does it cost to develop an app by an in-house team, the answer is quite shocking.

Here, the cost is even higher than contracting the work to a local agency. (You can compare the salaries using our calculator.)

Let's see:

Full stack developer = $98,000 per year.
Designer = $85,000 per year
iOS or Android Developer = $85,000 per year.

However, if the developers will work for equity from the very start, a founder could save the budget. So, the in-house team costs twice cheaper as the local agency – $40,000.

Pros and Cons
One of the greatest things about hiring a team is the constant flow of ideas.

The communication is super smooth, and everybody on the team will be fully involved.

In this, however, everything comes on your shoulders.

The quality, responsibility, budget, and employee welfare is in your hands.

You are looking at a significant amount of extra app cost, how much can you afford?

Should you go for it?
As a startup founder, hiring a team also includes getting space to accommodate them.

If not, you may have to set up a system for the server and other infrastructure.

Therefore, if you do not want to get a shocking answer to how much an app cost, it is best to leave it for now.
Option 3: Acquire Freelancers
Criteria
Description
Cost
There are two ways you can go ahead with a freelancer.

Hire them on a contract basis
Hire them on an hourly basis

Plus, there are plenty of platforms to find freelancers.

Websites like Upwork, Fiverr, PeoplePerHour, Toptal, and so on.

The average hourly price of a freelancer again depends on the country you are hiring from.

US: $50 per hour
Asia: $15 to $25/hour
Ukraine: $25/hour
Latin America: $20/hour

These are the starting rates, and they can climb as per the experience.

So, to figure out the cost to build a useful and excellent app, consider the hours.

Pros and Cons
Let's face it; freelancing is one of the cheapest methods of creating a solution.

With freelancing, you have the power to dictate the prices and still get a quality product.

However, with freelancers, you can throw accountability out of the window.

They can quickly leave the job and leave you hanging.

Hence, here the question is not how much does it cost for a freelancer to make an app, but will the freelancer see it through?

Should you go for it?
Hiring a freelancer is not a problem.

But ensuring that the freelancer helps you till the end of the product development and adheres to your requirement can become an issue.

So, we would not recommend going the freelancing way until and unless you have the time and energy to monitor them continually.
Option 4: Outsource the App Development
Criteria
Description
Cost
Countries like Ukraine, China, and other Asian destinations provide adept development and designing teams.

They ensure a high-quality product and creativity.

It all boils down to the cost of develop an app that differs from country to country.

In Ukraine, for instance, you will get access to a development agency at as low as $30/hour.

They are not freelancers, nor are they companies charging predatory pricing.

Pros and Cons
Outsourcing is the panacea for all your problems.

Getting your hands on an excellent agency in another country will get you a multitude of benefits:

Cost-Effectiveness
High-Quality
Break-free Communication
Adherence to Guidelines
No-fuss and hiccups
Accountability
Responsible team
Timely Delivery

So, besides a relatively low cost required to build an app, you are also getting access to an innovative product.

Should you go for it?
Absolutely!

Outsourcing app development to an agency will certainly reduce the development cost of the app.

However, before you choose an agency, make sure to leave no stone unturned.

Check everything and talk to the team.

Check the case studies
References
Past Experiences
The choice of a team will greatly influence how much does it cost to make an app.
Pro Tip: Always keep three things in mind when you are hiring developers for your solution:
Focus on the Product
Don't mess with the design
Constant Marketing
Another integral part of the guide on how much an app cost is a hidden cost. That is what we are going to take up now.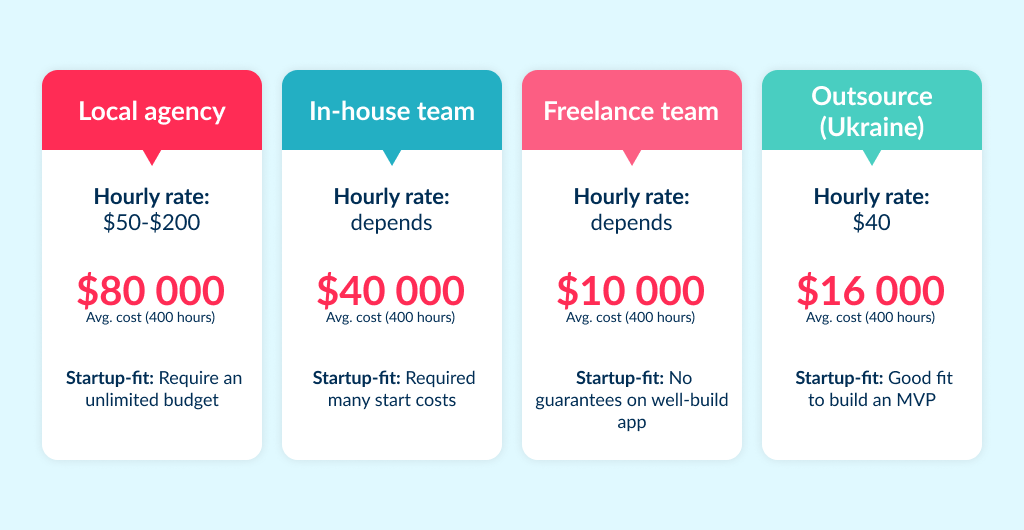 What about the Hidden Costs?
A few additional costs add to the final answer of how much does it cost to develop an effective app. These are:
Functional Costs
Admin or Management Costs
Infrastructural Costs
Support Charges
The final changes might vary from service to service. So ensure that you ask the development and designing team about these costs.
Also, many founders ignore that question, but you need to include a budget for startup marketing efforts as well.
A Few Examples of App Pricing
Moving on with the next part of how much does it cost to make an app, let's take a few application types.
Below you will find a few examples of applications along with their price and timeline. This is only to give you an idea about the app development cost and not the actual cost based on our own experience.
The actual cost will depend on your requirements, needs, and various other considerations.
Type of App
Description
Details
Basic
A simple application with minimal design and core features.

You can only expect this app to have up to 5 screens.

Cost: ~$15,000
Timeline: up to 320 hours
Examples: time tracker, calculator

Small amount of data
These applications require API integration.

Thus, the cost of developing a data-driven app is higher.

There is a constant to and fro of data.

Cost: ~$20,000
Timeline: up to 320 hours
Examples: weather app, stocks tracking

Brand-based
Due to the various features and integrations plus security aspects, these apps increase the bill but add a lot of functionality.

Cost: ~$45,000
Timeline: ~1,000 hours
Examples: brand loyalty app like Walmart, Ikea, McDonald's.

Social or Media
From online messaging, video calls, sharing images, videos, connecting, and much more.

The cost to develop such an app can increase by how much is the extent of features and functionalities.

You can add as many features as you like, but it will also increase the cost.

E-commerce
E-commerce apps drive higher functionality and security as they require payment system integrations. (Read more about development here.)

They also need to store a lot of data.

Every product needs to have a separate page, and the information storage on the database is requisite.

Cost: ~$45,000
Timeline: ~1,000 hours
Examples: Sephora, ASOS, Nike

On-demand services
Geo-location and interconnectivity between different segments are imperative.

The cost to develop an on-demand app will depend on the segments.

Mostly, there are three:

Customers
Business Owners
Delivery Personnel

So, with the segments, the cost to develop an on-demand will increase besides the features costs.

Marketplace
Typically a marketplace is the fusion of an on-demand app and e-commerce store.

It will have some advanced features, intuitive screens, responsive design, and a lot more.

Due to this, the app cost and time will be higher.

Cost: ~$70,000
Timeline: from 1,000 hours
Examples: AirBnB, Amazon
SpdLoad has the experience, expertise, and skillset to develop and design any of these applications and much more.
Make sure to look at our portfolio to get a better idea and understand how much an app cost.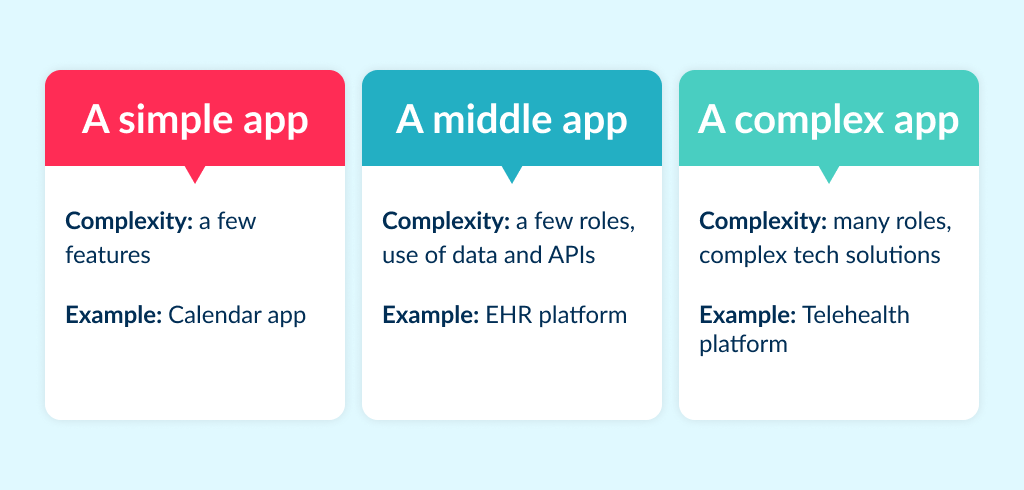 How Much Does It Cost to Make an App, the SpdLoad Way?
We have an iterative process to identify the final developing cost on an app.
Stage 
Process
Benefit
1. Discovery Workshop
We understand the basics, requirements, needs, objectives, goals, roadmaps, market, product, benefits, and everything else.

This is where we help our clients develop their idea.

This part is really important before we answer how much does is to cost to make an innovative and successful app.

It helps us and the clients learn and adapt to the solution.

Plus, it helps build our mindset.

2. Developers Discussions
Then we take your idea and our understanding of the developers.

They are the guys who will execute your idea and our vision to make it a reality.

Roping in the developers helps us identify everything that can we can do and improve on the draft.

There is nothing that we cannot do, so don't worry about it.

We have got you covered.

3. Discussing the Possibilities with our clients
Here comes the part where we identify how much does it cost to build your app.

We consider the specifications (Design and Development).

Here we make the prototypes for your understanding.

This helps us in two ways:

To get a green light from your side.
To make you better understand what we plan to do with your idea.
Our sole focus is to create a market-ready product for you at the best possible prices.
We relate to success, progress, and scalability.
While doing this, we keep a sharp eye on how much an app cost.
SpdLoad is a leader in application development, and our "how much an app cost" exercise is meticulous and efficient.
That is to say if you want to build a valuable app at a low cost, contact us to know how we can help.