How to Build A Successful Healthcare App: In-Depth Guide for Founders
23

min read
Healthcare mobile app development is amazing. It underlines the process to analyze, ideate, and build a digital solution.
A solution that helps doctors, patients, nurses, prescription vendors, administration, and lab technicians.
From generating medical reports to maintaining patient records, the presence of medical apps is growing.
So much so that the mhealth application market size was $12.4 Billion in 2018.
By 2020, this value jumps to $50.4 Billion, and by 2025, the expected increase can increase to be $213.6 Billion.
Any form of healthcare app has a motive. The companies are looking to solve some pain points for the doctors.
Other health-based solution creation keeps the patient in its crosshairs. It is no surprise that we need a robust digital ecosystem for health.
The changing fabric of healthcare pushes for developing a patient-centric application.
The fact that only 11% of the patients use the hospital recommended apps raises some concerns.
This means that the development of healthcare apps needs an overhaul. Also, it needs to address the core patient and doctor's concerns.
In this guide, we are going to know about:
A personalized process to develop the medical application.
Business Idea Validation
Types of Health-based Apps
Healthcare mobile app making process
Market Overview
The healthcare mobile app building services are in for the grabs. Have a look at the numbers corresponding to wellness app building:
Your focus on the development of the mobile healthcare app needs a reason. Doctors want to improve their overall functioning and patient communication.
An individual's primary concern to opt for a mobile healthcare app is development of health.
Healthcare mobile app creation fulfills various purposes.
For Doctors: A doctor's application will help with patient tracking, appointment scheduling, and staff management.
For Patients: Patients need digital health solutions to book appointments, chat with their doctors, or even get recommendations.
Based on these purposes, analyze the building process for different sorts of medical apps.
Thus, until now, you know that the market for healthcare applications is under-development.
Reiterating the fact that only 11% of the patients use hospital-recommended apps.
Shouldn't you build your own mHealth app for the patients?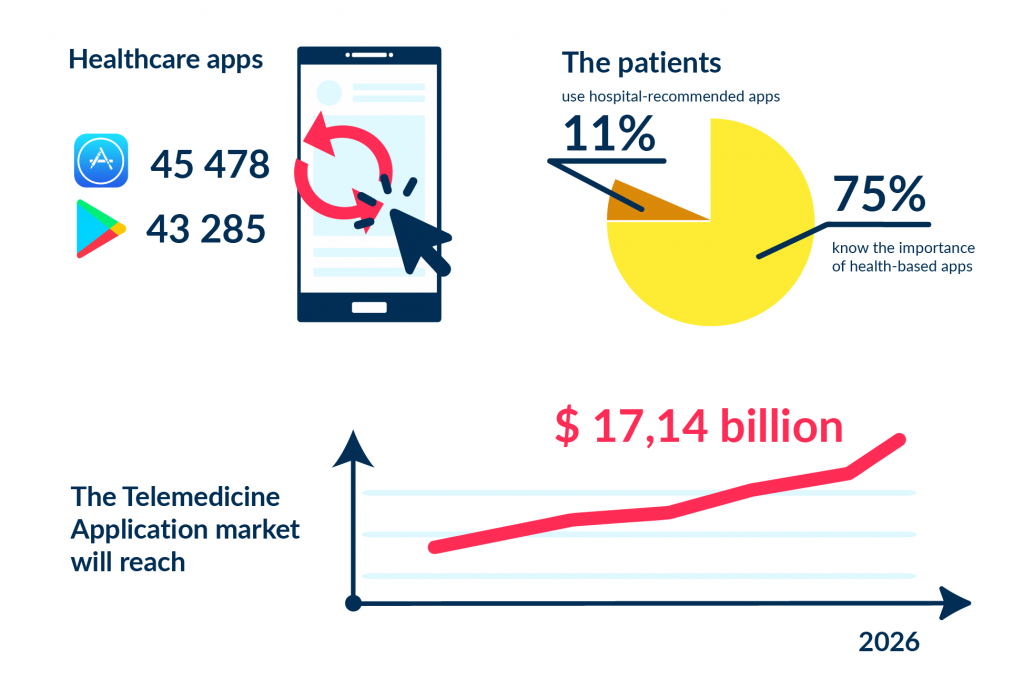 Reasons for your own Healthcare Application Development
We are the premier healthcare mobile app development services provider.
Thus, we recommend you create your own solution.
In our experience, patients interact more with hospitals that have a unique system.
Around 60% of the American mobile device owners have at least one mhealth application.
From development to chatting, the purpose of using these healthcare services and mobile app solutions can vary.
But, the market is there, and the patients are ready to change for a better service.
Reason
Description
Remote Access and Consultation
Using a medical app requires the internet.

Users with access to the internet and a mhealth solution can reach out to a physician or a doctor on their mobiles.

As a hospital owner, you need your patients to get easy access to your system.

Either for booking appointments or getting video consultation. A mobile app is essential for healthcare growth and development.

Support for Doctors
Doctors and Hospital staff require tools to streamline their processes.

Thus, a mobile healthcare app will aid in process development and handling services.

These can be anything from patient scheduling to invoicing management and record keeping.

Further, the entire hospital processes can be streamlined with an application.

Risk Reduction and Enhancing the Health Analysis
With the help of smart technologies in the development of healthcare applications, you can conduct an accurate diagnosis.

Tools like AR, VR, Big Data, Automation, and so on.

All these tools help form an accurate opinion about the patient's health.

Cost Saving
Cost-cutting is another crucial reason to go for making your own healthcare app.

One application can replace more than one healthcare role and help with development.

Further, if you are looking to improve efficiency, it must go for healthcare application development.


Types of Healthcare Apps
You can go with one out of two ways for healthcare app development. Some mobile healthcare apps cater only to doctors, while others look after a patient's development needs.
Doctors use these medical apps for patient management and staff training.
They also use them for other administrative functions.
The patient's healthcare mobile apps provide services like managing health development and tracking.
We cater to two types of healthcare mobile app development services.
Professional Solutions
Applications for patients
Professional Health Applications
Examples Working on this Model
You must understand the app's modus operandi for medical development.

Lybrate is an excellent example of professional health-based apps.

For doctors, Lybrate helps them manage the staff and patients from one app.

Working Model
They have a diverse and complex working model.

The basic premise is to help the hospital management and individual doctors reduce the friction between different processes.

Our healthcare mobile app development services can help you build a custom solution.

We can divide the working model into:

Database
Networking (Clinical and Patient Communication)
Patient Health Tracker
Doctor Scheduling
Medical Record
Risk Assessment
Medication Prescription and Dosage

Revenue Generation
For Doctors, professional healthcare apps assist in the development of revenue in two ways.

Indirectly: The development and execution of processes fueled by a mobile healthcare app helps streamline services that allow cost savings.

Direct. The development of revenue from healthcare applications can also generate from subscriptions.

Any Limitations
As the top provider of healthcare mobile app ideation and creation services, we know that making these apps is complex.Further, the healthcare app development domain is one of the most widespread areas.

The hospitals have their own operational capacity and systems.

Thus, it is essential to shortlist the purposes and objectives.

Building a HIPAA Compliant healthcare mobile app also poses a challenge.

The US has stringent privacy policies for developing a healthcare application.

Hence, understand the niche healthcare mobile application requirements before development.
Applications for Patients
Examples Working on this Model
Epocrates is a mobile healthcare app with several services for patient's development and point of care.

Going for the standalone mobile development of a healthcare app for the patients is also observed.

Exclusive mobile-based app development in healthcare for the patients is also probable.

Such an app will cater to the patient's medical needs and development.

Giving suggestions about health to information on medical diseases and drugs.

This becomes the basic operational premise of these applications.

Working Model
These applications take a different route and function from a patient's perspective.

At some point, the workings of professional and patient apps may overlap.

Revenue Generation
Revenue generation in this type of healthcare application is vast.

You can provide the patients with effective solutions addressing their pain points. To generate revenue, charge a subscription for the same.

One of the best ways for revenue development from a medical app is in-app purchases.

Only 5.76% of the applications are paid on Google Playstore, the rest are free and have an in-app purchasing model.

Even if your motive is to charge the users for using the app, give them a free trial first.

Any Limitations
Like the professional healthcare mobile application segment, the patient segment is also vast. There are:

Healthcare
Reminder
Diagnosis
Lifestyle
Health Monitoring
Mental Health
Women's Health Apps
Doctor on-demand

Added to this, medical app development for patients needs to be market-driven.

There is an excellent cluster of competition that you need to include in your idea validation.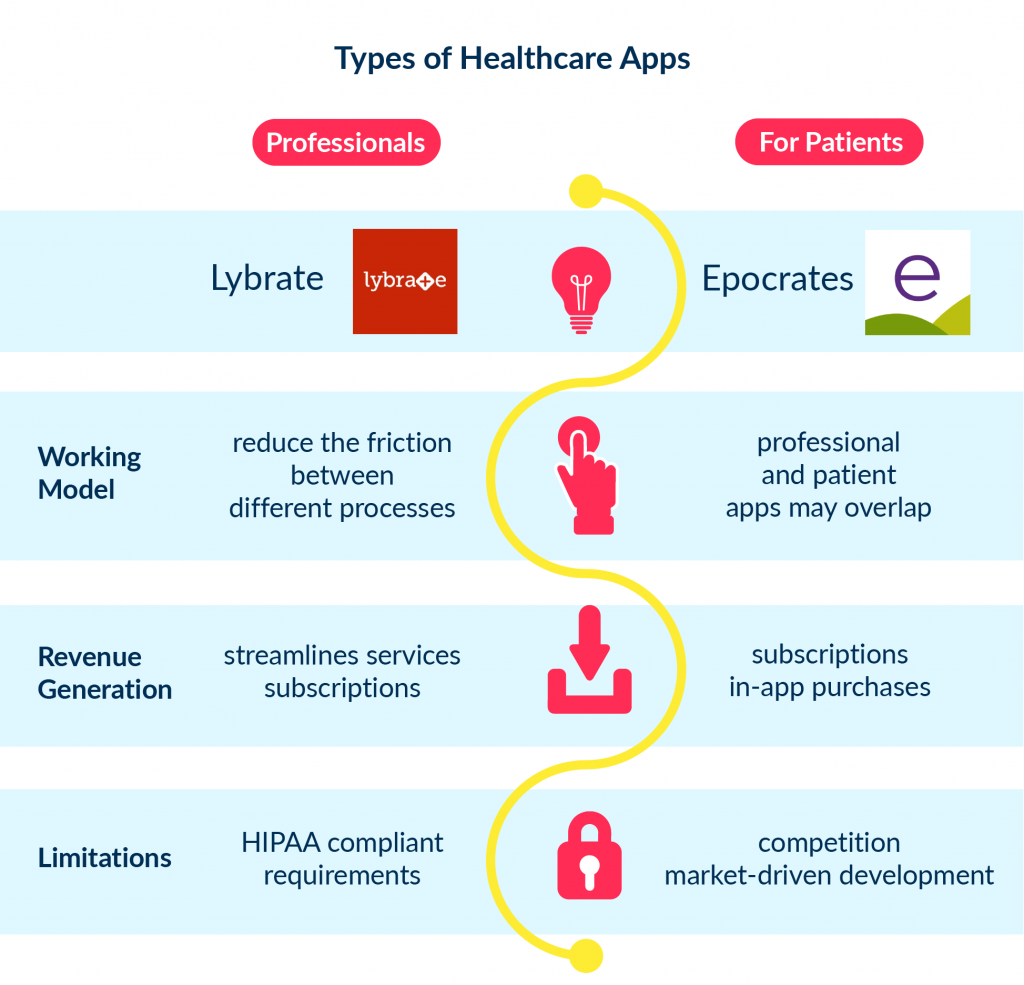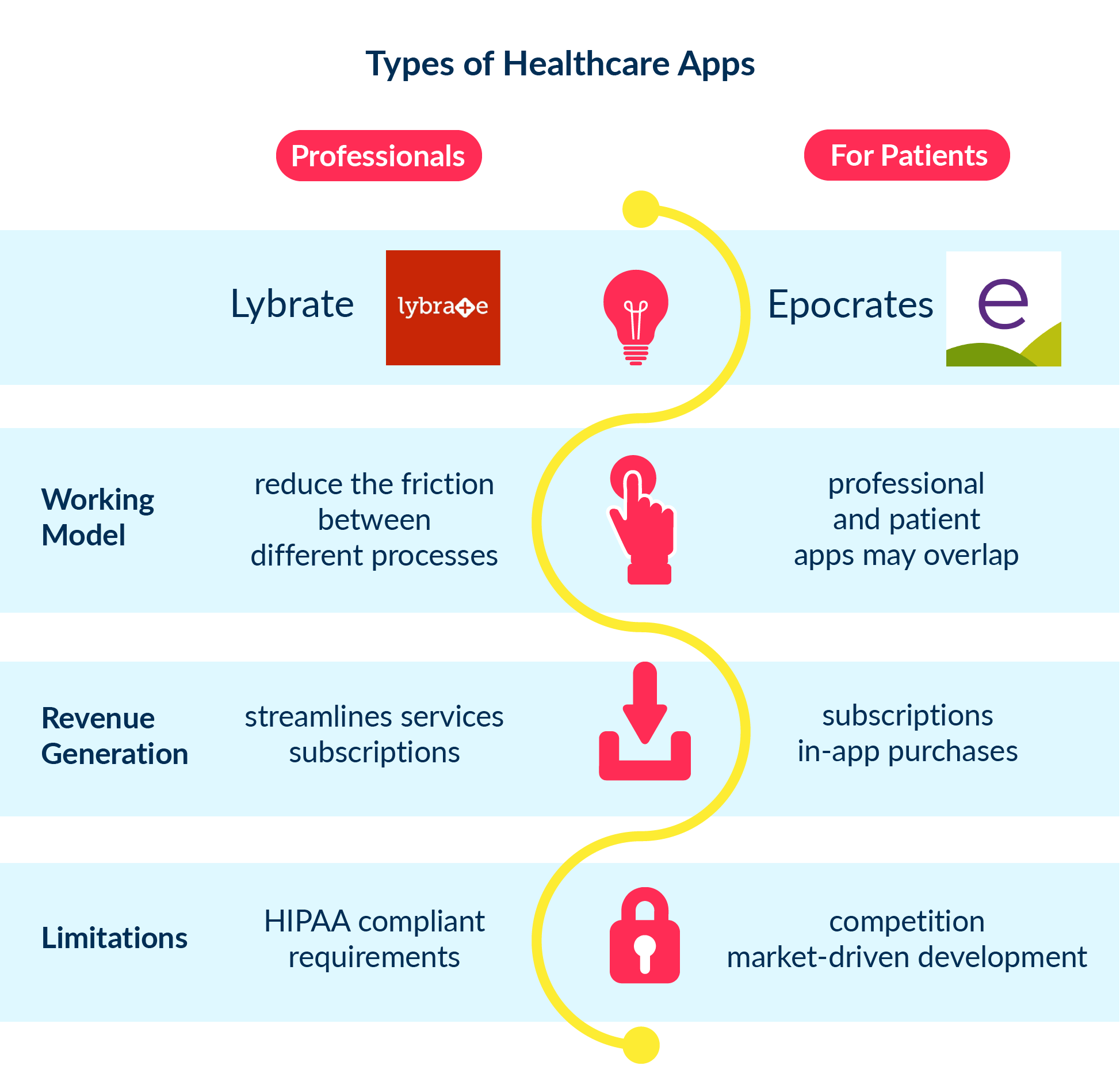 Being the best healthcare mobile app development services company, we can help you choose a way forward.
Our experience in healthcare application development has got us remarkable success.
We can help you with the development of mobile healthcare app oriented for an excellent experience.
How to Create a Healthcare App?
What follows is a step by step itinerary for healthcare mobile app development.
We will take an in-depth route to understand and implement:
Business Idea Validation
Features Integration
Tech Stack
Hiring a team
Design Flow
Create an MVP
Cost Estimation
Among these considerations, some security requirements are essential for developing any kind of medical app.
Idea validation of any application, let alone healthcare development is the most important aspect.
This is a three-phased process:
Viability of the Solution
Finding an Idea
An idea for healthcare mobile app development must be oriented by a problem and its solution.
Leaving aside the POC, Prototyping, and MVP for an app, idea validation is to ascertain its viability.
However, with this guide on healthcare application development, we will steer our discussion towards MVP.
An MVP of any solution, let alone a medical app requires internal and external development. This means that we need to address the situation from all corners.
Start by rendezvousing your internal resources. Then identify the market need before any healthcare mobile app development services.
Once you have an idea, it is time to check its viability. And this is a four-prong process.
Market Research or Feedback
Development of healthcare app
Testing
Validation
As we already have an idea, mobile healthcare app, let's move on to other development aspects.
We will talk in detail about the viability of medical application. In this, you will get to know about application development from the perspective of the healthcare industry.
Let's begin with healthcare mobile app development heart patients and their services.
We will be validating an idea for a digital health solution that caters to those suffering from a heart condition.
The motive is to help them find doctors, medicines, vendors, information, maintain their records, and communicate.
Step 1. Market Research and Customer Feedback
Description
Use case
Have you heard about "Idea Lock?"

This is something that turns the entrepreneurs stubborn, and they stick to their idea, no matter what.

Remember, any type of healthcare app creation strategy must follow baby steps.

Start by conducting market research on both ends.

The number of patients with a heart condition in your target region.
The number of existing similar applications (your competitors).

Apart from this, get some raw feedback from the existing entrepreneurs.

At times, we are hesitant to share our ideas for fear of imitation.

But an experienced entrepreneur will undoubtedly help you with development of a good mindset for building your medical app.

Apart from this, get feedback from your network about the development of a medical app.

Take your idea of heart-disease related development of a healthcare app and start researching.

You can use tools like:

For even better development results for your mobile healthcare app, you can contact us for our services.

This was for market position development and research for the healthcare app.

Further, get feedback about application development ideas to the entrepreneurs, specifically those who have worked in the healthcare domain.
Step 2. Validation of Business Hypotheses
Description
Use case
Until now, we have been able to go through the stages of idea validation for building a healthcare solution.

Now comes the real deal.

Is your idea validated?

The final nail in the coffin is customer acquisition planning.

You have a product, it is feasible, and it runs perfectly.

You also have competitors, and due to the business hypotheses testing, you have built a better product.

But how will your customer know that it is a better product?

In comes, conducting interviews, paid ads, and creating landing pages.

Promotion and marketing of your startup is also an innate part of healthcare mobile app development services.

So, moving forward with the use case scenario of medical solution demand and usage.

Taking inspiration from the process, start building your audience.

With the help of targeted ads, reach out to the existing heart disease patients.

This is where you need to precisely filter your target audience.

An audience with no history of a heart condition might not be interested in your ad.

Thus, with paid ads, you must utilize the right keywords.
Description
Use case
Provided:

You have enough data to support your idea about healthcare mobile app creation.

And, if the balance is skewing towards yesses from your network.

You need to think about the development of the healthcare application MVP. (Find out more about the cost of an MVP development.)

This is the time you either bring out your inner development guru for the medical app.

Or, you find an ingenious application development team (like us) who excels in the healthcare domain (again, like us).

With the development of healthcare mobile app MVP, you will be able to use the services.

Also, you can allow others to take a test run of the services.

In this aspect, also look for funding for medical app development. It can be either bootstrapping, getting investors, or anything else.

But, that is another chapter in healthcare app development.

Our course will stay on the development aspect of your healthcare app.

A healthcare mobile app MVP development is a fully functioning solution that serves the primary purpose.

The MVP development of a heart disease-related mobile healthcare app will consist of the core features.

For instance;

Fine cardiovascular specialists.
Get Recommendations about daily habits.
Book Appointments.
Chat with doctors.
Find medicine vendors.
Store their reports.

And to insert these functions, you need to embed several important features for the development of a medical app.

Different healthcare mobile application services and features integration might include:

Geolocation
HIPAA Compliant Messaging
Cloud Storage
Push Notifications
Calendar and Scheduling

The MVP development of the mobile healthcare app is not enough.

You also need to test it and acquire some feedback on the performance.

This will help you develop a better product and outperform your competitors.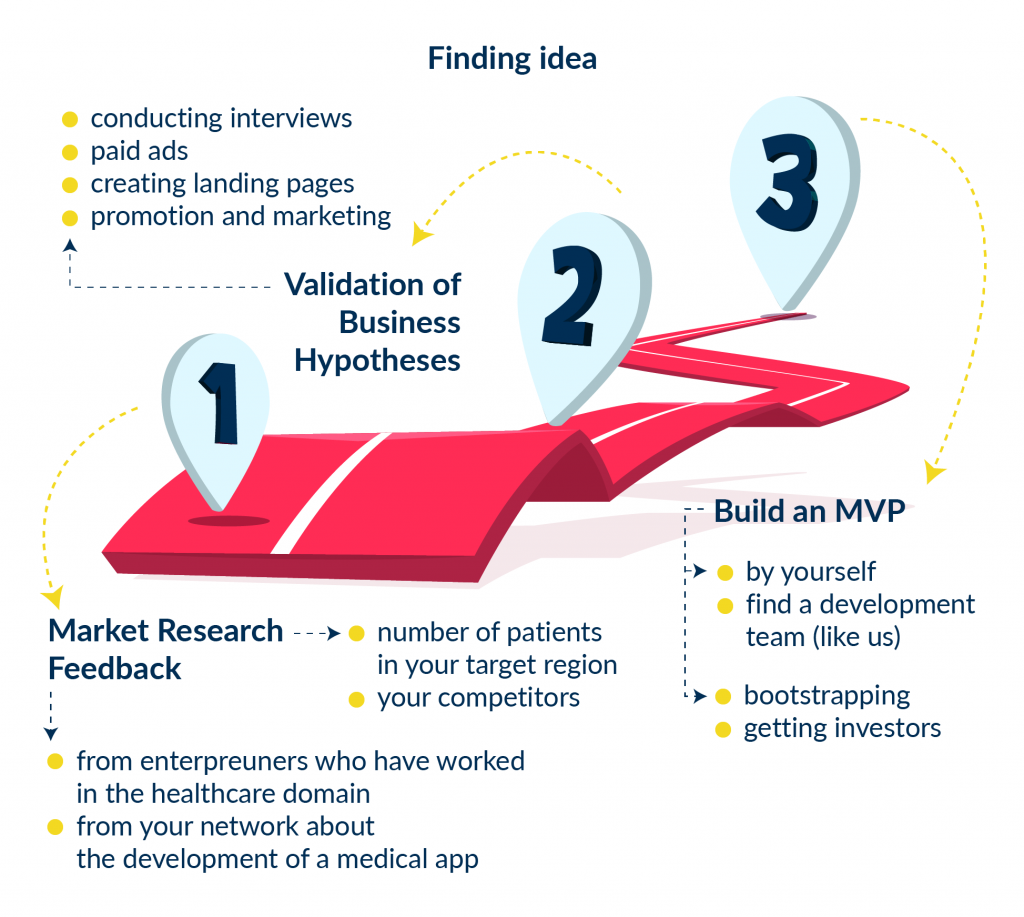 Design
The concept of any sort of healthcare application development must incorporate the designing aspect.
UI/UX, Interface, Screen Rotations, Button Placement, and whatnot. Good healthcare application designs and development acts as a hook for new visitors.
Since you are facing an aggressive market, a good design is key to make or break the deal. (Find out how much does it cost to design an app).
With this in mind, you will find some key design challenges in healthcare mobile app development and their solutions.
Challenge 1. Navigability of the App
Challenge
Solution
Any mobile healthcare app requires the development of such services and functions that create a pleasant user experience.

Amid the navigation of the medical app, the development of usefulness also poses a challenge.

A typical website will see bounce rates between 26% to 70%.

What is your goal here?

To decrease the bounce rate, right? OR

You can say that you want the users to continue using your application.

The solution to this challenge in the development of healthcare apps is creating an easy-to-use and seamlessly navigable application.

Identify the age group of your target user and understand their usage patterns.

While design development, notice the vision, hearing, and coordination of the healthcare app's potential users.
Challenge 2. Responsiveness
Challenge
Solution
In another case scenario, your healthcare application development and design must factor in the application's responsiveness.

The challenge is first to get an idea about the platform your user is accustomed to.

iOS and Android both have a competitive number of users.

Moreover, your application design must adhere to the platform's specificities.

As the top healthcare mobile app development services provider, we can suggest you go for cross-platform apps.

Here, the design aspect is essential to consider as there are differences in the interface of both the platforms.

Combating the responsiveness challenge is the second key aspect of the development of healthcare apps.

An application's responsiveness is directly influenced by its design.

A platform-specific design will adhere to the underlying platform, be it Android or iOS.

Thus, we recommend that you study your target audience before healthcare app development.

Your application should run smoothly on iOS and Android-based smartphones and tablets.
Challenge 3. Design Empathy
Challenge
Solution
In our services portfolio, healthcare mobile app development, and designing, empathy is primary.

Here the challenge that you might face is creating a design that resonates with the user, spot-on.

As of 2015:

32% of men and 18% of women of age 80+ are suffering from a heart condition.
In the 60 to 79 age group, 19% of men and 10% of women suffer from such issues.

The other two age groups are also present.

But, the design empathy challenge will be for these two age groups majorly.

Compared to this, only 17% of the Americans above 80 have a smartphone.

Thus any medical app development must follow these aspects for designing.

Healthcare mobile app development for a user-specific group is a challenge.

But any kind of design and development process issues in the healthcare mobile app has a solution.

To find a solution for this app development in the medical domain, look at three aspects:

The core user interface peripherals.
Existing user stories
Attracting more users.

Getting the answers to these questions will help with the development of healthcare applications with empathy at the forefront.
Healthcare Mobile App Development
Going step by step, we have an idea for the mobile application. We understood its market positioning and customer base.
Further, we talked about the design of the wellness digital solution.
Let's move on to the actual MVP development of the healthcare application.
Features Integration for Medical App Development
UI/UX, Design, Interface, Speed, and all other things help build a loyal audience.
Find the main features for MVP development of the healthcare app. These functions and features must be your primary concern for developing the solution.
Feature
Description and Estimation
Create a Profile
This is the signup stage, where you prompt the development of an account within the healthcare application.

Allow the patients to add their personal details (name, gender, age, etc).

Along with this, allow them to add their health biomarkers and help them keep track of the same.

Files Storage
Hospitals need to build an EHR system for safekeeping and storing the files.

In your app development process, allow the users to store their healthcare data and files.

Files can be anything from prescriptions to x-rays, reports, and everything else.

Further, healthcare application development provides users with an option to keep track of their diet and nutrition.

Let them add the daily calorie that targets the underlying condition.

Such services and features in your healthcare mobile app development will help you attract more users.

Geo-Location
Any healthcare mobile app catering to the patients is incomplete without geo-location.

One of your primary services in the development of a mobile healthcare app is to help the patients find a doctor.

Embedding this will allow the users to find cardiologists nearby to their location.

You can also add some filters on the basis of:

Distance
Speciality
Experience
Private Practice or Institutional Doctor

For Android phones, utilize Google Maps and for iOS, integrate the application with Maps.

Booking Appointments
This development in healthcare apps allows the users to book doctor appointments.

In this development, the same medical app must be connected to the doctor's itinerary so that they are able to confirm.

Apart from the doctor appointment, you can also help the users schedule tests with labs. Or allow them to book timings with their therapists and so on.

The key is to give the patients "something extra and useful."

It is a competitive market and your application development strategy should incorporate diverse healthcare aspects.

Chat or Communication
Yet another highly attractive feature for healthcare app development is chat.

You must allow your users to converse with the doctors and physicians from the application.

Yes, it will require you to integrate your application with the doctor's software or platform.

Maybe you can open up a backdoor or use an API for this aspect. Our healthcare mobile solution creation and services expertise can recommend the best way forward.

Video Conferencing or Telemedicine
This is one of the advanced healthcare app development features.

The user base for your healthcare mobile app may not find it easy to visit the doctor, hence the development of this feature might help.

The users can use this medium to conduct a one on one session with their doctors or physicians.

To make it even better, you can look towards the development of a payment system in your healthcare mobile app.

More on this later.

This is where you must also adhere to empathic designing practices.

Since the users are new to video conferencing and such technologies.

Your healthcare app development steps must adhere to appropriate button placement.

Payment
Allow the users to pay for:

Doctor's Consultation booking
Video conferencing
Prescriptions
Lab tests
Diet Charts

Along with this, there are a few other services that you can include in healthcare mobile app development.

Online payment systems need superlative fortification.

CNBC reports that since 2014, the volume of online frauds targeting the old residents has increased to $650 million.

Thus, incorporate high-security systems while working on healthcare mobile app development services.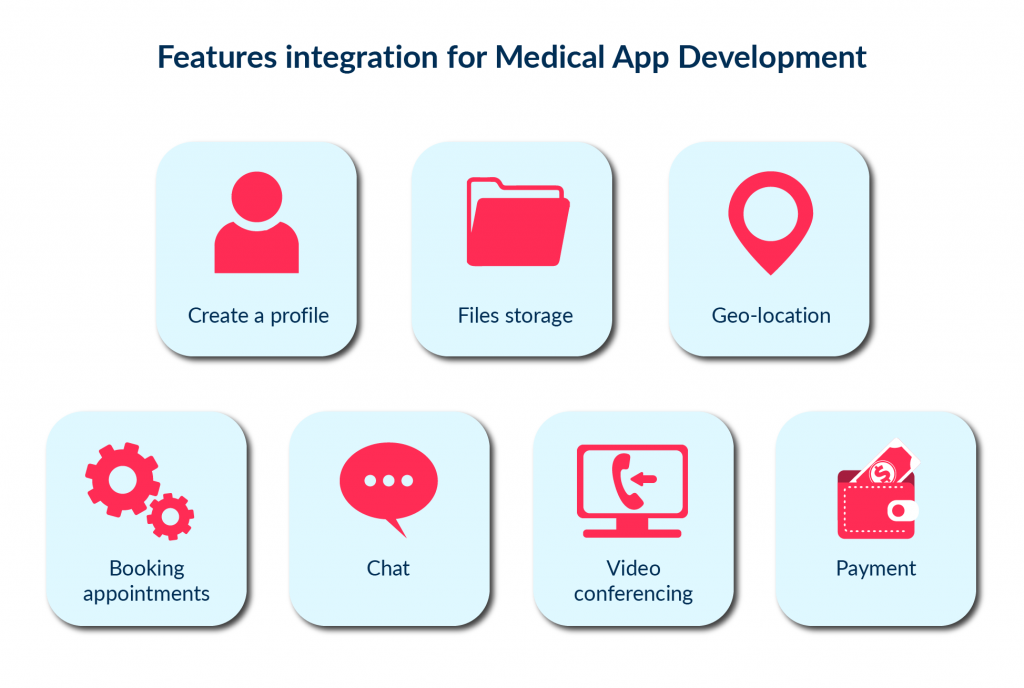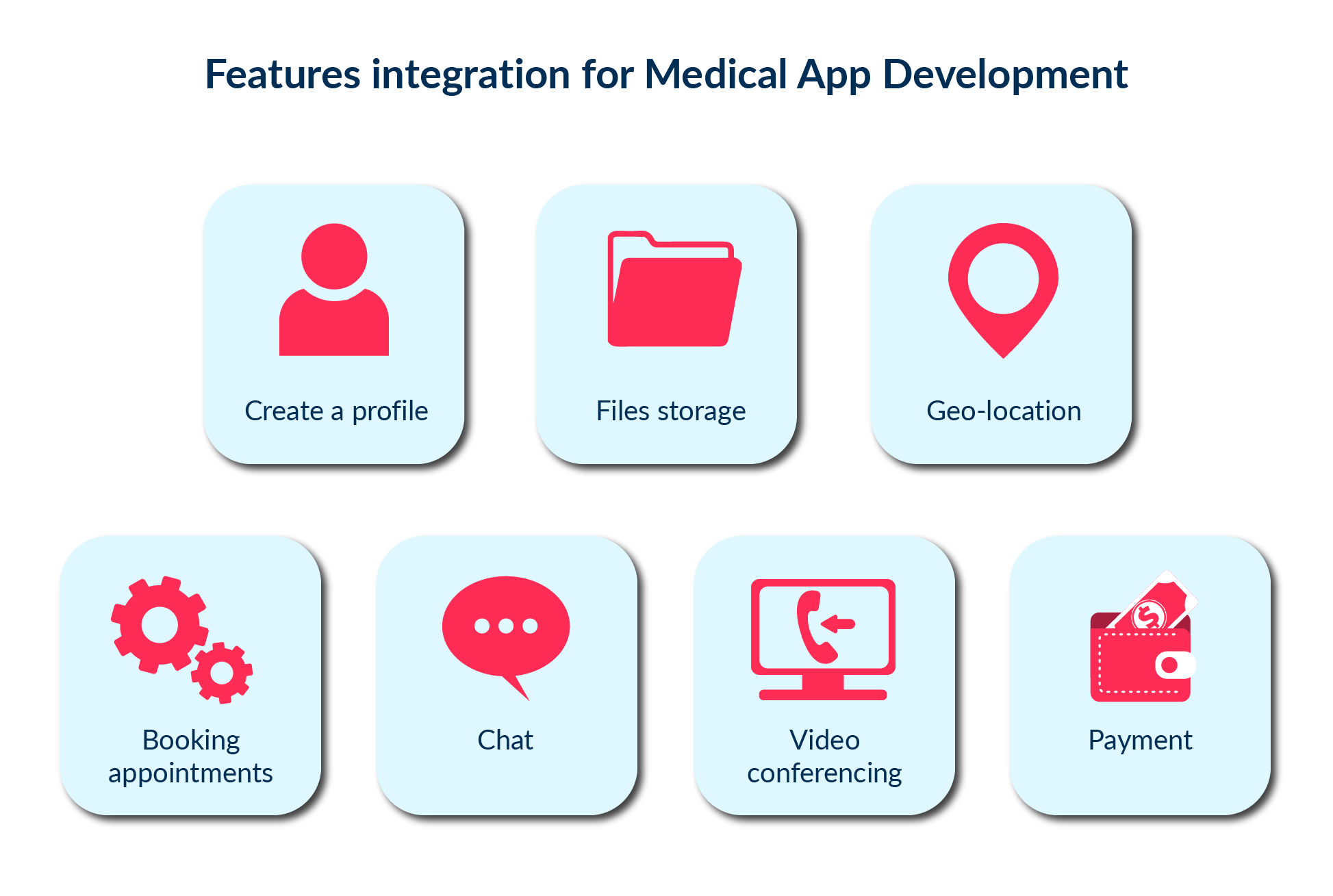 Technology Stack for Healthcare Mobile App Development
Moving forward with development, we will discuss the tech stack for a medical app.
The usage of the right technologies does play a contributing role in making healthcare application development successful.
Our development services experts for healthcare mobile apps utilize top-notch peripherals.
To better understand the tech stack division for mobile app development in healthcare, we will divide it into two parts.
Function
Description
Server
Technology: NGINX or Apache

Benefits: NgINX works wonders when handling concurrent requests.

Since your healthcare application will get many requests, server development with NGiNX will be great.

Apart from the fact that Apache is free to use, we also like its ability to add more features and modules.

Frameworks
Technology: Laravel

Benefits: The creation of a framework with Laravel allows for seamless marketing.

Further, your post-development efforts of sending emails about healthcare application also gets a boost.

Database
Technology: MySQL or MongoDB

Benefits: Since your healthcare mobile app needs robust security, database development with MySQL is good.

Medical app database development with MongoDB enhances the scalability aspect.

Cloud Hosting
Technology: AWS

Benefits: AWS provides an amazing experience that makes it easier to scale and enhances performance.
Function
Benefits
Cross-Platform
Technology: React or Flutter

Benefits: With React, medical app development gets better productivity.

Further faster rendering and its data binding structuring enhances the code stability.

Both React and Flutter allow for the same code-reusability for Android and iOS.

Flutter's widget services and ease of development contributes to a great healthcare mobile app performance.

iOS
Technology:  Swift

Benefits: The development of an iOS app for healthcare requires easy code usability.

Android
Technology: Java

Benefits: Not only for healthcare, but Java is extremely portable for all sorts of app development.

Further, with aspects like client-centricity and security, Java is great for building performant applications.
New Age Development Features for Your Medical App
The health domain is undergoing many changes due to the coming of technology.
Thus, the development of your healthcare application with state of the art technologies.
The benefits of adding these are:
Higher Customer Attraction
Analysis
Decentralization
Better speed
Let's consider a few options.
Benefit
Use Case
Artificial Intelligence paves the way for personalized healthcare mobile app development.

Coupled with machine learning it can help with smart data patient gathering.

The development and inclusion of AI in your healthcare mobile app can also help automate some functions.

In the development of your healthcare application for the heart, you can embed AI features.

For instance:

Allow the application to give smart recommendations about their daily routine.
With giving access to data, you can allow the app to give healthcare suggestions for better development.
With the help of wearables, the biomarkers information about the heart can be supplied to the backend server.
Benefit
Use Case
Doctors and patients need to connect profusely for a better outcome.

Using VR in your healthcare mobile app development will certainly help you bridge the doctor-patient gap.

It can be used for a better explanation of the conditions and lead to a better recovery.

The examples taken above in medical app development brings out a solution for the patients with a heart condition.

Embedding Virtual Reality in the heat-diseases based healthcare app development will be interesting.

From medical education to the development of the treatment and reading the reports, it can be done on the app.

Doctors can also provide therapy and other physical sessions via mobile.
Benefit
Use Case
The best example of embedding IoT in healthcare application development is smart wearable devices.

These wearables help gather biological data from the users.

It can be particularly helpful for patients with life-threatening conditions and those for those who cannot alert the caretakers easily.

While the development of a healthcare mobile app for heart disease patients, embedded IoT.

It will help get critical information on the heart's condition straight to the application's server via a wearable device.

Our healthcare mobile app development services can integrate the application with iOS or Android-powered wearables.

This will help the patients avoid a heart attack risk and inform the caretakers in emergency situations.
Benefit
Use Case
Effective healthcare mobile app development practices must incorporate high security measures.

Blockchain on its part allows you to save the data in fragments and in a decentralized format.

Hence, it allows for better encryption.

Some things that can be prominently handy in healthcare app development include.

Verification
Research and Development
Healthcare treatment
Supply Chain management from the application.

In our healthcare mobile app services example, development with blockchain can be really effective.

However, it is not essential to embed these sorts of technologies in the MVP.

The healthcare development data is privy to patients and it must stay within the secure walls of the application.

Thus, by using blockchain, you can store the patient data in different servers.

Added to this, Blockchain is also efficient in sharing and transferring the files between different users.

If that's not all, blockchain development in the medical app is also useful to securitize the payments.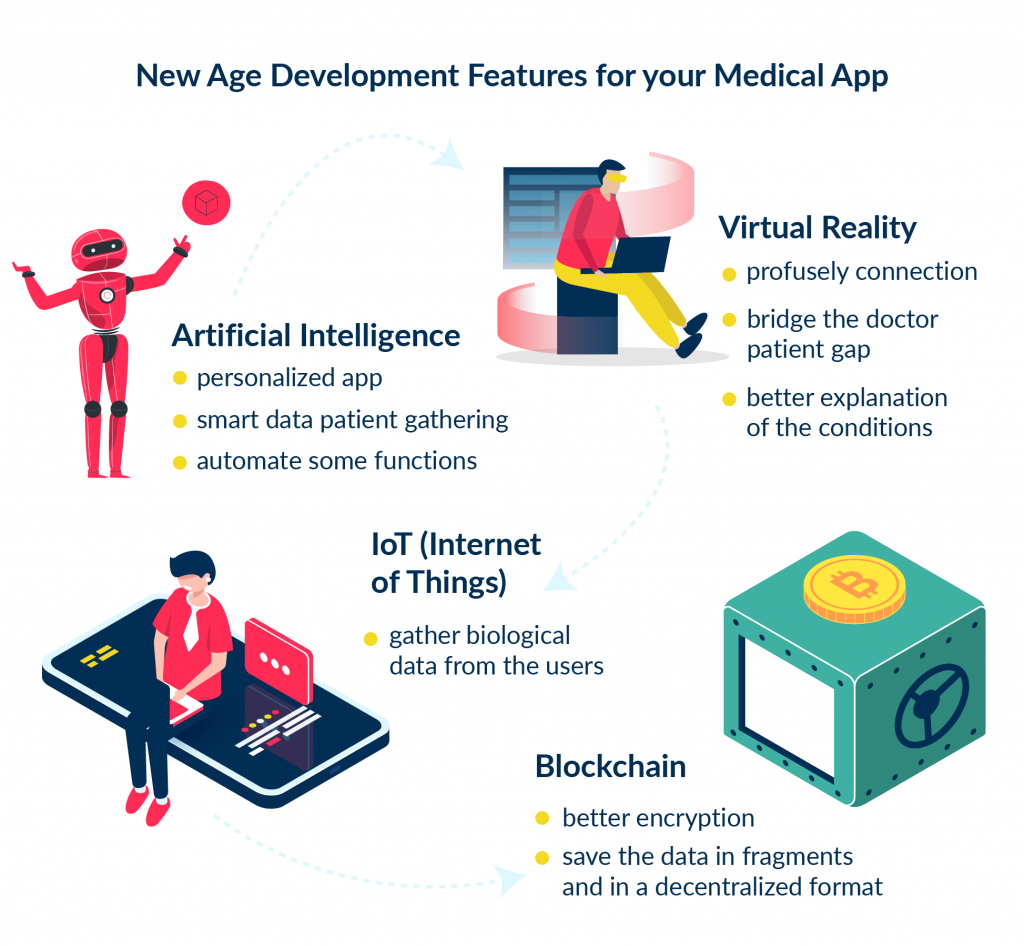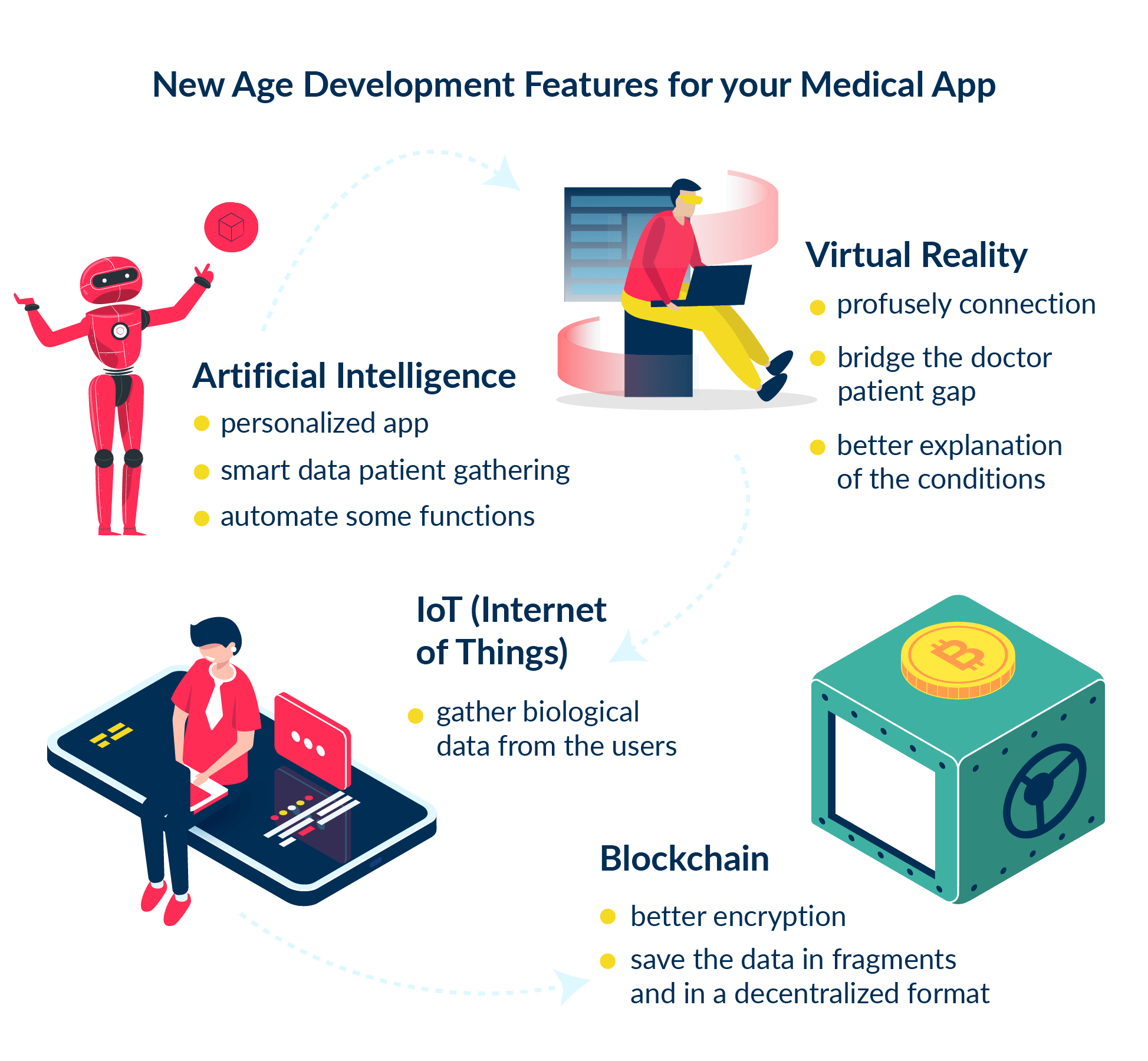 Data Security Requirements
You will find that the data security aspect is highlighted at various places while creating a health-specific solution.
This is because of the presence of a risk to the loss of private data.
Thus, medical solution creation requires adherence to different legislation for securing the patient data.
That is why every healthcare application is responsible for the development of a secure platform.
We will be addressing the security concerns of four geographical territories:
USA
Canada
United Kingdom
European Union
United States of America
The United States represents a high regard for the privacy of its citizens. This is clearly visible in its privacy guidelines set forth by the HIPAA Act 1996.
Other than this, there is the HITECH Act, CCPA, and NIST that needs adherence. So, alongside the development of your healthcare app, take care of the following regulations.
Guidelines
Benefit
In our healthcare mobile program creation process, we take note of three major things.

Technical Safeguards
Physical Safeguards
Administrative Safeguards

Without adhering to the HIPAA guidelines, your healthcare mobile app development won't get a nod and impart services.

We take care of the technical safeguards while medical app development.

You need to ascertain the physical and administrative safeguards for its implementation.

Protection of the Patient data
Restrictions to Data Transfer on unsecured channels
Prompt and strict action for a breach
Improves the solution's efficiency
Guidelines
Benefit
Secondly, development of a healthcare app must also adhere to the CCPA guidelines.

This legislation is a staunch promoter of privacy guidelines in the US.

The CCPA is akin to the GDPR guidelines that are relevant in the EU.

CCPA is only working in California.

We suggest that you mould your digital health solution creation process on these lines.

Informs the user about data collection
Informs which 3rd party organization has access to the patient information
Shares the motive of data collection
Guidelines
Benefit
Another regulation important for building a health-based solution that fills the void left by HIPAA, is HiTECH.

HiTECH focuses on the privacy and security of the EHR systems within healthcare application development.

However, in 2013, this act was coupled with HIPAA.

Better Transparency in healthcare app
Development of robust health data
Canada
Similar to the USA, Canada also sets some major precedents for healthcare app development.
There are several regulations enacted at the federal and local authority level, PIPEDA has a federal standing.
Description
Benefit
With PIPEDA embedded in the development of your medical app, you can launch your solution in Canada.

It transcribes the rules and regulations for:

Data Collection
Data Security
Data Access

Helps provide secure services and robust security development of healthcare mobile app.
United Kingdom
Although the GDPR guidelines are working pan-EU, the UK has its own developments for healthcare mobile app services.
Other than this, for mobile app development in healthcare the Data Protection Act of 1988 is also important.
Description
Benefits
The development of your healthcare mobile app must be compliant with this particular act.

Moreover, this act is the implementation document of the GDPR guidelines in the UK.

The three pillars of this act ensure that the data must be stored and shared:

Fairly
Lawfully
Transparently

Covers data privacy in the services and development of healthcare mobile app.

Helps setup effective security and sharing while development of the medical app.
European Union
The GDPR regulations cover the guidelines important for the development of a medical app in the EU.
Other than this, you must also adhere to the NIS and ISO certifications for developing your application.
Description
Benefits
The major aspect of GDPR in health-based digital solutions covers two aspects.

Data Protection
Data Privacy

It also provides guidelines for personal data transfer from any sort of digital solution.

Under the GDPR guidelines, the health data is "Sensitive". Thus, they need special protection.

Further, while developing the healthcare application, take care of these aspects.

Encryption
Consent Tracking
Right to be Forgotten

Promotes the development of higher data security coming from a medical app.

The patient data can be deleted on demand.

During development or after it, no information is shared with the 3rd parties via the healthcare mobile app.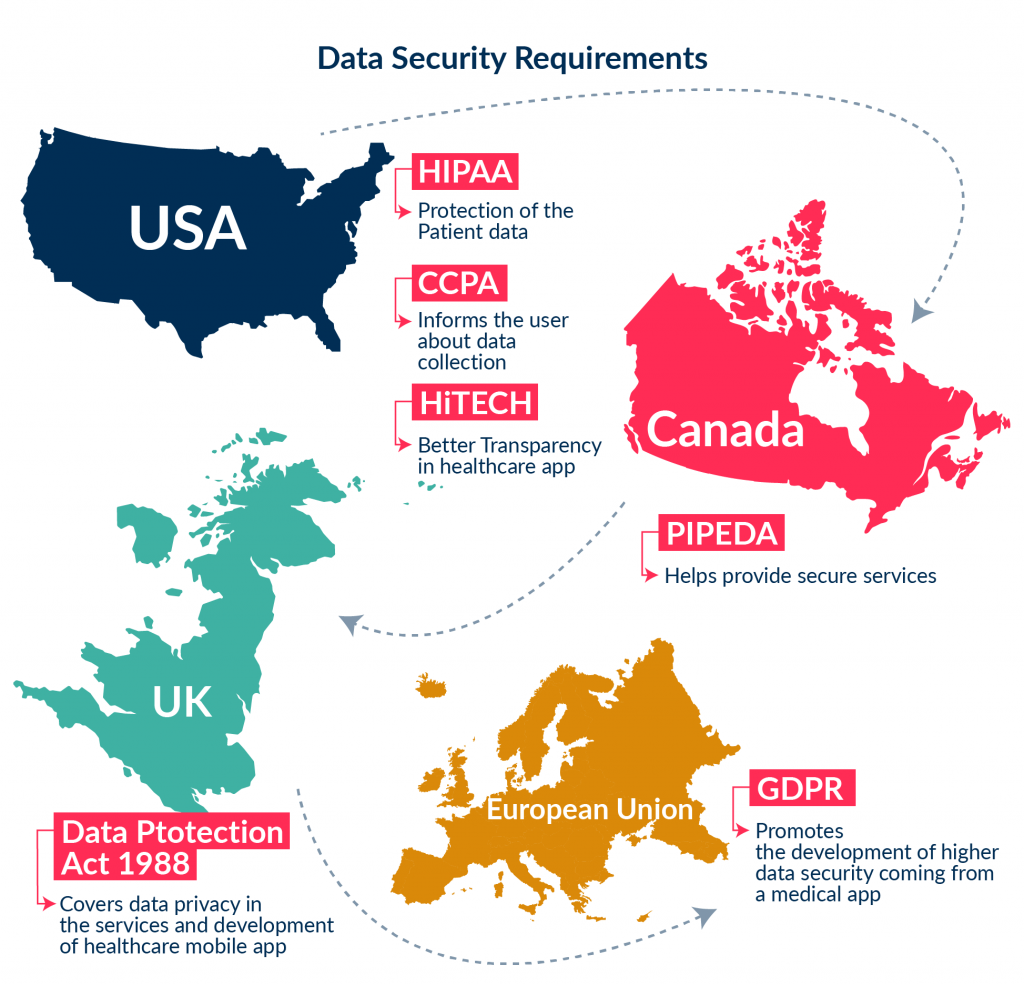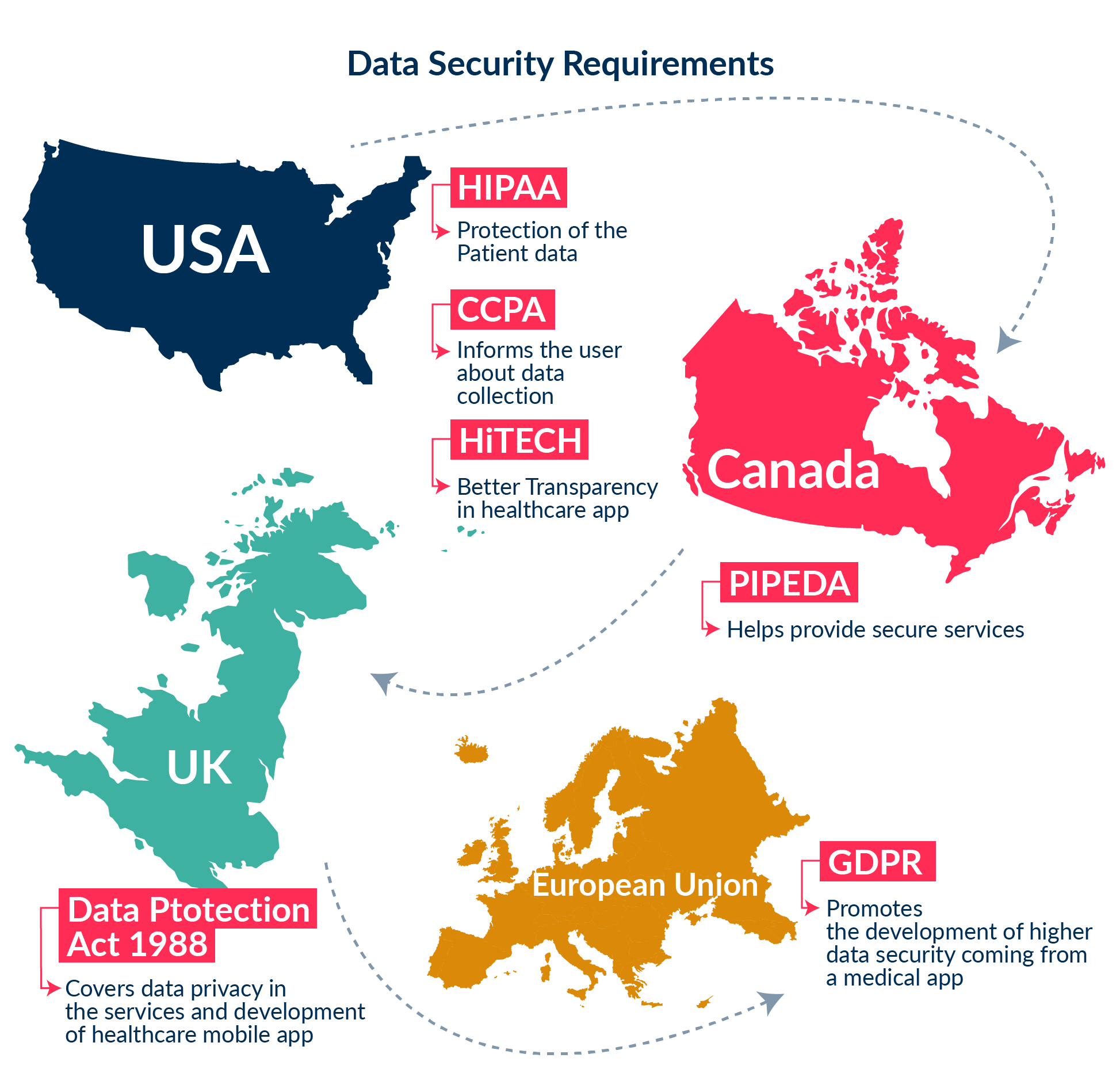 The Cost of Healthcare App Development
The final cost of wellness and health mobile application creation is subjective.
Before discussing the cost, let us also take a look at the team requirement.
For healthcare mobile app development you need:
Front End Developer
Back End Developer
DevOps
Business Analyst
Compliance Expert
UI/UX Expert
Project Manager
Quality Assurance
Our healthcare mobile app creation services are specifically curated to help you get the best product.
We have taken an example of patient-centric on-demand doctor medical app development.
Thus, the cost estimation will depend on the integration of the features of the same.
| | |
| --- | --- |
| Function or Feature | Estimation (both front and back end) |
| Profile | 60 |
| Social Sign-Ins | 110 |
| Push Notifications | 130 |
| Chat or Messenger | 220 |
| Video Conferencing | 200 |
| Geo-Location | 230 |
| File Storage | 100 |
| HIPAA Compliance | 250 |
| Total | 1300 |
Based on the number of hours taken for building the application, we can decide the cost.
There are three types of development services you can hire for creating a healthcare mobile app.
Among these options, an in-house team will provide a quality product, but cost a fortune.
Therefore, starting out it is not very cost-effective to hire and maintain an in-house work team. They might charge $100 to $200 per hour.
The second option is hiring freelancers from across the globe. Another great option that will save you money.
However, with freelancers developing your application, quality is not a guarantee.
So, what's the best route to take for developing a medical application?
Yes, it is hiring an outsourcing agency from Ukraine as they have the best competitive rates.
Comparing the prices for services and development of a healthcare mobile app, we find that Ukraine has the lowest hourly rates.
The average price is $30 per hour for application development in the healthcare domain here.
Here is a cumulative estimation development cost for a healthcare mobile app.
| | | |
| --- | --- | --- |
| Function | Time | Cost ($30/hour) |
| Developing the Application | 1300 | 39 000 |
| Quality Assurance | 130 | 3900 |
| Project Management | 150 | 4500 |
| Total | 1580 | $47 400 |
There you have it. The lowest possible healthcare application development cost in record time without compromising the quality.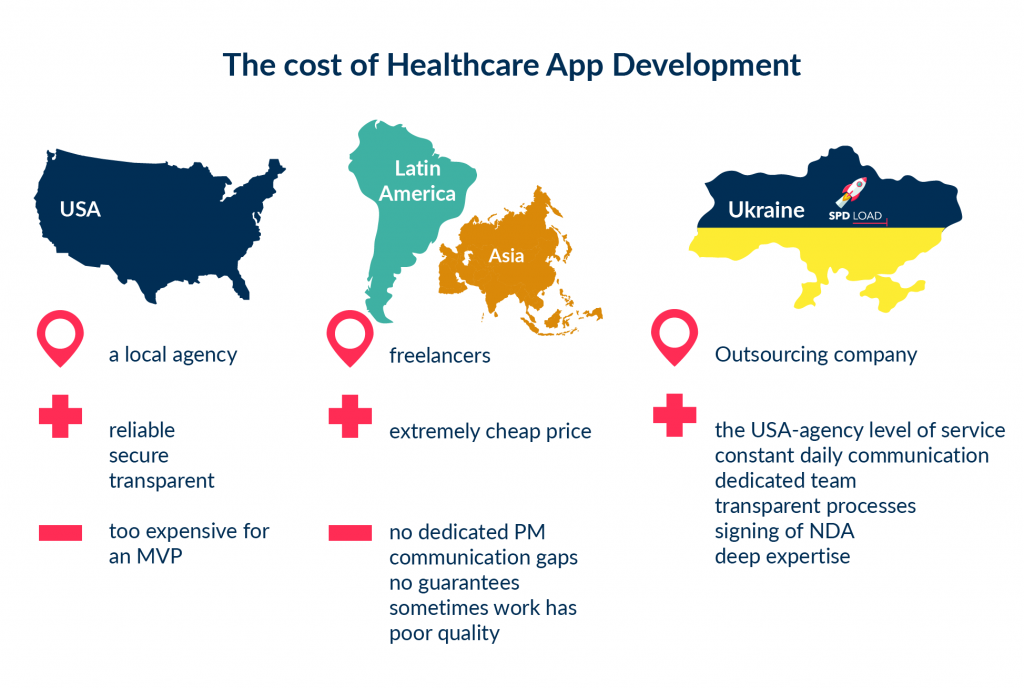 Looking to Develop Your Own Healthcare Application?
Healthcare application development is not cut and dried for every developer.
That is why at Spdload, we have a team of seasoned developers working on your project.
Our healthcare mobile app development services are specifically curated to help you enter the market with the best product.
Our motive is to build a custom solution for your customer base and clientele.
That is why we take effective steps for developing a health application beginning from the discovery phase.
We have expertise in the developing HIPAA compliant health-based mobile applications customized to your needs.
The MVP version development of the medical application includes:
Record Maintenance (EHR)
Profile Setup
Signup and Login
Geo-location
Scheduling
Appointment Booking
However, the niche development of your healthcare application is highly subjective.
From the target audience to market competition, we completely understand the entire market scenario.
Contact us today to know more about how we can help you ace the market with an amazing product.