A Review of Inspirational Websites
9

min read
In today's digital age, a website is no longer a "nice to have." A website drives brand awareness and opens communication with new and existing customers.
Why? A 2022 study by Zippia shows that 85% of consumers rely on the Internet to discover local businesses.
A website is like a virtual storefront. It gives customers a glimpse of your product or service. Without a website, people might not know you exist.
But not all websites are created equal. A well-designed website can make all the difference in attracting and maintaining customers.
An outdated website that's slow to load will cause users to bounce. There are more than 1 billion websites worldwide. So it's more important than ever to stand out and provide the best user experience.
Whether you're a startup founder or freelancer, this article is for you.
We'll share the cost of designing a website and the key elements that make a website effective. Plus, we review eleven inspirational websites to help spark your creativity. It never hurts to learn from the best of the best.
Let's dive in.
Cost of Designing a Website
How much does it cost to design a website? The answer is that it depends.
A simple landing page is less expensive compared to an interactive corporate website.
Why? Different factors affect the cost of the website design process. Some of these factors include:
The goal of your website
The complexity of the business logic
The level of the team involved in the design process
The moral of the story? You can create a simple corporate website for less than $2,000. Of course, the more features you want to add, the faster the bill adds up.
Start small. It's better to start with a simple landing page for your startup than no website. You can always invest more capital into a complete redesign as your business grows.
That way, you'll know what features you need to meet your customer's needs.
Key Elements of a High-Quality Website
A good website can be a game-changer for your business or brand. But what makes a website effective?
The best websites on the internet are usable on a mobile phone. And they're search engine friendly.
These two factors are important because:
60% of internet traffic comes from mobile devices
68% of online instances start with a search engine
You're covering most of the bases with these two things down pat. But that's the tip of the iceberg. What elements do you need on your website to get there?
User Experience
As a website owner, you want users to have an easy and enjoyable time using it.
Think of it like going to a theme park. A good user experience at the park would be:
Easy to navigate
The rides are fun and don't make you sick
Enough food options and clean bathrooms
Similarly, a website with a good UX is easy to use, visually pleasing, and organized. It also considers your target audience's wants and needs.
Here are some best practices for creating a website with good UX:
Aim for simple navigation like a search function or links in the footer.
Add interactive elements like videos and quizzes.
Make it accessible for people with disabilities by adding alt-text for screen readers.
If you're feeling lost, take a page from Drift's book. They have a stellar UX thanks to the following elements:
The simple navigation menu at the top of the webpage
A chatbot for 24/7 customer service
The proper balance of text and images
Clear call to actions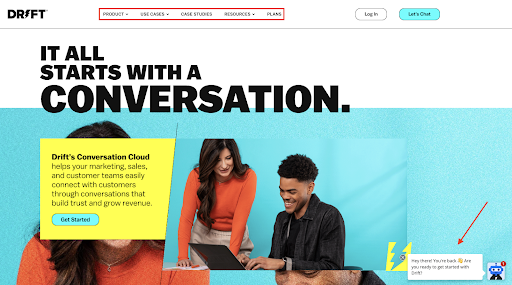 Design
For all the creative founders out there, this section is for you. It's time to get your creative juices flowing.
A modern design helps make a website look more professional. It's the secret sauce to building trust with visitors.
Trust keeps people on your website. And the longer a person stays, the more likely they'll buy something. That's one of the many reasons a website redesign is worth the investment.
Here are some best practices for creating an appealing website:
Pick colors that align with your brand identity and spark emotion.
Use a grid system to keep a balanced layout.
Choose images that are high quality, relevant, and complement your brand.
Pick a legible font that's easy to read, even on small screens.
Let's take a look at an example in action. OnBoard, a board meeting software company, invested in a site redesign to make it more modern.
The driving factor? The need to keep up with the competition. And adhere to the changing needs of their target audience.
Some of the design changes include:
Adding a modern font
Using purple to represent enlightenment for board room meeting ideas
The intertwining of geometric shapes
Tapping into the power of whitespace
Sharing an educational video on the homepage

Post changes, OnBoard saw reduced bounce rates and higher conversions. Now that's a good use of time and money.
Functionality
Building a website is an exciting step in building an online presence. But, it's crucial not to forget about functionality in the process.
Think about it this way. Good website functionality builds credibility. Why?
If you are looking for a lawyer, would you rather:
Hire a lawyer from a sketchy-looking website with nothing but a random phone number
Hire a lawyer from an updated website with a professional form and call to action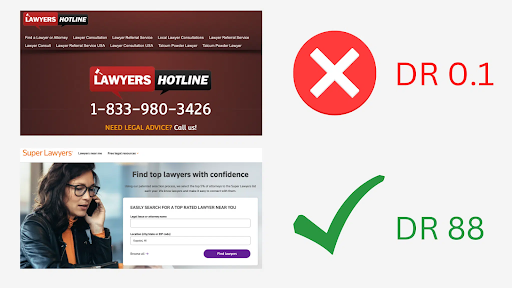 Likely you stick to option number two. First impressions count. And website functionality is part of making a good first impression.
With that in mind, here are some of these best practices for designing a functional website:
Loads in five seconds
Responds to different screen sizes
Uses security measures
Visible on search engines
11 Inspirational Websites to Spark Creativity
Are you about to embark on your website design process? Do you need a boost to help point you in the right direction?
Well, look no further. Next, we'll dive into eleven inspirational websites across industries. And we'll highlight what makes them stand out from the crowd.
That way, you can get new ideas and take your design to the next level. Plus, it never hurts to peek at what's working in your industry.
Are you ready to jumpstart your creativity? Let's dive right in.
1. Apple
It feels like everything Apple touches turns to gold. They come up in almost every business example. And there's a reason for it.
They're leaders and innovators in the technology industry. Apple can do everything from smartphones to computers and even website design.
So naturally, we put them first on the list of inspirational websites.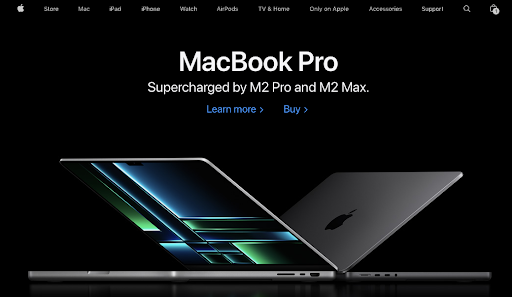 Industry
Standout element
What you can learn from this website
Sleek design that avoids overcrowding
Dark mode with contrasting black and white colors
Easy navigation options with product categories and a search feature
2. Olipop
Olipop is a healthy soda brand that offers a range of delicious and nutritious sodas.
These sodas include natural ingredients, prebiotics, and botanicals.
Olipop has made waves as a guilt-free soda. And how can you say no to such a colorful website?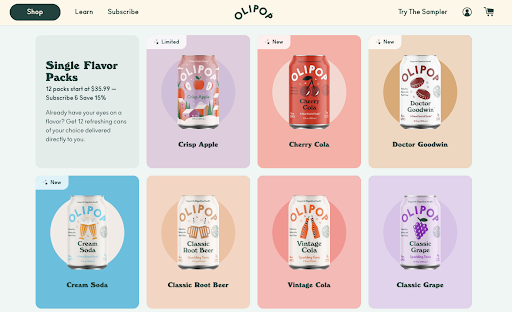 Industry
Standout element
What you can learn from this website
Images are interactive
Simple and clean design
Pastel colors add a warm, fun, and friendly tone
Grid layout provides a nice balance
3. Ready
Are you ready for it? An entire meeting collaboration platform built inside a fast and modern calendar your team will love.
Say goodbye to timezone confusion. Ready makes scheduling a breeze.
And the best part? Their website design looks just like their software. How cool.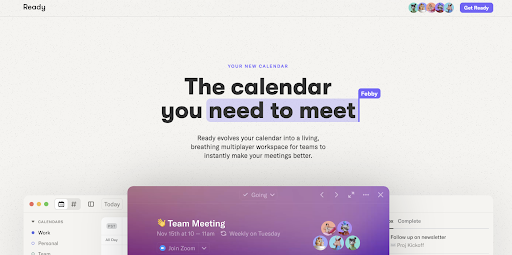 Industry
Standout element
What you can learn from this website
"Less is more" philosophy
Single landing page with a clear "Get Ready" call to action
Marketable usability
Interactive elements that show off different features
4. YUPLAY
Functionality is important to the gaming industry.
Why? Gamers like it when they can visit their favorite website with ease. That means from any device, and it still looks great.
YUPLAY does an excellent job of limiting text and focusing on images. Eye-catching colors enhance the customer experience.
The bold colors add excitement and encourage visitors to keep exploring.

Industry
Standout element
What you can learn from this website
Eye-catching colors that grab the user's attention
Less text and more images
Countdown timers to spark FOMO (fear of missing out)
Clear prices and calls to action
5. Canva
Canva is one of the fastest-growing SaaS companies in the world.
This popular online design tool allows users to create stunning visual content.
We love their website. It uses vibrant colors, bold typography, and engaging imagery.
The clean and modern layout makes it easy for users to find what they need. And stay inspired by the possibilities of what they can create using Canva.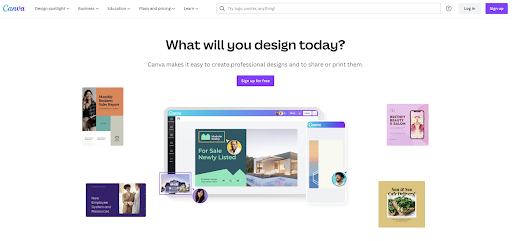 Industry
Standout element
What you can learn from this website
Plenty of whitespaces
A focal point that captures the eye's attention
Simple search feature for finding designs in a large catalog
A simple interactive element that walks through a design tutorial
6. Hers
Telehealth is changing healthcare as we know it—no more long lines at the doctor's office.
Hers offers healthcare solutions at the touch of a button. The best part about it? It's a personalized experience. You get the service you need in the comfort of your home.
With interactive quizzes and helpful content, we can't help but ogle and aww at the Hers website. It's a site to be seen (pun intended).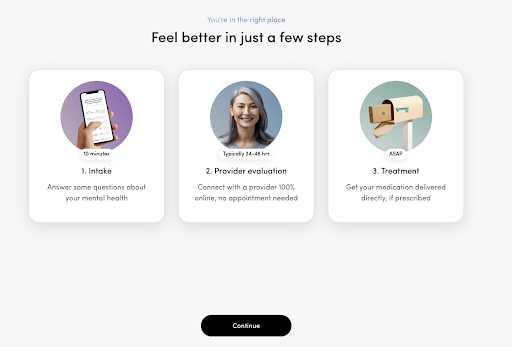 Industry
Standout element
What you can learn from this website
Neutral colors create a calming effect
Interactive quiz keeps users engaged and provides a personalized experience
A clear and concise overview of the product and service
A robust library of content about women's health topics
7. Wordable
There are thousands of SaaS websites on the internet. But Wordable stands out from the crowd.
Wordable uses purple and white as the primary contrasting site colors. Why? This color scheme stands out from the dark mode theme others use.
Plus, the purple matches perfectly with their logo. It's a genius branding move. Add in the video demo for the chef's kiss.
It's the ideal balance of user experience, design, and functionality.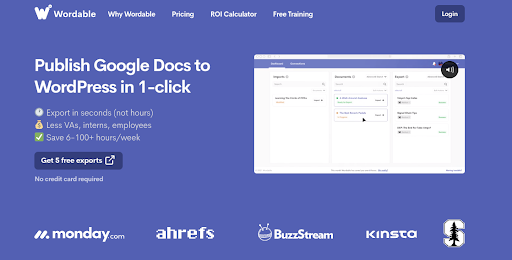 Industry
Standout element
What you can learn from this website
Contrasting colors (purple and white vs. black and white)
Branding consistency with the company logo
Inviting design with video embed and a product demo on the home page
8. Shutterfly
Earlier, we mentioned the importance of a responsive website. That's where Shutterfly shines.
The website looks the same on a mobile device and a desktop computer. Consumers can start their journey on the computer and complete the sale on the phone.
It's a seamless experience that builds loyal customers.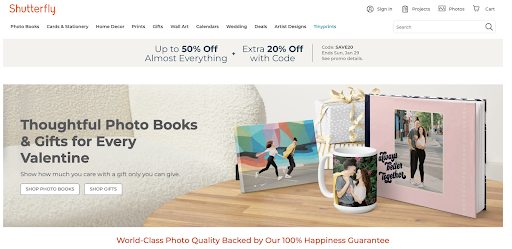 Industry
Standout element
What you can learn from this website
The mobile site looks identical to the desktop site
Highlights the current sales at the top of the page
Easy to navigate with a search feature (necessary when there are hundreds of products to choose from)
9. DivByZero
Some websites are inspirational because of the company, brand, or startup. They motivate us to work hard to achieve success.
And some websites share blog content with inspiring ideas. It's a place to learn and explore new topics.
DivByZero, a SaaS blog, has many articles on exciting topics. Blog posts about the best startup books not only inspire you but also guide you to success.
Inspiration comes in many forms. DivByZero stands out from the rest with real-world examples.

Industry
Standout element
What you can learn from this website
A reliable source of information
Built for marketers by marketers
Provides inspiring ideas and free access to tools
10. Louis Vuitton
The Louis Vuitton website is inspiring for its high luxury design and use of good photos. It captures the brand's essence and creates a sense of exclusivity.
The design leaves a lasting impression on visitors. Whether you are a fan of luxury or appreciate good design, the Louis Vuitton website is worth a visit.
Use photos to stand out.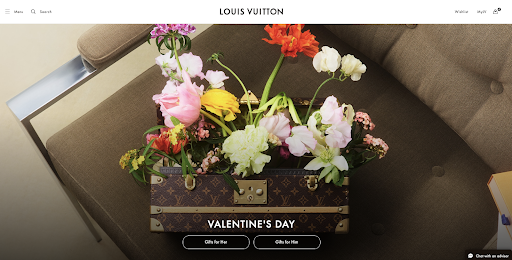 Industry
Standout element
What you can learn from this website
Minimalist black and white color scheme
Use of large, high-quality images
The website design matches the brand identity
11. Statusbrew
Everyone loves a monochromatic color scheme. Statusbrew hit the nail on the head.
Why? It creates a clean and sophisticated look.
The simplicity allows the brand's messaging and product offerings to take center stage.
The site also features a video to demo the product. It's the perfect balance of design and function.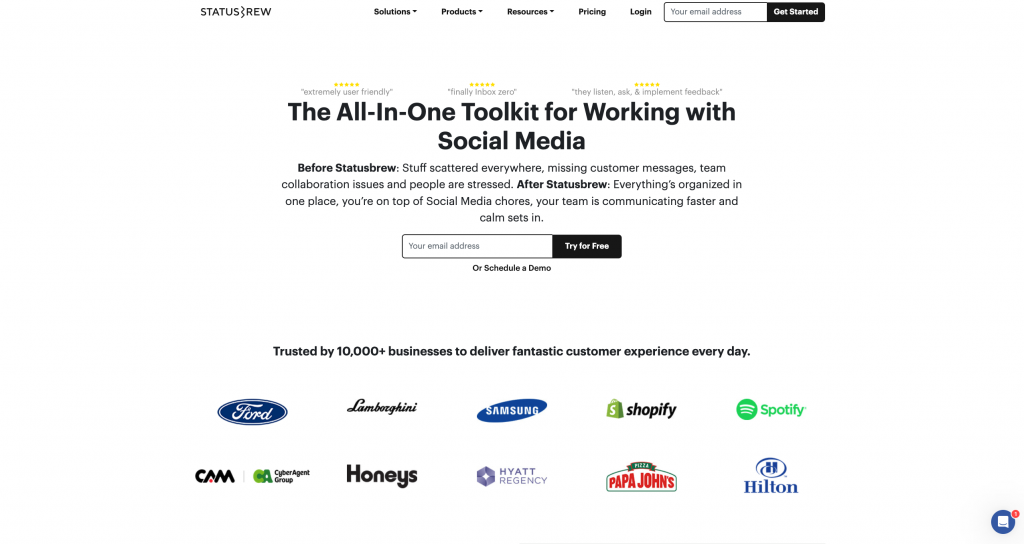 Industry
Standout element
What you can learn from this website
Monochromatic theme
Clear and concise
Accented by a high-quality video and CTA to get started
Bottom banner showcasing price and special offers
Direct access to customer service via chatbot.
Time to Start the Design Process
So there you have it. Eleven great examples of inspiring websites that showcase the power of good design.
As you think about your website, take inspiration from these examples. Consider how you can apply these same principles to your design.
Think about the colors, fonts, and imagery best representing your brand. Then use these elements to create a website that can convey your brand message.
Building a fantastic website takes time and effort, but the results are worth it. So, go ahead and take inspiration and let your creativity run wild.
The world is waiting to see what you can create!
And if you need help, SpdLoad is here to help. Schedule an intro call today.