GetReinvented
GetReinvented is an online fitness platform designed to provide the maximum value for athletes.
Do sports anywhere, anytime with recorded training or real-time video streams.
Set up your own goals and improve performance in a gamified experience.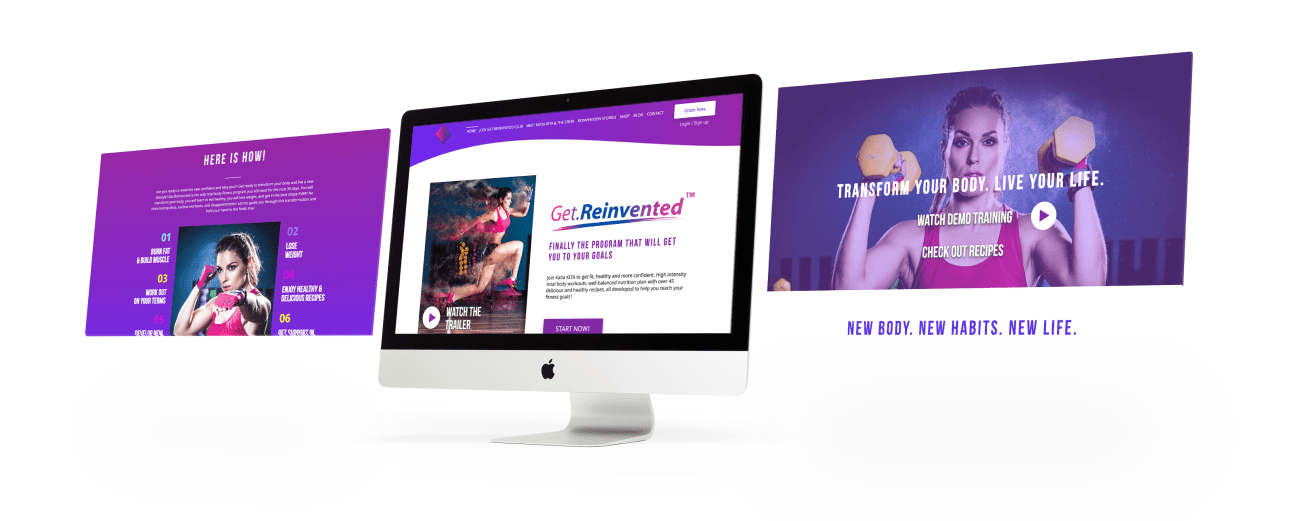 Initial request
A well-known fitness trainer contacted us. She trained in large American corporations.
But with the growing volume of work and tasks, she decided to scale the business.
And build her own online fitness startup.
Our customer was looking for reliable technical partners who would build a valuable and profitable product.
Project key factors
Single founder, without a technical background

Web and mobile apps for 2 roles: trainer and athlete
Project scope of work
2 Backend
1 Frontend
1 Mobile
1 Project manager
1 HTML Coder
1 QA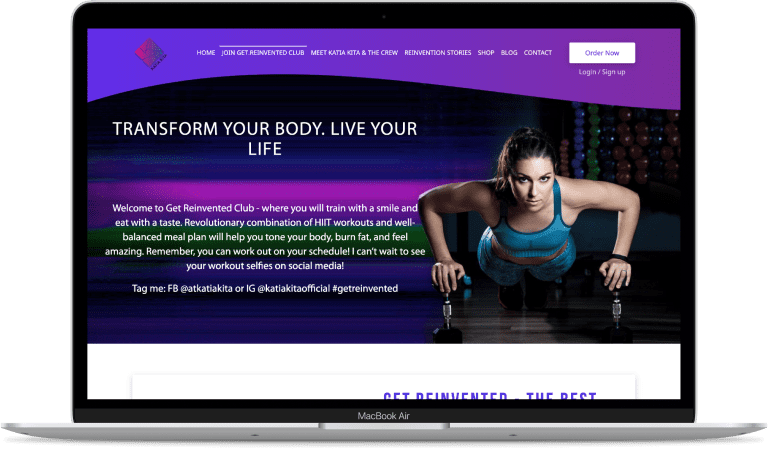 Discovery
At this stage, we analysed the market landscape, target audience and competitors.
This data helped to confirm the market potential of the idea and create a list of core features for an MVP.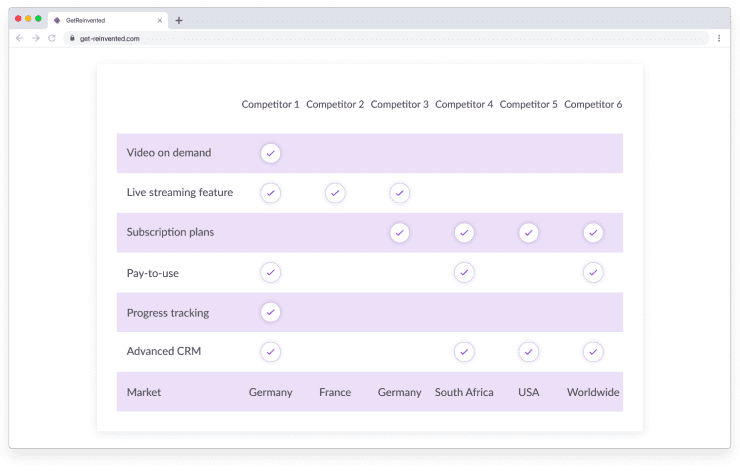 Key delivery:
presentation of in-depth analysis of a product potential
Software Requirements Specifications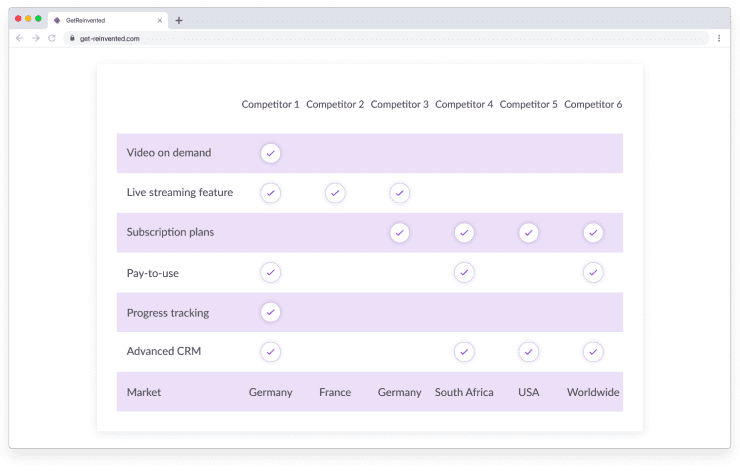 Development
At this stage, we developed the platform and app according to planned sprints.
Key delivery:
Each sprint was finished in deadline

A custom integration with CRM

A complex integration of payment gateway
Sitemap
Nutrition Plan
Support Group
Get.Reinvented Combo
Get.Reinvented
Get.Reinvented Trainings
Get.Reinvented Gift Certificate
Nutrition
Fitness
lifestyle
Get.Reinvented trainings
Eat.Reinvented Meal plan
Instructions
settings
purchases
subscriptions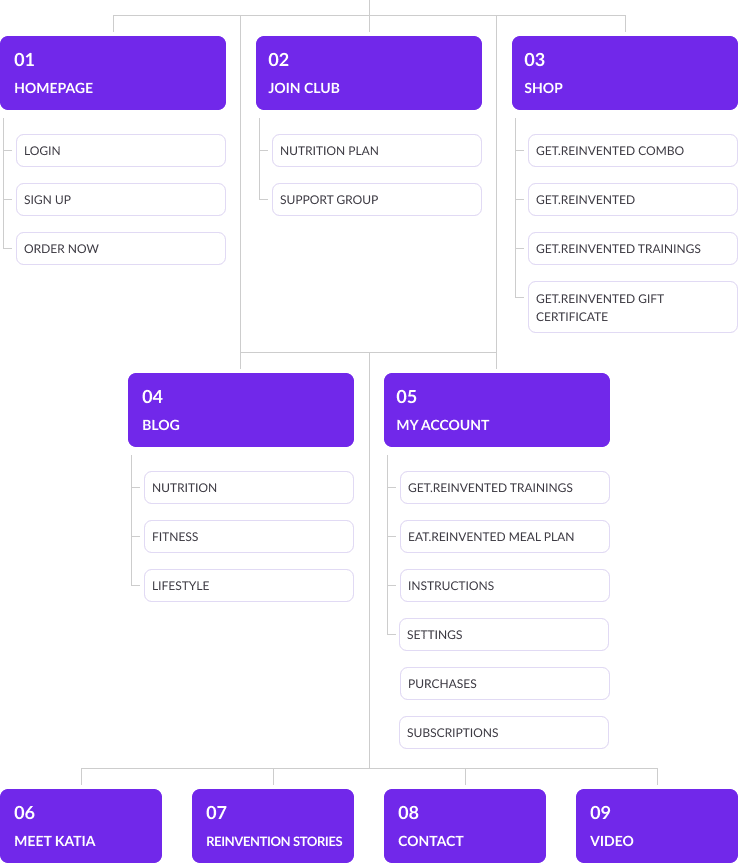 Key solutions
1. Implementation of real time video streaming.
Challenge: to connect video streaming protocol to deliver content in best quality with minimum buffering.
What we did:
- implement MPEG - DASH protocol, because it has a high adoption rate and use standard web services
- connect Amazon CloudFront as CDN, a Content Delivery Network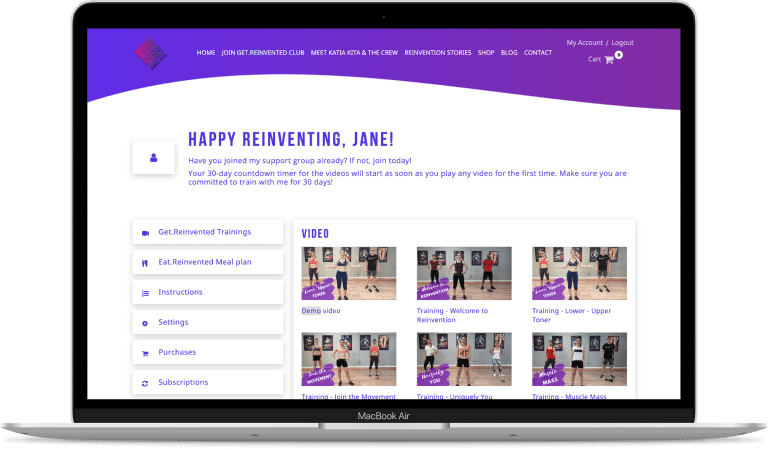 2. Implementation of video on demand.
What we did: connected AWS as cloud storage because of its reliability and scalability
3. Integration of payment gateway.
What we did: connect PayPal and BrainTree
4. Gamification UX.
Challenge: create gamified goal setting and program progress.
What we did:
- conduct a customer research
- implement achievement system
- A/B test gamification on different cohorts of users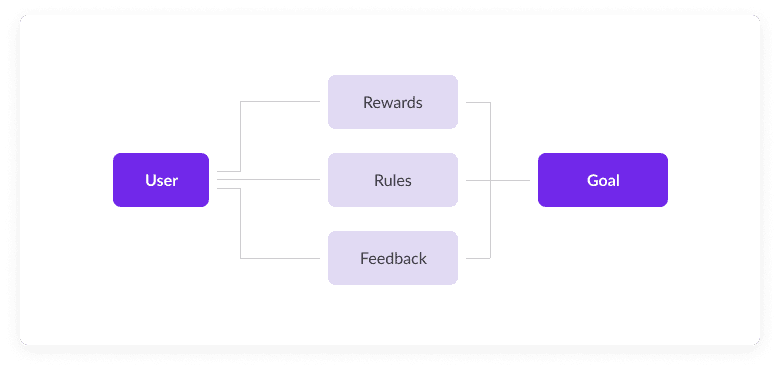 5. Full automation of work with the client.
What we did:
- create a custom integration with CRM
- setting up on-page triggers for different lead magnets
- create an automated email marketing funnel